Podcast: Play in new window | Download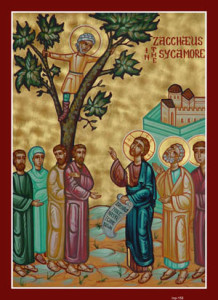 SERVICE OF LIGHT
Greeting/Invocation
 We light the Evening Vesper Candle and say or sing:
Light and peace in Jesus Christ our Love!
~Thanks be to God!
Stay with us O Christ, for it is evening,
And the day is almost over!
Evening Hymn
Day is done, but love unfailing dwells ever here
Shadows fall, but hope, prevailing, calms every fear.
Loving Abba, none forsaking, take our hearts of Love's own making
Watch our sleeping, guard our waking, be always near.
Dusk descends, but light unending shines through our night
You are with us, ever lending new strength to sight
One in love, your truth confessing one in hope of heaven's blessing
May we see, in love's possessing love's endless light!
Eyes will close, but you unsleeping watch by our side
Death may come, in love's safekeeping still we abide
God of love, all evil quelling sin forgiving, fear dispelling
Stay with us, our hearts indwelling this eventide.
Text: James Quinn, S.J.; Melody: Ar Hyd Y Nos 84.84.88.84;
SERVICE OF THE WORD
EVENING PSALMODY
Antiphon
How worthy is the Lamb of
all honor and glory and praise.
Canticle from Revelation
O Lord our God, you are worthy
to receive glory and honor and power,
for you have created all things;
by your will they came to be and were made.
Worthy are you, O Lord
to receive the scroll and break open its seals.
For you were slain;
with your blood you purchased for God
those from every tribe and tongue,
of every people and nation.
You made them a kingdom,
and priests to serve our God,
and they shall reign on earth."
Worthy is the Lamb that was slain
to receive power and riches,
wisdom and strength,
honor and glory and praise.
Glory to the One and to the Word
And to the Holy Breath of Love
As always before
So now and evermore.  Amen.
How worthy is the Lamb of
all honor and glory and praise.
.
READING            1 John 3:1-3
See what love the Abba has bestowed on us
that we may be called the children of God.
Yet so we are.
The reason the world does not know us
is that it did not know God.
Beloved,
we are God's children now;
what we shall be has not yet been revealed.
We do know that when it is revealed
we shall be like God,
for we shall see God directly.
Everyone who has this hope based on God
makes the self pure, as God is pure.
Responsory
R.  If we die with him, we shall live with him; *if we endure we shall reign with him.  V. If we deny him, he will deny us.  If we are faithless he keeps faith, he cannot deny himself. *If we endure we shall reign with him.  V.  Glory to the Abba and to the Word and to the Holy Breath of Love.
GOSPEL CANTICLE
Antiphon:
Jesus looked up and saw Zacchaeus.
"Come down," he said, " I intend to dine in your house today."
Zacchaeus descended and welcomed Jesus with delight.
It is customary to make the sign of the cross at the beginning of the Gospel Canticle.
My heart + is radiant with the Lord,
My whole being delights in God my Savior.
All people now will call me blessed
For God has loved this humble handmaid.
The Almighty has shown me great favor
Holy is the NAME,
Whose mercy embraces the faithful,
From one generation to the next.
The mighty arm of God,
Scatters the proud in their own conceit,
Pulls tyrants from their thrones
While lifting up the lowly:
Fills the famished with bounty,
And reveals the emptiness of riches.
Rescues lowly Israel,
Sharing such loving kindness,
As promised to our ancestors
To Abraham and Sarah, and their descendants forever.
Glory to the ONE and to  WORD
And to the BREATH of Love!
As always before,
so now and evermore.  Amen
Jesus looked up and saw Zacchaeus.
"Come down," he said, " I intend to dine in your house today."
Zacchaeus descended and welcomed Jesus with delight.
SERVICE OF PRAYER
Litany of Intercession
You noticed Zacchaeus at his perch in the sycamore, and saw his potential for doing great good; ~give us eyes to see and insight to discern the best in those whom others disdain.
You did not hesitate to enter his house and dine with Zacchaeus, even though he was considered a traitor and a sinner by many; ~ give us compassion that moves us to action in solidarity with all those society excludes.
Your love for Zacchaeus freed him to share what he had with the poor and to repay all those whom he had wronged ~ give us generous hearts and the strength to repair the damage we have done to others and to Mother Earth.
You invite us while we are still stuck in selfishness and sin to join you in building your Reign  on earth as it is in heaven; ~may the love we bring to the world today be a sign of the salvation you offer each and every day.
Prayer of Jesus
Our Dear Abba…
Closing Prayer & Blessing
God of Life and Love, you sent Jesus to announce the Reign of Heaven in parables and in  his way of living and loving among us.  He was scorned for welcoming sinners and eating with them and he continues to do so to this day, sharing with us sinners the table of his Word and the table of the Eucharist.  May we truly become what we eat and be bread for the world;  For yours is the power and the glory of love, now and forever. ~Amen.
May the God who gives seed to the sower, flour to the baker, and bread to the hungry + bless us and all of creation with the fullness of life.  ~Amen 
Let us bless Adonai.     ~Thanks be to God.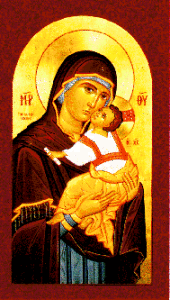 Those who wish may end evening prayer with the Marian Antiphon.
Salve Regina, Mater misericordiae, Vita dulcedo et Spes nostra, salve!
Ad te clamamus, exsules filii Evae; Ad te suspiramus, gementes et flentes in hac lacrimarum vale. Eia, ergo, Advocata nostra, illos tuos misericordes oculos, ad nos converte; et Jesum benedictum fructum ventris tui, nobis, post hoc exilium ostende.  O Clemens, O Pia, O Dulcis, Virgo Maria!