Podcast: Play in new window | Download
SERVICE OF LIGHT
Greeting/Invocation
 We light the EVENING CANDLE and say or sing:
Jesus Christ is the Light of the World!
~The Light no darkness can extinguish!
You are the Glory and Praise of all your Saints;
~And the Life and Joy of all Creation!
ALL SAINTS HYMN
Our Abba's Holy Ones, the Blest, Who drank the chalice of the Lord,
Have learned that bitterness is sweet And courage keener than the sword.
In darkness they were unafraid, And kept alight their living fire,
They now keep timeless days of joy Where God gives all their heart's desire.
May all that splendid company, Whom Christ in glory came to meet,
Help us on our uneven road Made smoother by their passing feet.
We praise You, Trinity-in-One, Sublime in majesty and might,
Who reign forever, Love of all, in splendor and unending Light.  Amen.
Text: Stanbrook Abbey 1974 alt. Tune: Plainsong
SERVICE    OF THE WORD
EVENING PSALMODY
Antiphon/Refrain One
Lord, this is the people that longs to see your face.
Psalm 23/24a
For yours is the earth and its fullness the world and all its peoples.
It is you who set it on the seas, on the waters you made it firm.
Who shall climb your mountain Adonai and stand in your holy place?
Those with clean hands and pure hearts who desire no worthless thing.
They shall receive blessings from your Love and reward from your saving Presence.
Such are the people who seek you, who seek you God of Jacob.
Antiphon Two
I have run the race, I have kept the faith,
now I await the crown that has been prepared for me.
Psalm 115/116
I trust in God, even when I say,
"I am sorely afflicted,"
I believe, even when I cry out,
"There is no one I can trust!"
What gift can repay Adonai
for such goodness to me?
I will raise the cup of freedom
as I call on the Holy Name!
I will fulfill all my vows
in the presence of the people.
Adonai you hate to see
your faithful ones suffer and die.
It is I, the servant you love
the one you have freed from bondage,
who calls to you now for help.
I bring an offering of thanks
as I call on your Name.
I fulfill my vows to you, Adonai
standing before your assembly,
 in the courts of your house, my God,
in the very heart of Jerusalem.   
Glory to the ONE and to the WORD
And to the BREATH of Love!
As always before,
so now and evermore.  Amen.
I have run the race, I have kept the faith,
now I await the crown that has been prepared for me.
Antiphon Three
By your blood you did purchase for God
saints of every tribe and language, people and nation;
you have made of them a royal house to serve our God as priests.
Canticle of the Lamb
You are worthy, O Lord our God, to receive all glory and honor and power;
For you have created all things; by your will they were created and have their being.
You are worthy to take the scroll and break its seals;
For you were slain, and by your bold you have ransomed for God saints from every tribe and language, people and nation: yo have made of them a kin-dom to serve our God as priests: and they shall reign upon the earth.
Worthy is the Lamb, the Lamb that was slain to receive all power and wealth, wisdom and might, moor and glory and praise.
Praise and honor, glory and power, to the One who sits upon the throne and to the Lamb forever and ever.  Amen.
By your blood you did purchase for God
saints of every tribe and language, people and nation;
you have made of them a royal house to serve our God as priests.
READING          II CORINTHIANS 6: 16b; 7:1
[Sisters and Brothers,] you are the temple of the living God, just as God has said:
"I will dwell in them and walk among them,
I will be their God,
and they shall be My people."
Since we have these promises, beloved, let us purify ourselves from every defilement of flesh and spirit, and in the fear of God strive to fulfill our consecration perfectly.
Responsory
R.  Before Adonai, the Just rejoice; God's happiness is their delight. V. Ring out your joy to Adonai, O you Just, for praise is fitting for loyal hearts.  V. They are happy whose God is Adonai the people God has chosen as a special possession.   V. Glory to the Abba and to the Word and to the Holy Breath of Love.
Gospel Canticle
Antiphon
O How Glorious is that kin-dom where all the saints celebrate with Christ!
Vested in their wedding garments, they follow the Lamb
wherever He goes. Alleluia!
My heart + is radiant with the Lord,
My whole being delights in God my Savior.
All people now will call me blessed
For God has loved this humble handmaid.
The Almighty has shown me great favor
Holy is the NAME,
Whose mercy embraces the faithful,
From one generation to the next.
The mighty arm of God,
Scatters the proud in their own conceit,
Pulls tyrants from their thrones
While lifting up the lowly:
Fills the famished with bounty,
And reveals the emptiness of riches.
Rescues lowly Israel,
Sharing such loving kindness,
As promised to our ancestors
To Abraham and Sarah, and their descendants forever.
Glory to the One and to the Word
And to the Breath of Love
As always before
So now and evermore. Amen
O How Glorious is that kin-dom where all the saints celebrate with Christ!
Vested in their wedding garments, they follow the Lamb
wherever He goes. Alleluia!
 SERVICE OF PRAYER
Litany of Intercession
You built your Church on the foundation of the apostles,
– keep their teaching secure among your faithful people.
You made the martyrs powerful witnesses even to the point of giving up their lives,
– help all Christians to give faithful witness to your Word.
You gave holy virgins and consecrated religious the gift of following Christ in community,
– may those consecrated to religious life be steadfast witnesses to the coming of your kingdom.
You called so many to extraordinary lives of loving their families, their neighbors, and those in need, ~may their examples inspire each of us to love all whom you place in our lives.
You invited many to journey ever-deeper into the mystery and beauty of your love and to share their experience in mystical wisdom, poetry, music or art ~ bless all who share their gifts and talents in celebrating your beauty and enriching the lives of others.
You called ordinary people in every generation to search for truth, to dismantle the  institutions of oppression, and to work for justice and peace, ~may we hear the cry of the poor and follow in the footsteps of the saints.
Bring all who have died into the company of heaven with Mary, Joseph and all your saints,
– and give us also a place in the unending fellowship of your reign.
Prayer of Jesus
Our Dear Abba in heaven, hallowed be your name.
Your kin-dom come, your will be done on earth as in heaven.
Give us today our daily bread.
Forgive us our sins as we forgive those who sin against us.
Do not bring us to the test but deliver us from evil;
For the kin-dom the power and the glory are yours
now and forever.
Closing Prayer & Blessing
O Holy One, you are the joy of all creation and the praise of all your saints.
We thank you for the gift of that great cloud of witnesses whose ways of living and loving have continued the mission and ministry of Jesus with great diversity and beauty.  As we celebrate this solemn feast in honor of all who love you, deepen our own commitment to take up the cross and follow Jesus into freedom, flourishing and the fullness of life both now and forever.  Amen.
May the blessing of God who is the joy and the glory of all the saints be with us this day and always.  ~Amen 
Let us bless Adonai.     ~Thanks be to God.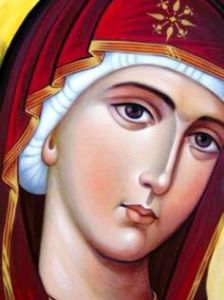 Those who wish may end evening prayer with the Marian Antiphon.
Marian Antiphon
Salve Regina, Mater misericordiae, Vita dulcedo et Spes nostra, salve!
Ad te clamamus, exsules filii Evae; Ad te suspiramus, gementes et flentes in hac lacrimarum vale. Eia, ergo, Advocata nostra, illos tuos misericordes oculos, ad nos converte; et Jesum benedictum fructum ventris tui, nobis, post hoc exilium ostende.  O Clemens, O Pia, O Dulcis, Virgo Maria!
Pray for us, O Holy Mother of God;
~ That we may be made worthy of the promises of Christ.
Let us pray.  Holy, Mighty and Immortal God, through the working of the Holy Spirit, you prepared the body and soul of the glorious virgin Mother Mary, as a worthy dwelling for your Word; grant that we, who celebrate her memory with that of all the saints, may with the help of her prayers, be freed from ever-present evil, and come to share the fulness of life eternal.   Amen.