Podcast: Play in new window | Download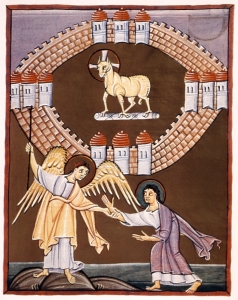 SERVICE OF LIGHT
Greeting/Invocation
 We light the Evening Candle and say or sing:
Light and Peace in Jesus Christ our Lord!
~Thanks be to God!
You are the praise of all your saints,
~And the joy of all creation.
CHRIST IS MADE THE SURE FOUNDATION
Christ is made the sure Foundation, And the precious Cornerstone
Who, the two walls underlying, Bound in each, binds both in one,
Holy Zion's help for ever, And her confidence alone.
All that dedicated City Dearly love by God on high,
In exultant jubilation Pours perpetual melody.
God the One and God the Triune, Singing everlastingly.
In this temple grant your servants What they humbly ask to gain;
Here to have and hold forever Those good things their prayers obtain
And here after in your glory With your blessed ones to reign.
Glory be to God and honor In the highest as is meet;
To the Word and to the Abba, And th' Eternal Paraclete,
Whose is boundless praise and power Through the ages infinite.  Amen.
Text: Angularis Fundamentum 7th cent, Tr. J.M. Neale, alt. Plainsong URBS BEATA Mode IV
 SERVICE OF THE WORD
Evening Psalm
Antiphon
O Jerusalem, your walls are precious stones;
your towers made up of jewels!
Psalm 121/122
I rejoiced when I heard them say:
"Let us go to God's House!"
And now our feet are standing
within your gates O Jerusalem!
Jerusalem is built as a city–
Strongly compact.
It is there that the tribes go up,
the tribes of our God.
For Israel's law it is
there to praise God's Holy Name.
There were set the thrones of judgment
of the house of David.
For the peace of Jerusalem pray;
"Peace be to your homes!
Safety within your walls!
in every dwelling place, peace!"
For love of my family and friends
I say: "Peace upon you!"
For love of the house of Adonai
I pray for your good.
Glory to the ONE and the WORD
and the BREATH of Love;
as always before,
so now and evermore, Amen.
O Jerusalem, your walls are precious stones;
your towers made up of jewels!
Reading          I Peter 2:4-7
Come to Christ Jesus, a living stone, rejected by human beings but chosen and precious in the sight of God, and, like living stones, let yourselves be built* into a spiritual house to be a holy priesthood to offer spiritual sacrifices acceptable to God through Jesus Christ. For it says in scripture: "Behold, I am laying a stone in Zion, a cornerstone, chosen and precious, and whoever believes in it shall not be put to shame." Therefore, its value is for you who have faith, but for those without faith: "The stone which the builders rejected has become the cornerstone."
 Responsory
R.  Holiness is fitting to your house, Adonai, till the end of time.* Alleluia, Alleluia!  V. Your throne has stood firm from of old, from all eternity, O LOVE, you are.  *Alleluia, Alleluia!  V. Glory to the Abba and to the Word and to the Holy Breath of Love.
Gospel Antiphon
Today salvation has come to this house, alleluia, alleluia!
Canticle from Philippians 2: 6-11 
 Refrain: Lord Jesus.
Though he was in the form of God
Jesus did not  snatch at equality with God.
He emptied himself,
taking the form of  a servant,
being born in the likeness of human beings.
And being found in human form,
he humbled himself,
and became obedient unto death,
even death on a cross.
Therefore God has highly exalted him
and bestowed on him the name
that is above every other name.
That at the name of Jesus
every knee should bow
in heaven and on earth
and under the earth.
And every tongue confess
that Jesus Christ is Lord,
to the glory of God the Abba.
Glory to the Abba and to the Word
And to the Breath of Love
As always before
So now and evermore. Amen
Today salvation has come to this house, alleluia, alleluia!
 SERVICE OF PRAYER
Litany of Intercession
You built your house upon a rock,
– strengthen your Church with solid and lasting faith.
Blood and water flowed from your side,,
– give new life to your people through the sacraments of the new and eternal covenant.
You promised to be in the midst of those who gather in your name,
– hear the prayers of every gathering of your Church.
You prepare a dwelling place in your Abba's house for all who wish to follow you there, ~fill us with your love for all people and all creation.
You never cast out anyone who comes to you, ~ open your Abba's house to all those who have died and .
Prayer of Jesus
Our Dear Abba in heaven, holy be your name.
Your kin-dom come, your will be done on earth as in heaven.
Give us today our daily bread.
Forgive us our sins as we forgive those who sin against us.
Do not bring us to the test but deliver us from evil;
For the kin-dom the power and the glory are yours
now and forever.
Closing Prayer & Blessing
O Holy One, you have built for yourself a dwelling place out of living stones from every tribe and language, people and nation.  Keep us firmly joined to Jesus, our Cornerstone, whose love unites Jew and Greek, slave and free, male and female into a royal priesthood to serve you by serving our neighbors and healing your creation.
Yours is the power and glory of love both now and forever.  Amen.
May the blessing of God who is the joy and the glory of all the saints be with us this day and always.  ~Amen 
Let us bless Adonai.     ~Thanks be to God.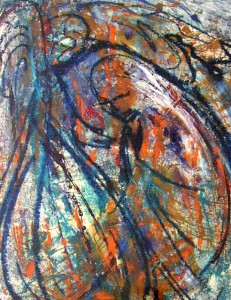 Those who wish may end evening prayer with the Marian Antiphon.
Marian Antiphon
Mother of mercy, our Queen, we greet you! Our life, our hope, our happiness, we hail you.
We call to you as Eve's own children, and exiles; To you we lift our heart in sorrow and fear, in this valley of tears.  Turn then, our loving Advocate, and look with favor upon us.  And after our life in exile, show us the blessed fruit of your womb, Jesus.  O gracious, O loving, O Virgin benign, our Mother Mary.
Pray for us, O Holy Mother of God;
~ That we may be made worthy of the promises of Christ.
Let us pray.  Holy, Mighty and Immortal God, through the working of the Holy Spirit, you prepared the body and soul of the glorious virgin Mother Mary, as a worthy dwelling for your Word; grant that we, who celebrate her memory with that of all the saints, may with the help of her prayers, be freed from ever-present evil, and come to share the fulness of life eternal.   Amen.