Podcast: Play in new window | Download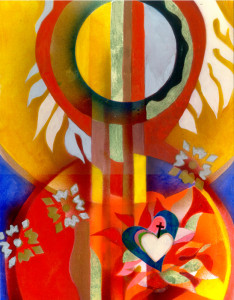 Invitation to  Worship
Praise be to Jesus Christ, whose heart is enflamed with love for us.
O Holy One,+ open my lips.
~And my mouth will proclaim your praise.
In you is the fountain of life, alleluia!
~We drink from the streams of your goodness, alleluia!
Hymn for the Sacred Heart
Love Divine, all loves excelling, Joy of heaven to earth come down,
And impart to us, here dwelling,Grace and mercy all around.
Jesus, source of all compassion, Pure, unbounded love you share;
Grant us many choicest blessings, Keep us in your loving care.
Come, Oh Source of inspiration Pure and spotless let us be:
Let us see your true salvation, Perfect in accord with thee.
Praising Abba for all glory With the Spirit and the Son;
Everlasting thanks we give thee, Undivided Love, in one.
Tune: HYFRYDOL 87.87.D Text: Traditional, adpt, C.T. Andrews (1968)
PSALMODY
Antiphon
One of the soldiers pierced his heart
and immediately blood and water flowed out.
Psalm 102/103
My soul, give thanks to Adonai,
all my being, bless the Holy Name.
My soul, give thanks to Adonai
and never forget all these blessings.
Bless God, who forgives all your sin,
who heals every one of your ills,
who snatches you free from death,
who enfolds you with tender compassion
who fills your life with goodness
and gives you the strength of an eagle.
Adonai does deeds of justice
and defends the poor and oppressed;
Teaches God's ways to Moses
and God's deeds to the children of Israel.
Adonai is compassion and love,
patient and rich in mercy.
God will not accuse us for long,
nor bring our sins to trial,
nor exact from us in kind
nor give us what our sins deserve.
As high as the heavens are above the Earth,
so great is God's love for those who trust.
As far as the east is from the west,
so far does God remove our sins.
As parents have compassion on their children,
Adonai has pity on those who are reverent,
for Adonai knows of what we are made,
and remembers that we are dust.
The  love of Adonai is everlasting
upon those who revere God's Holiness;
whose justice reaches out to all generations
when they keep God's will in their minds and hearts.
Glory to the One and to the Word
And to the Breath of Love
As always before
So now and evermore, Amen.
One of the soldiers pierced his heart
and immediately blood and water flowed out.
READING   Jeremiah 31: 2-4
Thus says Adonai: "The people that escaped the sword have found rest in the wilderness.
As Israel comes forward to be given rest, Adonai appears from afar:
With age-old love I have loved you; so I have kept my mercy toward you.
Again I will restore you, and you shall be rebuilt.
Responsory
R.  Come to me all you who labor and are overburdened and I will give you rest.
Shoulder my yoke and learn from me,
*for I am gentle and humble in heart and you will find rest for your souls.  
V. Yes, my yoke is easy and my burden light.
*for I am gentle and humble in heart and you will find rest for your souls 
V.  Glory to the Abba and the Word and the Holy Breath of Love.
Canticle of Zachariah
Antiphon
Come to the Water all you who are thirsty.
With you I will make an eternal covenant.
Blessed + be Adonai, the God of Israel,
Who visits this people to set us free
Raising for us a sign of salvation
In the house and family of David.
God promised throughout past ages
In words of holy prophets
To save us from our enemies,
And from the control of our oppressors.
Adonai favored our ancestors
And remembered the sacred covenant.
The pledge to Abraham and Sarah
Is now renewed for us;
That freed from the grip of our foes
We might worship without fear
And be both just and holy
For the rest of our days.
And you, child, called "prophet of the Most High,"
Will go ahead to prepare the way,
By teaching this people of salvation
Through forgiveness of their sins.
For the loving compassion of the Holy One
As the Rising Sun will shine upon us
To illumine the darkness and dispel death's shadow
To guide our feet on the way of peace.
Glory to the ONE and to the WORD
And to the BREATH of Love!
As always before,
so now and evermore.  Amen
Come to the Water all you who are thirsty.
With you I will make an eternal covenant.
 Litany of Intercession
O Love-made-Flesh, when your heart was pierced you gave birth to a new people,
~ cleanse us and sanctify us.
O Dwelling Place of Holy Love, slain by men but raised up by God,
~ make of us a dwelling place for the Most High.
O Love and Center of all Hearts, you love us
and lead us to yourself with unending love and compassion,
~ renew your covenant with all humankind and all of creation.
O Peace and Reconciliation, you put an end to enmity with your death
and unite all people in the peace of the new creation,
~ show us the path to freedom and the fullness of life.
O Life and Resurrection, you refresh those who are overburdened
and give rest to the weary,
~ give us your easy burden of love which empties us of ego and fills us with joy.
O Jesus, Gentle Shepherd and Living Bread,
~ feed us, guide us to the land of everlasting life.  
Prayer of Jesus
Our Father…
Closing Prayer
God of Love and Compassion, we rejoice in the gifts of love
we have received from the heart of Jesus, your Beloved Son.
Open our hearts to share his love,
our minds to share his wisdom,
and our hands to share all that we have received with others.
~ Amen.
Blessing
May the Heart of Jesus kindle our hearts with love and
bless + us with fullness of life,
~Amen.
Let us bless Adonai.
~Thanks be to God.