Podcast: Play in new window | Download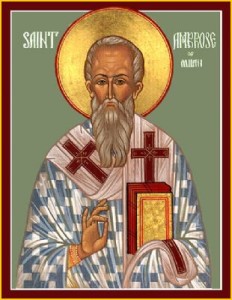 December 7th is the Feast of St. Ambrose of Milan (339-397), born in Trier in a Roman Senatorial family, he was raised for public service as a lawyer and civil administrator.  After he stopped an ugly street fight between Arian and Orthodox Christians arguing about who should succeed the recently deceased bishop, a child called out "Ambrose for Bishop!" The warring factions agreed and, although Ambrose had yet to be baptized, he was ordained bishop within a week.  He distributed his  personal wealth to the poor and his estates to the Patriarch of Milan, devoted himself to the study of Scripture, and used his considerable rhetorical skills in writing sermons and in the composition of some of the earliest Christian hymn texts that survive.  He challenged imperial power and excommunicated Theodosius I for  war crimes–reinstating him only after due penance.  He died on Holy Saturday in 397 but his feast on December 7th is the anniversary of his ordination.  
We light the First Candle on the Advent Wreath.  With a small sign of the Cross on our lips we sing:
O Holy ONE + open my lips,
~And my mouth will proclaim your praise.
Blest is the One who comes in the NAME of our God
~Hosanna in the highest!
ADVENT MORNING HYMN
All may sing or alternate the verses of Veni Redemptor Gentium composed by St. Ambrose.
Redeemer of the nations Make known your wondrous birth
Which so befits your grandeur And sanctifies the earth.
A virgin was your mother, O  holy mystery!
Let all creation marvel At that nativity.
The root of Jesse blossomed, Her spotless womb conceived,
And she brought forth Salvation To all who have believed.
For, rising out of Mary As from a cloudless sky,
You came to bring to captives Redemption from on high.
Proceeding from your Abba, According to the plan,
You blessed our human nature, Becoming Son of Man.
To  you, Lord Jesus, glory And praise with one accord;
We earnestly implore you To be our saving Lord,
That you to whom our weakness and sinfulness are known,
May sanctify our nature Which you have made your own.
 The Chant for this rendition, DAY OF SPLENDOR , is by Columba Kelly, OSB.  This translation is by Dominican Friar Frank C. Quinn. O.P.  (1932-2008).   See the Morning Hymn for Morning Prayer Sunday Advent I for Martin Luther's melody for his German translation of this hymn. 
PSALMODY
Ostinato Refrain. 
Laudate Dominum, Laudate Dominum, omnes gentes, alleluia.
Laudate Dominum, Laudate Dominum, omnes gentes, alleluia.
Please sing this refrain repeatedly as the cantor adds the verses over the refrain/ostinato.
Psalm 116/117
Praise Adonai all you nations, praise God all you peoples!  Alleluia
Strong is God's love and mercy, always faithful forever Alleluia!
Alleluia, Alleluia!  Let everything living now praise Adonai!
 Alleluia, Alleluia!  Let everything living now praise Adonai!
READING:  Isaiah 11:1-2
A shoot shall sprout from the stump of Jesse, and from those roots a bud shall blossom. The Spirit of Adonai shall rest on this one, a Spirit of wisdom and understanding,
A Spirit of counsel and of strength, a spirit of knowledge and reverence for God;
and this one will delight in reverence and love for Adonai.
Responsory:
R. In a time of favor I answer you * on the day of salvation I help you.
V. I say to the prisoners: come out! To those in darkness: show yourselves! .
* on the day of salvation I help you.
Gospel Canticle of Zachary                                                                        Luke 1:68-79
The Gospel Canticle is preceded and followed by an antiphon based on the feast celebrated that day.
Gospel Antiphon:
Zion, fear not!  Behold, your God is coming alleluia!
 It  is customary to make the sign of the cross at the beginning of the Gospel Canticle.
Blessed + be Adonai, the God of Israel,
Who visits this people to set us free
Raising for us a sign of salvation
In the house and family of David.
God promised throughout past ages
In words of holy prophets
To save us from our enemies,
And from the control of our oppressors.
Adonai favored our ancestors
And remembered the sacred covenant.
The pledge to Abraham and Sarah
Is now renewed for us;
That freed from the grip of our foes
We might worship without fear
And be both just and holy
For the rest of our days.
And you, child, called "prophet of the Most High,"
Will go ahead to prepare the way,
By teaching this people of salvation
Through forgiveness of their sins.
For the loving compassion of the Holy One,
As the Rising Sun, will shine upon us
To illumine the darkness and dispel death's shadow
To Guide our feet on the way of peace.
Glory to the ONE and to the WORD
and to the BREATH of Love!
As always before,
so now and evermore.  Amen
Zion, fear not!  Behold, your God is coming alleluia!
Intercessory Prayer
Let us pray to the Christ, the joy of all who wait for his coming:
~Come Lord Jesus
As  God's eternal Word, You existed before the ages of ages:
~Come and save us in the present age.
You made the world and all it contains:
~ Come and save the work of your hands.
You assumed our humanity, in all its mortality:
~Come and save us from the bonds of the grave.
You came forth from the freshness of the Virgin Mary
~Come and give fresh life to a world in decay.
You taught us to pray:
Our Father …
Closing Prayer & Blessing
Prepare us, O God of Love, for the coming of Jesus Christ.
You made Saint Ambrose an outstanding teacher and gave him the courage of an apostle.
Raise up in this world more who will speak the truth to power with love and practice what they teach.   We ask this through Jesus Christ who lives and reigns with you and the Holy Spirit, one God for ever and ever. Amen
May the Word of God, full of grace and truth, + bless us and keep us. ~Amen.
Let us bless Adonai.   ~Thanks be to God.