Podcast: Play in new window | Download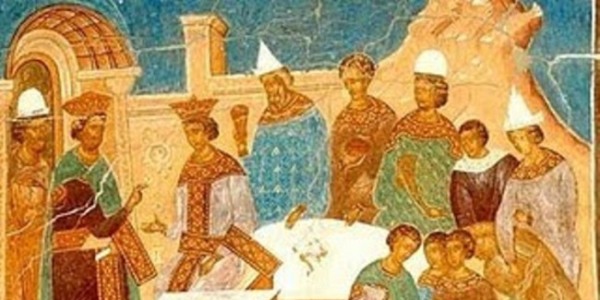 SERVICE OF LIGHT
Greeting/Invocation
 We light the Evening Vesper Candle and say or sing:
Light and peace in Jesus Christ our Love! ~Thanks be to God!
Sunday Evening Hymn
Blessing and honor and glory and pow'r,
Wisdom and riches and strength evermore,
Give we to God who our battle has won,
Whose are the kin-dom, the crown and the throne.
Hear through the heavens the sound of God's Name,
While rings the Earth with God's glory and fame.
Ocean and mountains, stream forest and flow'r
Echo God's praises and tell of God's pow'r.
Ever ascending the song and the prayer;
Ever descending the love that we share;
Blessing and honor and glory and and praise–
This is the theme of the hymn that we raise.
Let us give glory and praise to the Lamb,
Taking the robe and the harp and the palm;
Singing the song of the Lamb that was slain,
Dying in weakness, but rising to reign.
Text: Horatius Bonar (1808-1889), alt; Tune: O QUANTA QUALIA 10.10.10.10 (Paris Antiphoner, 1681).
 Thanksgiving for the Light
Let us give thanks to the God of Light, always and for everything.
~In the name of our Lord, Jesus Christ.
Praised be Adonai our God, Ruler of the Universe, who led our ancestors in the faith by a pillar of cloud by day and a pillar of fire by night, and prepared a lamp for the Anointed.  Light up our darkness, O God, by the light of your Christ; may his word be a lamp to our feet and a light to our path, for you are full of loving kindness for your whole creation and we, your creatures glorify you: Abba, Word and Holy Breath of Love, now and forever.  Amen, Amen!
 SERVICE OF THE WORD
SUNDAY EVENING PSALM
Antiphon
Our God answers to no one
in heaven or on earth.
Psalm 113b/115
Not to us, Adonai, not to us,
but to your Name give the glory;
because of your love and your truth,
lest the nations say, "Where is their God?"
But our God is in the heavens
and answers to no one.
Their gods are crafted by hand
nothing more than silver or gold.
They have mouths that are mute
and eyes that are blind;
they have ears that are deaf
and noses that cannot smell.
With their hands they cannot feel;
their feet cannot walk.
No sound comes from their throats,
their makers will come to be  like them
and so will all who worship and trust in them.
Let all of Israel trust in Adonai
who is their help and their shield.
Let the house of Aaron trust in Adonai
who is their help and their shield.
All who reverence God, trust in Adonai,
for God is your help and your shield.
God remembers us and will bless us;
will bless the house of Israel
and bless the house of Aaron.
Adonai will bless those who worship
the little no less than the great.
May God bless  and grant you increase,
for you and for all your children.
May you be truly blest by Adonai,
the maker of heaven and earth.
The heavens belong to Adonai
but the Earth is entrusted to us.
The dead do not sing God's praises
nor those who go down into silence;
but we who live bless Adonai
now and forever, Amen. Alleluia!
Our God answers to no one
in heaven or on earth.
READING           Philipians 4: 12-14, 19-20
I know how to live in humble circumstances;
I know also how to live with abundance.
In every circumstance and in all things I have learned the secret of being well fed and of going hungry, of living in abundance and of being in need.
I can do all things in Christ who strengthens me.
Still, it was kind of you to share in my distress.
My God will fully supply whatever you need,
in accord with the glorious riches in Christ Jesus.
To our God and Abba, glory forever and ever. Amen.
Responsory
R.  Adonai remembers the covenant forever, the promise for a thousand generations.   V.  God's call and gifts are irrevocable.  V. Glory to the Abba and to the Word and to the Holy Breath of Love.
GOSPEL CANTICLE
Antiphon:
'The banquet is ready,
but those invited refused to come.
Go out into the roads
and invite whomever you find to join us in the feast.'
Canticle from Revelation
Salvation and glory and power
belong to our God, alleluia!
God's judgments are true and just.
R.  Alleluia, Alleluia, Alleluia!
Praise our God
all you servants, alleluia!
Those reverencing with awe,
both small and great.
R.  Alleluia, Alleluia, Alleluia!
Adonai our God,
the Almighty reigns, alleluia!
Let us rejoice and exult,
giving God the glory.
R.  Alleluia, Alleluia, Alleluia!
The marriage of the Lamb has come,
And his bride has made herself ready.
She has been given for her clothing,
fine linen, glistening and pure.
R.  Alleluia, Alleluia, Alleluia!
Glory to the Abba and the Word,
and the Holy Breath
As always before,
so now and evermore. Amen!
'The banquet is ready,
but those invited refused to come.
Go out into the roads
and invite whomever you find to join us in the feast.'
SERVICE OF PRAYER
Litany of Intercession
For those invited to the Feast which God prepares each day, but refuse to join with the poor, rejected, abandoned or forsaken, and choose instead to eat what fails to satisfy…
For those who are charged with preparing the Feast and welcoming all, but refuse to admit those who are literally hungry, thirsty, or do not adhere to community standards…
For those who mistreat or kill the messengers of peace; and those who seek revenge…
For those who come to the feast but are unwilling to put on the love which is the perfect bond of unity and the wedding garment of the reign of God…
Send forth your Spirit, O God; ~ And renew the face of the Earth.
Prayer of Jesus Our Dear Abba in heaven..  
Closing Prayer & Blessing
God of Life and Love, you sent Jesus to announce the Reign of Heaven in parables and in  his way of living and loving among us.  Each day you prepare a banquet to celebrate the marriage of heaven and earth; may we accept your invitation, vest ourselves in the wedding garment of all-inclusive love, and join with the rest of Earthkind in the daily feast. For yours is the power and the glory of love, now and forever. ~Amen.
May the God who invites all to the feast, bless us and all Earthkind with freedom and the fulness of life.  ~Amen 
Let us bless Adonai.     ~Thanks be to God.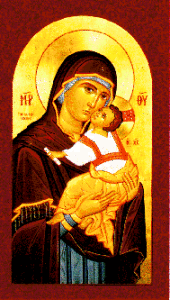 Those who wish may end evening prayer with the Marian Antiphon.
Salve Regina, Mater misericordiae, Vita dulcedo et Spes nostra, salve! Ad te clamamus, exsules filii Evae; Ad te suspiramus, gementes et flentes in hac lacrimarum vale. Eia, ergo, Advocata nostra, illos tuos misericordes oculos, ad nos converte; et Jesum benedictum fructum ventris tui, nobis, post hoc exilium ostende.  O Clemens, O Pia, O Dulcis, Virgo Maria!
Pray for us, O Holy Mother of God; ~ That we may be made worthy of the promises of Christ.
Let us pray.  Holy, Mighty and Immortal God, through the working of the Holy Spirit, you prepared the body and soul of the glorious virgin Mother Mary, as a worthy dwelling for your Word; grant that we, who celebrate her memory each evening, may with the help of her prayers, be freed from ever-present evil, and come to share the fulness of life eternal.   Amen.