Podcast: Play in new window | Download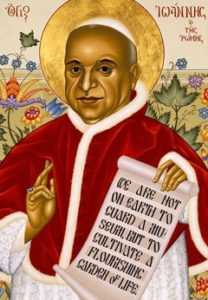 St. John XXII (Angelo Giuseppe Roncalli) 1881-1963
Invitation to Worship
Come, let us sing to Adonai, let us praise the God of all creation!
We make the Sign of the Cross over our  lips as we begin.
O Holy ONE + open my lips,
~And my mouth will proclaim your praise.
We are not on earth to guard a museum,
~But to cultivate a flourishing garden of Life.
MORNING HYMN
All may sing or alternate the verses of any  Morning Hymn. 
Blest are the meek and poor,
Who seek deep solitude;
In peace and patient poverty
They find God's plenitude.
The treasure of their heart
Lies hidden deep in Christ,
Where neither moth nor rust destroy
The pearl beyond all price.
God blesses humankind
With children, homes and lands;
No portion on this earth have those
Whose heritage is God.
Good Shepherd, call this flock
To make your Kin-dom known,
Where, grazing on God's holy mount,
We follow you alone.
Text: Gethsemani, 1972; Tune: S.M. 
PSALMODY
Antiphon
Whoever wishes to be great among you, must be the servant of all.
Psalm 33/34
I will bless Adonai at all times;
God's praise always on my lips;
In our God my soul shall makes its boast!
The humble shall hear and be glad.
Look towards God and be not ashamed; 
let your faces be radiant with joy:
This poor one called Adonai replied—
rescued me from all my distress.
God's angel surrounds all those who call,
to save them from all they fear.
O taste and see Adonai is good!
They are happy who trust in this Love.
Revere Adonai all you who are holy. 
They lack nothing who trust in God's name.
Though lions may hunger and find no prey, 
those who seek God are not disappointed.
Come, O children and hear my teaching,
you will learn to revere Adonai;
Do you long for freedom and fullness of life–
many days to flourish with joy?
Then keep your tongue from speaking of evil; 
your lips from lies and deceit;
 Turn from evil, do good for others; 
you must seek and strive after peace.  
The face of Love turns away from evil
that such deeds be remembered no more.
The just call, Adonai hears,
rescues them from all their distress.
The just will suffer from anguish and trial 
but God will be there to save:
A guard to keep watch over all of their bones 
so that none of their bones will be broken. 
Adonai is close to the broken-hearted;
those who spirit is crushed will be saved.
Adonai ransoms the souls of the poor:
those who trust shall not be condemned.
Text: Psalm 33/34 New Translation.
Whoever wishes to be great among you, must be servant of all.
READING     
 

Ezekiel 34: 23, 25-27, 29-30

I will appoint one shepherd over them to pasture them.  I will make a covenant of peace with them and rid the country of wild beasts so they will dwell securely in the wilderness and sleep in the forests.  I will settle them around my hill and send rain in its season, the blessing of abundant rain.  The trees of the field shall bear their fruits, and the land its crops, and they shall dwell securely on their own soil. They shall know that I am Adonai when I break the bars of their yoke and deliver them from the power of those who enslaved them.  I will prepare for them peaceful fields for planting so they are never again swept away by famine in the land or bear taunts from the nations.

Thus they shall know that I, the Adonai, their God, am with them, and that they are my people, the house of Israel— The word of Adonai Elohim.
Silent Prayer
Responsory
R. Our God has loved and rewarded him * God has invested him with glory  V. Good Pope John has served God's family well, *God has invested him with glory.  V. Glory to the One and the Word, and the Breath of Love.
Canticle of Zachary–  Luke 1:68-79
 Antiphon
Good Pope John, an outstanding pastor of the Church, 
has left us a splendid example and rule of life, 
a guide for all who shepherd God's people.
Blessed + be Adonai, the God of Israel,
Who visits this people to set us free
Raising for us a sign of salvation
In the house and family of David.
God promised throughout past ages
In words of holy prophets
To save us from our enemies,
And from the control of our oppressors.
Adonai favored our ancestors
And remembered the sacred covenant.
The pledge to Abraham and Sarah
Is now renewed for us;
That freed from the grip of our foes
We might worship without fear
And be both just and holy
For the rest of our days.
And you, child, called "prophet of the Most High,"
Will go ahead to prepare the way,
By teaching this people of salvation
Through forgiveness of their sins.
For the loving compassion of the Holy One
As the Rising Sun will shine upon us
To illumine the darkness and dispel death's shadow
To guide our feet on the way of peace.
Glory to the ONE and to the WORD
and to the BREATH of Love!
As always before,
so now and evermore.  Amen.
Good Pope John, an outstanding pastor of the Church, 
has left us a splendid example and rule of life, 
a guide for all who shepherd God's people.
Intercessory Prayer
Prayer of Jesus
Our Father …
 Versicles
Show us your mercy, Adonai,
~And grant us your salvation.
Clothe your ministers with justice,
~Let your people sing for joy. 
Keep this and all nations under your care,
 ~Guide all peoples in justice and truth.
Let your ways be known upon earth,
~Your saving help among all the nations.
Let not the needy be forgotten
~Nor the hope of the poor be denied.
Create in us clean hearts, O God;
~ And fill us with your Holy Spirit. 
 Closing Prayer & Blessing
Holy One and God of endless Compassion, you are the praise of all your saints and the joy of all creation. You called Pope John XXIII to lead the church as a wise and gentle pastor, freeing those under his guidance to use their faith, learning, experience and wisdom in service of God and their faith communities.  May all who minister in leadership be blessed with that same wisdom and so help to build your reign on Earth as it is in heaven where you live and love One God for ever and ever.  Amen.
May God + bless us to use the traditions of our faith to cultivate a flourishing garden of life for all Earthkind  ~Amen.
Let us bless Adonai.
~Thanks be to God.