Podcast: Play in new window | Download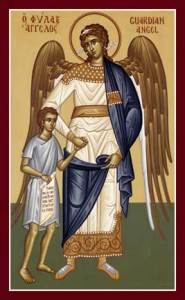 Invitation to Worship 
 Let us praise ADONAI whom the Angels praise,
to whom the Cherubim and Seraphim cry out and sing:
"Holy, holy, Holy LORD, God of power and love!"
O Holy ONE + open my lips,
~And my mouth will proclaim your praise.
The Ruler of the Angels, the God of Hosts,
~Let us gather now to glorify!
 MORNING HYMN
All may sing or alternate the verses of any Morning Hymn .
They come, God's messengers of love,
they come from realms of peace above,
from homes of never-fading light,
from blissful mansions ever bright.
They come to watch around us here,
to soothe our sorrow, calm our fear:
O heavenly guides, speed not away,
God sends you now with us to stay.
But chiefly at its journey's end
'tis yours the spirit to befriend,
and whisper to the faithful heart,
"O Christian soul, in peace depart."
To us the zeal of angels give,
with love to serve you while we live;
to us an angel-guard supply,
when on the bed of death we lie.
To God the Abba, God the Son,
and God the Spirit, Three in One,
from all above and all below
let joyful praise unceasing flow.
Text: Robert Campbell, 1850
PSALMODY
Antiphon
Adonai has put Angels in charge of you,
to guard you in all of your ways.
Psalm 90/91
You who dwell in the shelter of the Most High,
who abide in the shadow of the Almighty,
Say to ADONAI, "My refuge and fortress,
my God in whom I trust."
For God will rescue you from the snare of the fowler, 
from the destroying pestilence.
With pinions Adonai will cover you,
And under those great wings you shall take refuge.
God's faithfulness is a buckler and a shield.
You shall not fear the terror of the night
Nor the arrow that flies by day;
Nor the pestilence that roams in darkness
Nor the devastating plague at noon.
No evil shall befall you,
Nor shall affliction come near your tent,
For to the angels God has given command:
That they guard you in all your ways,
Lest you dash your foot against a stone.
Glory to the One and to the Word
And to the Breath of Love;
As always before,
so now and evermore. Amen.
Adonai has put the Angels in charge of you,
to guard you in all of your ways.
READING    Exodus 22:20-23
I am going to send an angel in front of you, to guard you on the way and to bring you to the place that I have prepared. Be attentive and listen to the angel's voice; do not rebel;
for my name is in this angel.
If you listen attentively to the angel's voice and do all that I say, then I will be with you and on your side. For my angel shall go before you.
Silent Prayer
Responsory
R. With the Angelic company I shall sing my psalms to you, Adonai.
V. In your holy temple, I shall adore you, and give witness to your Holy Name.
V. Glory to the Abba, and the Word, and the Holy Breath of Love.
GOSPEL CANTICLE
Antiphon
I tell you most solemnly
you will see heaven laid open and, above the Human One,
the Angels of God ascending and descending.
Canticle of Zachary–  Luke 1:68-79
Blessed + be Adonai, the God of Israel,
Who visits this people to set us free
Raising for us a sign of salvation
In the house and family of David.
God promised throughout past ages
In words of holy prophets
To save us from our enemies,
And from the control of our oppressors.
Adonai favored our ancestors
And remembered the sacred covenant.
The pledge to Abraham and Sarah
Is now renewed for us;
That freed from the grip of our foes
We might worship without fear
And be both just and holy
For the rest of our days.
And you, child, called "prophet of the Most High,"
Will go ahead to prepare the way,
By teaching this people of salvation
Through forgiveness of their sins.
For the loving compassion of the Holy One
As the Rising Sun will shine upon us
To illumine the darkness and dispel death's shadow
To Guide our feet on the way of peace.
Glory to the ONE and to the WORD
and to the BREATH of Love!
As always before,
so now and evermore.  Amen.
I tell you most solemnly
you will see heaven laid open and, above the Human One,
the Angels of God ascending and descending.
INTERCESSORY PRAYER
Prayer of Jesus
Our Father …
In you, Adonai, is the Source of Life,
~In your Light we shall see light.
Send forth your light and your truth
~Let these be our guide.
Fill us each morning with your constant love,
 ~That we may sing and be glad all our life.
Let us see your wonderful works,
~May your children see your glorious might.
Gracious God, may your blessing be upon us;
~And grant us success in all we do.
Send forth your Spirit and they shall be created;
~ And you shall renew the face of the earth. 
Closing Prayer & Blessing
God of Mystery and Majesty, in your kindness and providence you send your Holy Angels to guide and guard us on our journey through life.  May we be defended by their protection and rejoice in their company as we join all your Angels and Saints in building up  your reign on earth as it is in heaven, now and forever.  Amen.
May the God of Life, the Praise of all the Angels and the Joy of all Creation + bless our days and our deeds with peace..   ~Amen.
Let us bless Adonai.    ~Thanks be to God.