Podcast: Play in new window | Download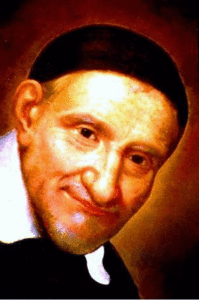 27 September — St. Vincent de Paul (1581-1660)
Invitation to Worship
Come, let us sing to Adonai! Let us praise the God of all creation!
O Holy One, + open my lips,
~And my mouth shall proclaim your praise.
The hand of our God will feed us;
~God answers all our needs!
HYMN TO ST. Vincent de paul
With glowing light sent from above,
O Vincent, how you guide our way!
Your virtues and example pure
Show us the path to heaven's day.
With self-effacing modesty,     
You made yourself of little state;     
Your gentleness and simple life     
Made you revered by small and great.
Amidst the graces of your life
Your charity sheds brightest fire:
How many of the poor it fed,
Filled many hearts with Christ's desire.
Urged on by zeal and charity,     
You preached in town and countryside,     
Proclaiming all God's mysteries     
To poor and rich, both far and wide.
Beneath your wings you gathered those
Who longed to share both work and strife.
By word and deed you taught them well;
You formed and taught them by your life.
To God, the holy Three-in-One,     
All praise and glory be addressed,     
Whose life divine is best reward,     
And light eternal for the blessed.
J.Michael Thompson Copyright © 2009, World Library Publications
LM 
MORNING  PSALMODY
Antiphon/Refrain
Adonai hears the cry of the poor, Praised be Adonai
Psalm 33/34
I bless you Adonai at all times,
Your praise ever in my mouth,
Let my soul glory in your Love,
for you hear the cry of the poor. (Refrain)
Let the lowly hear and be glad
Adonai listens to their pleas
and to hearts broken God is near
who will hear the cry of the  poor. (Refrain)
Ev'ry spirit crushed God will save;
will be ransom for  their  lives;
will be safe shelter for their fears,
and will hear the cry of the poor. (Refrain)
We proclaim your greatness O God,
your praise ever in our mouth;
ev'ry face brightened by your light
for you hear the cry of the poor.  (Refrain)
Psalm 33/34 John Foley, SJ alt.
READING        Isaiah 52:7-10
How beautiful on the mountain,
are the feet of one who brings good news,
who heralds peace, brings happiness,
proclaims salvation, and tells Zion,
"Your God reigns evermore!"
Listen! Your watchmen raise their voices,
they shout for joy together,
for they see Adonai face to face returning to Zion.
Break into shouts of joy together,
O ruins of Jerusalem;
for Adonai is consoling this people,
redeeming Jerusalem.
Adonai bares a holy arm,
in the sight of all the nations,
and all the ends of the earth
shall see the salvation of God.
Responsory
R.  This one command I give you  that you love each other *just as I have been loving you.  V. By this will all people know that you are my disciples, if you have love for one another. * just as I have been loving you.  V.  Glory to the Abba and the Word and the Holy Breath of Love.
Gospel Canticle
Antiphon
Adonai favored our ancestors,
and called Vincent to serve others with joy.
Blessed + be Adonai, the God of Israel,
Who visits this people to set us free
Raising for us a sign of salvation
In the house and family of David.
God promised throughout past ages
In words of holy prophets
To save us from our enemies,
And from the control of our oppressors.
Adonai favored our ancestors
And remembered the sacred covenant.
The pledge to Abraham and Sarah
Is now renewed for us;
That freed from the grip of our foes
We might worship without fear
And be both just and holy
For the rest of our days.
And you, child, called "prophet of the Most High,"
Will go ahead to prepare the way,
By teaching this people of salvation
Through forgiveness of their sins.
For the loving compassion of the Holy One
As the Rising Sun will shine upon us
To illumine the darkness and dispel death's shadow
To guide our feet on the way of peace.
Glory to the ONE and to the WORD
And to the BREATH of Love!
As always before,
so now and evermore.  Amen
Adonai favored our ancestors,
and called Vincent to serve others with joy.
Prayer of the Vincentian Family
Open our eyes to see the deepest needs of those around us…
Move our hands to feed the hungry…
Touch our hearts to bring warmth to those despairing…
Teach us generosity to welcome strangers…
Let us share our possessions with people in need…
Give us the care that strengthens the sick…
Help us share in the quest that sets prisoners free…
For in sharing our anxieties and our love,
our poverty and prosperity,
we partake of your divine presence.  Amen.
Prayer of Jesus
Our Father…
Closing Prayer
Gracious God of Loving-kindness, you called Vincent de Paul to
to bring your care to those in need, to call church leaders to holiness,
and to awaken in many the love of the poor.  May all who celebrate his feast be moved with compassion for all who suffer and extend your reign of justice and mercy and peace.   For yours is the power and glory of love, now and forever.  Amen
Blessing
May God bless + us, protect us from all evil, and lead us to freedom and the fullness of life,  ~Amen.
Let us bless Adonai.   ~Thanks be to God.