Podcast: Play in new window | Download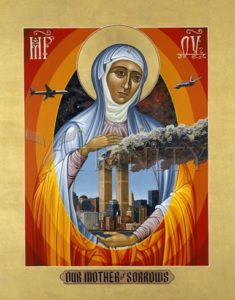 9/11/01 Memorial
SERVICE OF LIGHT
Greeting/Invocation
 We light the Evening Candle and say or sing:
Light and Peace in Jesus Christ our Lord!
~Thanks be to God!
Stay with us Lord for it is evening,
~And the day is almost over.
HYMN FOR SEPTEMBER 11
O Christ beneath the fallen stones, Nailed fast to bars of twisted steel,
And slain in flesh and blood and bones, Pierced by the fear all mortals feel:
Arise from ash and dust and death, And breathe into crushed hearts new breath.
O Christ among the wreckage shorn of hope for those who lie there dead,
Yet bathed in sweat of labors borne To free the grieving from their dread:
Arise from our despair's long night And pour upon us living light.
O Christ within a world at war, Where love and hate fight for the soul
And all sights trained on death see far But only love can see the whole:
Arise from unforgiving pain And teach us how to love again.
Text: Genevieve Glen, OSB; Tune: SEPTEMBER HOPE by Tobias Colgan, OSB
SERVICE OF THE WORD
PSALMODY
 Antiphon
Give peace, Adonai, to those who hope in you;
Let your Justice rain down from Heaven
And Truth spring up from our Earth.
Psalm 84/85

O Holy One, you have blessed your land
and averted the destruction of Jacob,
You forgave your people's iniquity
covering all of their shame,
You blessed them and raised up new hope;
Forgiving with merciful love.
Revive us now, God, our Helper!
Refine us with the Fire of your Love!
Restore once again our life,
That all people may rejoice in you!
Show us your Love and Compassion
And grant us your saving help.
I will hear what Adonai has to say,
Speaking with a voice of peace,
Peace for this people and the saints
Who turn their hearts to Love:
New life is drawing near,
Glory is filling the land.
Kindness and faithfulness have embraced
Righteousness and peace have kissed.
Truth sprouts from the earth,
While justice leans down from heaven.
Adonai will grant what is good,
And Earth will bear her fruit;
Justice will walk ahead
And guide us in the ways of peace.
Glory to the ONE and to the WORD
and to the BREATH of Love;
as always before,
so now and evermore. Amen.
Give peace, Adonai, to those who hope in you;
Let your Justice rain down from Heaven
And Truth spring up from our Earth.
Reading   James 3: 13-18
Beloved:
Who among you are wise and understanding?
Let then show their works by a good life
in the humility that comes from wisdom.
But if you have bitter jealousy and selfish
ambition in your hearts,
do not boast and be false to the truth.
Wisdom of this kind does not come from above
but is from below, unspiritual, demonic.
For where jealousy and selfish ambition exist,
there is disorder and every foul practice.
But the wisdom from above is first of all pure,
then peaceable, gentle, compliant,
full of mercy and good fruits,
without inconstancy or insincerity.
And the fruit of righteousness is sown in peace
for those who cultivate peace.
Responsory
R. In returning and in rest you shall find peace; *in quietness and in trust shall be your strength . V. For Adonai is a God of Justice; blessed are all those who wait for God's Love* in quietness and in trust shall be your strength.  V. Glory to the ONE, to the WORD, and to the Holy BREATH of Life.
Gospel Canticle of Mary
Antiphon
How blest are the peacemakers,
they shall be called Children of God.
It is customary to make the sign of the cross at the beginning of the Gospel Canticle.
My heart + is radiant with the Lord,
My whole being delights in God my Savior.
All people now will call me blessed
For God has loved this humble handmaid.
The Almighty has shown me great favor
Holy is the NAME,
Whose mercy embraces the faithful,
From one generation to the next.
The mighty arm of God,
Scatters the proud in their own conceit,
Pulls tyrants from their thrones
While lifting up the lowly:
Fills the famished with bounty,
And reveals the emptiness of riches.
Rescues lowly Israel,
Sharing such loving kindness,
As promised to our ancestors
To Abraham and Sarah, and their descendants forever.
Glory to the ONE and to  WORD
And to the BREATH of Love!
As always before,
so now and evermore.  Amen
How blest are the peacemakers,
they shall be called Children of God.
SERVICE OF PRAYER
Litany of Intercession
May our Church and all communities of faith serve as beacons of reconciliation, ~inviting and leading others in the ways of harmony and peace. 
May all nations locked in disagreement break the ancient bond of hatred ~pursue forgiveness and seek healing.
May this anniversary of the September 11 tragedies honor the memory of those who lost their lives ~ and strengthen our commitment to economic and social  justice for all peoples.
May all who are burdened by the weight of resentments ~find solace in today's lessons of compassion and forgiveness.
May all who voice these prayers today ~reflect God's mercy in the way that they care for and forgive others.
Prayer of Jesus
Our Father …
Closing Prayer & Blessing
God of the living and the dead, you call all humankind to love one another and to care for the whole of creation. Do not hold our sins against us, and strengthen us to forgive those who wish us evil and to work for their good.  Hear the prayers we offer in the name of Jesus who revealed the power of your love that invites all of us to freedom, flourishing and the fullness of life.   Amen.
May the God of Healing and Compassion, bless + this world with Wholeness and Peace.   Amen.
Let us bless Adonai!    ~Thanks be to God.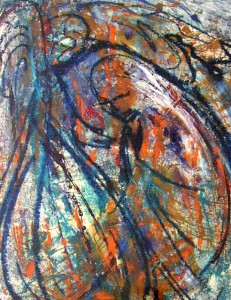 Those who wish may end evening prayer with the Salve Regina
Marian Antiphon
Mother of mercy, our Queen, we greet you! Our life, our hope, our happiness, we hail you.
We call to you as Eve's own children, and exiles; To you we lift our heart in sorrow and fear, in this valley of tears.  Turn then, our loving Advocate, and look with favor upon us.  And after our life in exile, show us the blessed fruit of your womb, Jesus.  O gracious, O loving, O Virgin benign, our Mother Mary.
Pray for us, O Holy Mother of God;
~ That we may be made worthy of the promises of Christ.
Let us pray.  Holy, Mighty and Immortal God, through the working of the Holy Spirit, you prepared the body and soul of the glorious virgin Mother Mary, as a worthy dwelling for your Word; grant that we, who celebrate her memory each evening, may with the help of her prayers, be freed from ever-present evil, and come to share the fulness of life eternal.   Amen.