Podcast: Play in new window | Download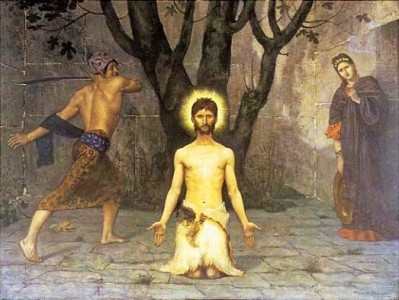 Invitation to Worship
Adonai is the crown of all the saints, come let us adore!
O Holy One, +open my lips
~and my mouth will proclaim your praise.
You O Christ must increase
~and I must decrease
Morning Hymn for  John the Baptist
Greater than all born of women, less that any born of God,
You who pointed to the Savior Could not follow where He trod.
Worthy not to loose the sandal: Holy was the foot there shod;
Yet with tears a sinful woman Washed them of the journey's mud.
Worthy prophet, true Elijah, Come to witness to the Light.
Brought to nothing by the madness of a drunken king at night!
Jezabel has won her trophy, Not deceived this time by flight.
You were sent no fiery chariot, But a martyr's glory bright.
Greatest man among the greatest, Less than are the very least;
Your desire was to diminish While you saw the Christ increase.
When you heard the Bridegroom coming, then for joy your wisdom ceased.
You who thundered once by Jordan Listened now in deepest peace.  Amen.
Text: Gethsemani, 1971.  Tune: In Babilone 
PSALMODY
 Antiphon/Refrain
O My Strength, it is you to whom I turn, for you,
O God, are my refuge, the God who gives me life.
 Psalm 70/71: 1-16
Adonai, you are my shelter;
My refuge, do not fail me.
You are just and always do right:
rescue me and free me;
hear my cry and save me.
Be a rock  where I can be safe,
a mighty stronghold to save me.
Be my tower of strength,
to whom I can always turn.
Free me from the hands of the wicked
from their grip, reach out and save me.(Refrain)
You are my hope, Adonai,
my trust throughout my youth.
I have relied on you since my birth;
my strength from my mother's womb.
You have always been my help;
My hope has always been in you.
Others shun me like the plague,
but you keep me in your care.
I am filled with songs of praise,
all day long I sing of your glory.
Do not reject me now that I am near death;
my strength fails, do not toss me aside.(Refrain)
For my enemies now scheme against me,
they have designs on my life.
They think God has left me,
"Strike now, for no one will help."
O God, do not hold back now;
run quickly , Adonai, to help me!
Those who accuse me will be disgraced,
wrapped, by their deeds, in shame.
Those who seek to cause harm
will face utter ruin. (Refrain)
But I will never lose hope,
and never stop singing your praise.
My lips will speak of your justice
and day by day of your saving deeds,
though I can never count them all:
Adonai, you alone are just!
O My Strength, it is you to whom I turn, for you,
O God, are my refuge, the God who gives me life.
READING          Jeremiah 1:17-19
But you, gird up your loins; stand up and tell them everything that I command you. Do not break down before them. And I for my part have made you today a fortified city, an iron pillar, and a bronze wall, against the whole land–against the kings of Judah, its princes, its priests, and the people of the land. They will fight against you; but they shall not prevail against you, for I am with you, says ADONAI, to deliver you.
Responsory
You sent your disciples to John, *and he gave witness to the truth.
V.   He was like a brightly shining light, *and he gave witness to the truth.
V. Glory to the Abba and  to the  Word and to the Holy Breath of Love.
Canticle of Zachary–  Luke 1:68-79
 Antiphon
I am not the Christ; I have been sent to prepare his way.
He must increase and I must decrease.
Blessed + be Adonai, the God of Israel,
Who visits this people to set us free
Raising for us a sign of salvation
In the house and family of David.
God promised throughout past ages
In words of holy prophets
To save us from our enemies,
And from the control of our oppressors.
Adonai favored our ancestors
And remembered the sacred covenant.
The pledge to Abraham and Sarah
Is now renewed for us;
That freed from the grip of our foes
We might worship without fear
And be both just and holy
For the rest of our days.
And you, child, called "prophet of the Most High,"
Will go ahead to prepare the way,
By teaching this people of salvation
Through forgiveness of their sins.
For the loving compassion of the Holy One
As the Rising Sun will shine upon us
To illumine the darkness and dispel death's shadow
To guide our feet on the way of peace.
Glory to the ONE and to the WORD
and to the BREATH of Love!
As always before,
so now and evermore.  Amen
I am not the Christ; I have been sent to prepare his way.
He must increase and I must decrease.
Intercessory Prayer
Litany of Intercession
You called John the Baptist from his mother's womb to prepare the way of Jesus by calling people to share their possessions, to act with justice and to treat others with respect
~help us to work for justice and thus open the way for Jesus.
You called John the Baptist to live on a simple diet, and close to nature in the wilderness, ~help us to live more simply so that other people and species may flourish.
You called John the Baptist to challenge those who misused power and disregarded the dignity of others ~help us to speak the truth to power with love.
You called John the Baptist to celebrate the conversion of hearts and the return to the heart of the Torah by baptizing people in the Jordan River;
~help all those who have entered the waters of Baptism to live out the faith and love they have professed.
You called John the Baptist to decrease so that the Lamb of God might increase
~help us to  recognize with humility and gratitude the special role each of us has in proclaiming and building your reign of justice and peace.
You called John the Baptist to give testimony to you by his life and even by his death,
~ help us to imitate his witness to your truth and to the marvelous gift of your love.
Prayer of Jesus
Our Father who art in heaven…
Closing Prayer
We bless and thank you, O Gracious God, for you raised up John the Baptist to prepare your people for the coming of Jesus, our Love.  Give your people joy in spirit and guide all humanity into the ways of justice and on the paths to peace, for yours is the glory and power of love now and forever.  Amen.
Blessing
May the tender compassion of our God  bless + us and guide our feet in the ways of peace,  ~Amen.
Let us bless Adonai.
~Thanks be to God.