Haiku
Experimenting
I hung the moon
on various
branches of the pine.
Native proverb
The frog does not drink up the pond in which he lives.
EARTH LOVE
And forget not that
the earth delights to feel your bare feet,
and the winds long to play with your hair.
~Khalil Gibran from The Prophet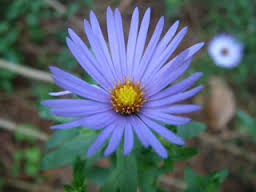 A BLUE FLOWER
I held a blue flower in my hand, probably a wild aster, wondering what its name was,
and then thought that human names for natural things are superfluous.
Nature herself does not name them.
The important thing is to know this flower,
look at its color until the blueness becomes as real as a keynote of music.
Look at the exquisite yellow flowerets in the center, become very small with them.
Be the flower, be the trees, the blowing grasses.
Fly with the birds, jump with the squirrel.
~Sally Carrigher from Home to the Wilderness
(These four selections, shared by Kathy Heskin, from
Steve Van Matre & Will Weiler, eds., The Earth Speaks, Institute for Earth Education )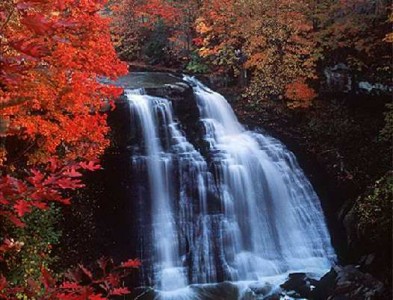 MARY OLIVER
Lilacs
If I could love the way they do,
squandering my best season on whoever comes by,
pouring my scent in all directions,
bursting
without hesitation
 into fullness,
then
I would not say
"These droning bees are not worth my brief hours."
I would open soft petals to the their suckling,
feel my death emerging into Sweetness,
taste the honey I would soon become
I would not say
"I will choose carefully who deserves my joy".
I would see my own face in the eyes of the child who tore me from the stem,
holding me up in sunlight
I would walk silently through the doorway into his mother's eyes,
join a crowd of memories,
enter Her eternal gladness
I would not say
"The winter was long and my season is brief."
When the Spring wind plucked each feather of my beauty and filled
the air with violet snow,
I would bow,
 in reverence,
toward the dance of my own
gorgeous
dispersal
If I could love the way they do,
I would not say
"This time with you was too short."
I would drop each cell of our togetherness into this Eternal Now,
die into the wilderness
of your laughter,
trust you to bestow me in new forms
as gifts
to other altars
~ Rebecca Zambrano
Approaching the Deer Goddess
Her flesh body stands before me now.
 Taut without straining,
She listens with every muscle, her senses tuned so perfectly to my own that I
can feel the sudden streak of brown she will become
But she doesn't run,
doesn't move
The Goddess rests in her power, measuring me with her
gaze
I relax my body and look away,
whisper in silence that I am not predator,
glance back;
wait.
She has decided to continue to forage and chew, though the ripples of her flesh are tight
with attention
I am still,
holding her in my gaze
until she blends with the layers of brown and green marsh
Still, and more still
I wait, unmoving
until,
the energy body
(shy child of the soul,)
peeks out, steps gingerly away from my flesh
toward the deer
How does one free the Energy Body to approach the Goddess?
Fall so deep into stillness that there is nothing left but space
Let the Goddess open the lips of Longing beneath longing
Drink skylight from the black pools of her eyes
Shine
Shine
Shine
~ Rebecca Zambrano
What We Need is Here
Geese appear high over us,
pass, and the sky closes. Abandon,
as in love or sleep, holds
them to their way, clear
in the ancient faith: what we need
is here. And we pray, not
for new earth or heaven, but to be
quiet in heart, and in eye,
clear. What we need is here.
~Wendell Berry
(shared by Dean Pribbenow)
The Road Not Taken
Two roads diverged in a yellow wood,
And sorry I could not travel both
And be one traveler, long I stood
And looked down one as far as I could
To where it bent in the undergrowth;
Then took the other, as just as fair,
And having perhaps the better claim
Because it was grassy and wanted wear,
Though as for that the passing there
Had worn them really about the same,
And both that morning equally lay.
In leaves no step had trodden black.
Oh, I kept the first for another day!
Yet knowing how way leads on to way
I doubted if I should ever come back.
I shall be telling this with a sigh
Somewhere ages and ages hence:
Two roads diverged in a wood, and I,
I took the one less traveled by,
And that has made all the difference.
~ Robert Frost from Mountain Interval, 1916
(shared by Karley Gassman)