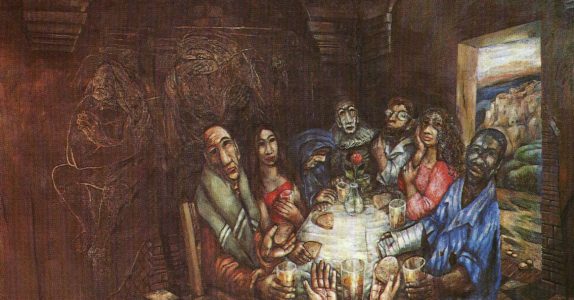 No Recording for this Evening.
SERVICE OF LIGHT
Greeting/Invocation
 We light the Evening Candle and say or sing:
Light and Peace in Jesus Christ our Lord!
~Thanks be to God!
Stay with us Lord for it is evening,
~And the day is almost over.
HYMN For the Call of St. Matthew
A tax collector, scorned by all, A serf of sov'reign Rome,
Christ called you, Matthew, from your gold To follow him alone.
For Jesus passed you by one day, He looked and called your name,
And in his gaze you knew his love And, leaving all, you came.
You found in him  a diff'rent gold, the Treasure of the field,
The Pearl beyond all human price, A whole new world revealed.
Then in your joy you called your friends To meet the one who saves,
That in the vineyard they might work For his eternal wage.
We praise you Abba, God of all, We praise you Christ the Son
We praise you, Spirit, for in you We may yet live as one;
We beg you for that gift of sight To see in each your face,
That even now our world may know The fullness of your grace.
Text: Ralph Wright, OSB alt.  Tune: CMD
SERVICE OF THE WORD
PSALMODY
Antiphon/Refrain
Never forget God's deeds.
 Psalm 105/106
Give thanks to Adonai for such goodness
and love which endures forever.
Who can tell all God's wondrous deeds?
Who can provide adequate praise?
They are happy who do what is right,
who at all times do what is just.
Adonai, remember me
out of the love you have for your people.  Never forget God's deeds.
Our sin is the sin of our forbearers
we have done wrong, our deeds have been evil.
Our ancestors when they were in Egypt
paid no attention to your wonderful deeds.
They forgot the greatness of your love
and refused to obey your will.
They yielded to their cravings in the desert
and put you to the test in the wilderness. Never forget God's deeds.
They fashioned a calf at Horeb
and worshipped an image of metal
exchanging the God who was their glory
for the image of a bullock that eats grass.
They forgot the God who was their savior,
who had done such great things in Egypt
wonders in the land of Pharaoh
and marvels at the Sea of Reeds. Never forget God's deeds.
For this, you were ready to destroy them
but Moses, the one you had chosen
stood alone before you–
reminding you of your faithfulness and love.
In the greatness of your love you relented,
for their sake you remembered the covenant;
You let them be treated with mercy–
and so we can cry for your help:
Adonai, come quickly and save us
that we may thank you and sing praise to your Name. Never forget God's deeds.
Glory to the One and to the Word
and to the Breath of Love
as always before,
so now and evermore. Amen.
Never forget God's deeds.
Reading   Romans 15:1-6
We who are strong ought to put up with the failings of the weak and not to please ourselves; let each of us please our neighbor for the good, for building up. For Christ did not please himself; but, as it is written,"The insults of those who insult you fall upon me." For whatever was written previously was written for our instruction, that by endurance and by the encouragement of the scriptures we might have hope. May the God of endurance and encouragement grant you to think in harmony with one another, in keeping with Christ Jesus, that with one accord you may with one voice glorify the God and Father of our Lord Jesus Christ.
Responsory
R. God be praised,*Who gives us the victory through our Lord Jesus Christ! 
 V. There is nothing in death or life that can separate us from the love of God *Who gives us the victory through our Lord Jesus Christ!  
V. Glory to the Abba and the Word and the Holy Breath of Love.
Gospel Canticle of Mary
Antiphon
Go learn the meaning of these words:
"I desire mercy, not sacrifice."
It is customary to make the sign of the cross at the beginning of the Gospel Canticle.
My heart + is radiant with the Lord,
My whole being delights in God my Savior.
All people now will call me blessed
For God has loved this humble handmaid.
The Almighty has shown me great favor
Holy is the NAME,
Whose mercy embraces the faithful,
From one generation to the next.
The mighty arm of God,
Scatters the proud in their own conceit,
Pulls tyrants from their thrones
While lifting up the lowly:
Fills the famished with bounty,
And reveals the emptiness of riches.
Rescues lowly Israel,
Sharing such loving kindness,
As promised to our ancestors
To Abraham and Sarah, and their descendants forever.
Glory to the ONE and to  WORD
And to the BREATH of Love!
As always before,
so now and evermore.  Amen
Go learn the meaning of these words:
"I desire mercy, not sacrifice."
SERVICE OF PRAYER
Litany of Thanksgiving and Intercession
For the healing waters of creation, which bring pleasure and health, purity and life,
~ We thank you.
For the richness of Mother Earth, who brings forth fruits and flowers, a pleasure to taste and a joy to behold,~ We thank you.
For the soaring birds of the air, the crawling creatures on the Earth, the gliding fishes in the seas, for all creatures great and small with whom we share this precious web of life,  ~ We thank you.
For the invigorating sunlight of day, the deepening mystery of night, the wonder of the stars, and the call of the unknown in the universe, ~ We thank you.
From heedless misuse and dishonoring of the wonders of your hand,
~ O God, deliver us.
From squandering resources, abusing our companion species, and polluting the habitat we all share,~ O God, deliver us.
From the folly of imagining ourselves the center of creation,~ O God, deliver us.
For the courage and wisdom to confess how little we have cared for your gifts,
~ Strengthen us, O Spirit.
For the conviction that you have called us to love and restore the Earth,
~ Strengthen us, O Spirit.
For repentance and the determination to begin our proper role in creation anew,
~ Strengthen us, O Spirit.
Prayer of Jesus
Translation prepared for the New Zealand Book of Common Prayer
Eternal Spirit, Earth-Maker, Pain-bearer, Life-giver,
source of all that is and that shall be,
Father and Mother of us all, Loving God, in whom is heaven:
May the hallowing of your Name echo throughout the universe!
The way of your justice be followed by the peoples of the earth!
Your heavenly will be done by all created beings!
Your commonwealth of peace and freedom sustain our hope and come on earth.
With the bread we need for today, feed us.
In the hurts we absorb from one another, forgive us.
In times of temptation and test, strengthen us.
From the grip of all that is evil, free us.
For you reign in the glory of the power that is love, now and forever.
Amen.
Closing Prayer & Blessing
Creating and Sustaining God, as we celebrate  the  sixth day of the week in the warmth of summer, we praise and thank you for the wonder and beauty of all the creatures that You have made, for each one of them reveals something of Your inexpressible love.  Awaken in us such a sense of wonder and delight that we receive with gratitude the gifts that Mother Earth provides to supply our needs,  generously share these gifts with all your creatures, and lovingly care for our common home—all to the honor and glory of your Holy Name. Amen.
May the God of the Cosmos +   bless us with reverence, wonder and awe .
~Amen.
Let us bless Adonai!
~Thanks be to God.
Those who wish may end evening prayer with the Salve Regina
Marian Antiphon
Mother of Mercy, Our Queen we greet you. Our life, our hope, our happiness we hail you. We call to you as Eve's own children, and exiles.  To you we lift our hearts in sorrow and fear,  in this valley of tears.  Turn then, our loving Advocate, and look with favor upon us.  And after our life in exile, show us the blessed fruit of your womb, Jesus.  O gracious, O loving, O Virgin benign, our Mother Mary.