Podcast: Play in new window | Download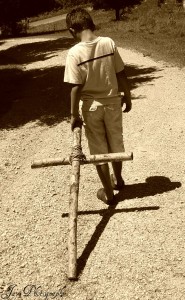 SERVICE OF LIGHT
Greeting/Invocation
 We light the Evening Vesper Candle and say or sing:
Light and peace in Jesus Christ our Love!
~Thanks be to God!
Sunday Evening Hymn
O Splendor of Eternal Light, Who if full glory dwell on high!
The world began as light from Light, All goodness in our Abba's sight.
Upon the twilight chaos played Your wisdom forming night and day.
As night descends to You we sing To hover near on brooding wing.
Forgive the wrongs we cannot bear, Lest, overwhelmed by worldly care,
Our hearts forget eternal life, And dwell in exile from its light.
Let heaven's Spirit pulse within, Replace with love all grievous sin,
Thus, casting ever'y fear away, with cross we follow in your way.
O might Abba hear our cry, Through Jesus Christ our Love most high,
Whom in the Spirit we adore, who reigns with you forevermore.  Amen.
Text: Lucis Creator Optime (7th century); Tune: Plainsong, Mode VIII
 Thanksgiving for the Light
Let us give thanks to the God of Light, always and for everything.
~In the name of our Lord, Jesus Christ.
We praise and thank you, O God, through your Word, Jesus Christ,
through whom you have enlightened us by revealing the light that never fades.
Joy to all creatures, honor, feasting and delight!
Night is falling and day's allotted span draws to a close.
We have enjoyed your gift of daylight; brighten now our evening hours.
We praise and glorify you: Abba, through your Son, our Love Jesus Christ,
in the Holy Spirit, now and forever.  Amen!
 SERVICE OF THE WORD
SUNDAY EVENING PSALM
Antiphon
Our God answers to no one
in heaven or on earth.
Psalm 113b/115
Not to us, Adonai, not to us,
but to your Name give the glory;
because of your love and your truth,
lest the nations say, "Where is their God?"
But our God is in the heavens
and answers to no one.
Their gods are crafted by hand
nothing more than silver or gold.
They have mouths that are mute
and eyes that are blind;
they have ears that are deaf
and noses that cannot smell.
With their hands they cannot feel;
their feet cannot walk.
No sound comes from their throats,
their makers will come to be  like them
and so will all who worship and trust in them.
Let all of Israel trust in Adonai
who is their help and their shield.
Let the house of Aaron trust in Adonai
who is their help and their shield.
All who reverence God, trust in Adonai,
who is your help and your shield.
God remembers us and will bless us;
will bless the house of Israel
and bless the house of Aaron.
Adonai will bless those who worship
the little no less than the great
May God bless  and grant you increase,
for you and for all your children.
May you be truly blest by Adonai,
the maker of heaven and earth.
The heavens belong to Adonai
but the Earth is entrusted to us.
The dead do not sing God's praises
nor those who go down into silence;
but we who live bless Adonai:
Abba, Word and Breath of Love
as always before
so now and evermore, Amen!
Our God answers to no one
in heaven or on earth.
READING           GELATIaNS 3:26-29
Through faith you are all children of God in Christ Jesus.
For all of you who were baptized into Christ have clothed yourselves with Christ.
There is neither Jew nor Greek,
there is neither slave nor free person,
there is not male and female;
for you are all one in Christ Jesus.
And if you belong to Christ, then you are Abraham's children, heirs according to the promise.
Responsory
R.  Baptized into union with Christ, we have all put on Christ as a garment.  * We are all one person in Christ Jesus our Lord. V.  There is no such thing as Jew and Greek, slave and free, male and female * We are all one person in Christ Jesus our Lord.    V.  Glory to the Abba and to the Word and to the Holy Breath of Love.
GOSPEL CANTICLE
Antiphon:
"Who do you say that I am?" asks Jesus.
"You are the Christ, Son of the living God."
It is customary to make the sign of the cross at the beginning of the Gospel Canticle.
My heart + is radiant with the Lord,
My whole being delights in God my Savior.
All people now will call me blessed
For God has loved this humble handmaid.
The Almighty has shown me great favor
Holy is the NAME,
Whose mercy embraces the faithful,
From one generation to the next.
The mighty arm of God,
Scatters the proud in their own conceit,
Pulls tyrants from their thrones
While lifting up the lowly:
Fills the famished with bounty,
And reveals the emptiness of riches.
Rescues lowly Israel,
Sharing such loving kindness,
As promised to our ancestors
To Abraham and Sarah, and their descendants forever.
Glory to the ONE and to  WORD
And to the BREATH of Love!
As always before,
so now and evermore.  Amen
"Who do you say that I am?" asks Jesus.
"You are the Christ, Son of the living God."
SERVICE OF PRAYER
Litany of Intercession
That all who profess Jesus is the Christ may overcome what divides us and join our voices in proclaiming good news for the poor, let us pray…
~ Hear us O God.
That political and economic leaders may be filled with a spirit of cooperation and work together for the common good of all people and the whole of creation, let us pray…
~ Hear us O God.
That those who have received more may be freed to share their abundance with those who are oppressed by racism, classism, and violence, let us pray…
~ Hear us O God.
That the sacredness of all life and the rights of all human and all earthly beings may be upheld in the hearts and in the laws of all peoples and nations, let us pray…
~ Hear us O God.
Prayer of Jesus
Our Dear Abba in heaven…
Closing Prayer & Blessing
God of Life and Love, you sent Jesus to reveal Your self-emptying Love that creates, redeems and sustains the universe and everything that exists.  Be with us on these longest days of the year as our Earth reaches the summer solstice.  May our celebrations of the brightness, warmth and abundance of summer inspire us to share your light and life with those  who dwell in darkness and the shadow of death, for your is the power and glory of love now and  forever.  Amen.
May the God of Light + bless us and all of creation with the fullness of life.  ~Amen 
Let us bless Adonai.     ~Thanks be to God.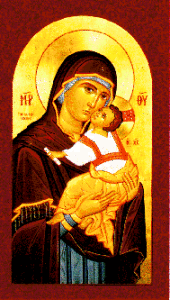 Those who wish may end evening prayer with the Marian Antiphon.
Salve Regina, Mater misericordiae, Vita dulcedo et Spes nostra, salve!
Ad te clamamus, exsules filii Evae; Ad te suspiramus, gementes et flentes in hac lacrimarum vale. Eia, ergo, Advocata nostra, illos tuos misericordes oculos, ad nos converte; et Jesum benedictum fructum ventris tui, nobis, post hoc exilium ostende.  O Clemens, O Pia, O Dulcis, Virgo Maria!
Pray for us, O Holy Mother of God;
~ That we may be made worthy of the promises of Christ.
Let us pray.  Holy, Mighty and Immortal God, through the working of the Holy Spirit, you prepared the body and soul of the glorious virgin Mother Mary, as a worthy dwelling for your Word; grant that we, who celebrate her memory each evening, may with the help of her prayers, be freed from ever-present evil, and come to share the fulness of life eternal.   Amen.