Podcast: Play in new window | Download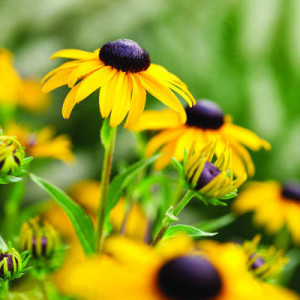 SERVICE OF LIGHT
Greeting/Invocation
 We light the Evening Vesper Candle and say or sing:
Light and peace in Jesus Christ our Love!
~Thanks be to God!
Sunday Evening Hymn
O radiant Light, O Sun divine, Of God the Abba's deathless face,
O image of the Light sublime that fills the heavenly dwelling place.
O Word of God, the Source of Life, Praise is your due by night and day.
Our happy lips must raise the strain of your esteemed and splendid Name.
O Jesus Christ as daylight fades, as shine the lights of eventide,
We praise the Abba with the SON, the Spirit blest and with them one.
Text: Phos Hilaron, transl. WG Storey; Tune: JESU DULCIS MEMORIA
 Thanksgiving for the Light
Let us give thanks to the God of Light, always and for everything.
~In the name of our Lord, Jesus Christ.
Praise be Adonai our God, Ruler of the Universe,
who led our ancestors in the faith by a pillar of cloud by day and a pillar of fire by night, and prepared a lamp for the Anointed.  Light up our darkness, O God, by the light of your Christ; may his word be a lamp to our feet and a light to our path,
for you are full of loving kindness for your whole creation and we, your creatures glorify you: Abba, Word and Holy Breath of Love, now and forever.  Amen, Amen!
SERVICE OF THE WORD
Sunday Evening Psalm
Antiphon/Refrain
 Alleluia! Alleluia, Alleluia!
 Alleluia! Alleluia, Alleluia!
Psalm 112/113
You servants of Adonai, bless Adonai: Blessed be the Name forever!
From east to west, praised be the Name of Adonai our God!
High above the nations Adonai is God; high above the heaven's God's glory!
Who is like God, enthroned on the stars above earth and sky?
Raising up the lowly and the poor from the dust, God gives them a home among rulers:
Blessing the barren, giving them children, singing for joy!
Glory to the Abba and glory to the Word; Glory to the Breath of Love:
Glory and honor, wisdom and power for evermore!
Reading           2 Corinthians 5: 6-10
Brothers and sisters:
We are always courageous,
although we know that while we are at home in the body
we are away from the Lord,
for we walk by faith, not by sight.
Yet we are courageous,
and we would rather leave the body and go home to the Lord.
Therefore, we aspire to please him,
whether we are at home or away.
For we must all appear before the judgment seat of Christ,
so that each may receive recompense,
according to what was done in the body, whether good or evil.
Responsory
R.  Wherever we go we carry death in our bodies, the death that Jesus died, * that in this body also, life may reveal itself, thief that Jesus lives. V. The One who raised the Lord Jesus to life will raise us also with him and bring us into his presence  * that in this body also, life may reveal itself, thief that Jesus lives. V. Glory to the Abba and the Word and the Breath of Love.
New Testament Canticle
Antiphon: Adonai will reign, let Earth rejoice, Alleluia! 
Salvation and glory and power belong to our God, alleluia!
God's judgments are true and just.
R.  Alleluia, Alleluia, Alleluia!
Praise our God all you servants, alleluia!
Those reverencing with awe, small and great.
R.  Alleluia, Alleluia, Alleluia!
Adonai our God, the Almighty reigns, alleluia!
Let us rejoice and exult, giving God the glory.
R.  Alleluia, Alleluia, Alleluia!
The marriage of the Lamb has come, alleluia!
And his bride has made herself ready.
R.  Alleluia, Alleluia, Alleluia!
She has been given for her clothing, alleluia!
fine linen, glistening and pure.
R.  Alleluia, Alleluia, Alleluia!
Glory to the Abba and the Word, and the Holy Breath
As always before, so now and evermore. Amen!
 Antiphon:  Adonai will reign, let Earth rejoice, Alleluia! 
SERVICE OF PRAYER
Litany of Intercession
That all who have been called and gifted to be salt of the earth and light of the world may overcome what divides us and may join our voices in proclaiming good news for the poor, let us pray…
~ Hear us O God.
That political and economic leaders may be filled with God's Spirit of compassion and lead with honesty, justice and a passion for the flourishing of all, let us pray…
~ Hear us O God.
That the love and example of those who live and work in the darkness of violence, poverty and corruption may be light and hope for  those who suffer most, let us pray…
~ Hear us O God.
That those who have received more may be freed to share their abundance with those who are oppressed by racism, classism, and violence, let us pray…
~ Hear us O God.
That the sacredness of all life and the rights of all human and all earthly beings may be upheld in the hearts and in the laws of all peoples and nations, let us pray…
~ Hear us O God.
Prayer of Jesus
Our Dear Abba …
Closing Prayer & Blessing
O Holy One, Source, Guide and Goal of all that is, You called and gifted Jesus for a ministry of teaching and proclaiming the gospel, and curing every disease and illness among the people.  You have called and gifted each of us to be salt of the earth and light for the world in a great variety of ways with a wonderful diversity of gifts.  When we go astray, help us wake up and change direction so that we may channel our lives and our energies into preparing the way for your reign on Earth as it is in heaven where yours is the power and glory of love now and forever.  Amen.
May the Spirit of God + kindle in our hearts a passion for justice and a commitment to the poor.  ~Amen 
Let us bless the world with peace.    ~And give thanks to God.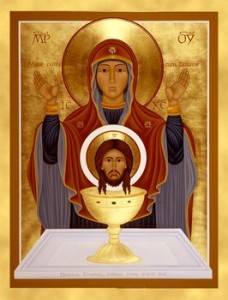 Those who wish may end evening prayer with the Salve Regina
Marian Antiphon
Salve Regina, Mater misericordiae, Vita dulcedo et Spes nostra, salve!
Ad te clamamus, exsules filii Evae; Ad te suspiramus, gementes et flentes in hac lacrimarum vale. Eia, ergo, Advocata nostra, illos tuos misericordes oculos, ad nos converte; et Jesum benedictum fructum ventris tui, nobis, post hoc exilium ostende.  O Clemens, O Pia, O Dulcis, Virgo Maria!
Pray for us, O Holy Mother of God;
~ That we may be made worthy of the promises of Christ.
Let us pray.  Holy, Mighty and Immortal God, through the working of the Holy Spirit, you prepared the body and soul of the glorious virgin Mother Mary, as a worthy dwelling for your Word; grant that we, who celebrate her memory each evening, may with the help of her prayers, be freed from ever-present evil, and come to share the fulness of life eternal.   Amen.