Podcast: Play in new window | Download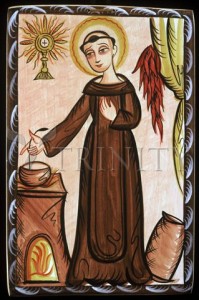 San Pascual Baylon (1540-1592)
Invitation to Worship
Come, let us sing to Adonai, let us praise the God of all Creation!
We make the Sign of the Cross over our lips as we begin.
O Holy ONE + open my lips,
~And my mouth will proclaim your praise.
Awake my soul and sing;
~ With God's praise I will wake the dawn.
HYMN FEAST OF SAINTS
All may sing or alternate the verses of any Morning Hymn .
This is the feast day of the Lord's true witness,
Whom through the ages all have held in honor;
Now we praise Paschal and his deeds of mercy
With exultation.
So now in chorus, giving God the glory,
We sing God's praises and Christ's mighty triumph,
That in such glory we may all be sharers
Here and hereafter.
Praise to the Abba and the Word most holy,
Praise to the Spirit, with them coeternal,
Who give examples in the lives of all saints,
That we may follow.
Text & Tune: Iste Confessor, 8th century
PSALMODY
Antiphon/Refrain
O Jesus, Gentle Shepherd, and Living Bread,
feed us, guide us to the land of everlasting life.
O Love you are my Shepherd,
there is nothing I shall want.
Fresh and green are the pastures where you give me repose.
You have prepared me a banquet
in the face of all that I fear,
my head you have anointed with precious oil and my cup is overflowing.
Surely goodness and kindness
shall follow me all my days,
in the Heart of your Love shall I dwell, forever and ever.
READING 2 Corinthians 9:6-10
Consider this: whoever sows sparingly will also reap sparingly, and whoever sows bountifully will also reap bountifully. Each must share as called and gifted, without sadness or compulsion, for God loves a cheerful giver. Moreover, God is able to make every grace abundant for you, so that in all things, always having all you need, you may have an abundance for every good work. As it is written: "The just scatter abroad, and give to the poor; their righteousness endures forever." The one who supplies seed to the sower and bread for food will supply and multiply your seed and increase the harvest of your righteousness.
Silent Prayer
Responsory
R. The eyes of all creatures look to you, *and you give them their food in due season. V. You open wide your hand and satisfy the hungers of all living things *and you give them their food in due season. V. Glory to the Abba and the Word and the Holy Breath of Love.
Canticle of Zachary– Luke 1:68-79
Antiphon
If any of you would be first,
you must be last of all and servant of all.
Blessed + be Adonai, the God of Israel,
Who visits this people to set us free
Raising for us a sign of salvation
In the house and family of David.
God promised throughout past ages
In words of holy prophets
To save us from our enemies,
And from the control of our oppressors.
Adonai favored our ancestors
And remembered the sacred covenant.
The pledge to Abraham and Sarah
Is now renewed for us;
That freed from the grip of our foes
We might worship without fear
And be both just and holy
For the rest of our days.
And you, child, called "prophet of the Most High,"
Will go ahead to prepare the way,
By teaching this people of salvation
Through forgiveness of their sins.
For the loving compassion of the Holy One
As the Rising Sun will shine upon us
To illumine the darkness and dispel death's shadow
To guide our feet on the way of peace.
Glory to the ONE and to the WORD
and to the BREATH of Love!
As always before,
so now and evermore. Amen
If any of you would be first,
you must be last of all and servant of all.
Intercessory Prayer
Show us your mercy, Adonai,
~And grant us your salvation.
Clothe your ministers with justice,
~Let your people sing for joy.
Keep this and all nations under your care,
~Guide all peoples in justice and truth.
Let your ways be known upon earth,
~Your saving help among all the nations.
Let not the needy be forgotten
~Nor the hope of the poor be denied.
Create in us clean hearts, O God;
~ And fill us with your Holy Spirit.
Prayer of Jesus
Our Father …
Great Fire of Charity, kindle in us a generous love and a heartfelt compassion for all those we meet this day. As we celebrate the feast of San Pascual who gave the best from his kitchen to the poor who came to his door, empower us to follow the Gospel's command that we feed the hungry, give drink to the thirsty and care for all in need. We ask this in the name of Jesus. Amen.
Blessing
May the God of love fill us with all joy and peace, so that by the power of the Holy Spirit, we may abound in hope. ~Amen.
Let us bless Adonai.
~Thanks be to God.