Podcast: Play in new window | Download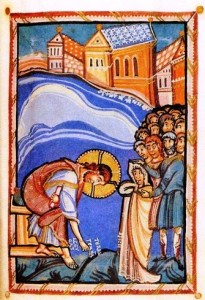 Invitation to Worship
Come, let us return to Adonai our God
Our God who is gracious and merciful.
We make the Sign of the Cross over our lips as we begin.
O Holy ONE + open my lips,
~And my mouth will proclaim your praise.
Adonai, I cry to you for help;
~ and you, my God, will rescue me.
HYMN FOR MORNINGS in LENT
All may sing or alternate the verses of any Lenten Hymn .
Creator of the earth and skies, To whom all truth and power belong,
Grant us your truth to make us wise; Grant us your power to make us strong.
We have not known you: to the skies Our monuments of folly soar,
And all our self-wrought miseries Have made us trust ourselves the more.
We have not loved you: far and wide The wreckage of our hatred spreads,
And evils wrought by human pride Recoil on unrepentant heads.
We long to end this worldwide strife: How shall we follow in your way?
Speak to our hearts your words of life, Until our darkness turns to day.
Text: Donald Hughes, 1911-1967, alt. Tune: Plainsong, Mode IV
PSALMODY
Antiphon
I lift up my heart O Adonai, and you hear my prayer at the break of day.
Psalm 5
Hear my words, O Adonai,
listen to my cries for help.
I invoke you, O Gracious One,
in the morning my prayer rises with the sun;
at dawn I plead my case before you,
watching and waiting.
You never welcome evil,
and never let it rest.
Arrogance has no place,
it withers before your face.
Those who do evil are sorely rebuked;
those who lie cannot succeed.
Violence and treachery,
are detestable before you.
But by your kindness and compassion,
I can enter your temple;
I can bow here before you
filled with reverence and awe.
Lead me, Adonai, in your justice,
in the face of those who wish to destroy;
make clear your way before me.
Their charges against me are groundless,
their hearts are full of destruction;
their tongues are smooth as honey,
their throats a wide-open grave.
All those you protect will be glad
and celebrate your love forever.
You protect all who love you,
and in your Name they rejoice.
For you bless those who are just,
surround them with grace as with a shield.
Glory to the ONE and to the WORD
And to the BREATH of Love;
as always before,
so now and evermore. Amen.
READING Daniel 13: 41C – 45
The assembly condemned Susanna to death. But Susanna cried aloud:
"O eternal God, you know what is hidden and are aware of all things before they come to be: you know that they have testified falsely against me.
Here I am about to die, though I have done none of the things
with which these wicked men have charged me."
ADONAI heard her prayer.
As she was being led to execution, God stirred up the holy spirit of a young boy named Daniel, and he cried aloud: "I will have no part in the death of this woman."
All the people turned and asked him, "What is this you are saying?"
He stood in their midst and continued, "Are you such fools, O children of Israel!
To condemn a woman of Israel without examination and without clear evidence?
Return to court, for they have testified falsely against her."
Silent Prayer
Responsory
R. I cry aloud to the Holy One: *"Arise, O Adonai, and save me my God!"
V. How many are my foes O Adonai! How many are rising up against me!
V. Glory to the One and the Word and the Holy Breath of Love.
Canticle of Zachary– Luke 1:68-79
Antiphon
"Woman, has no one condemned you?" "No one, Lord."
"Then neither do I condemn you. Go your way and sin no more."
Blessed + be Adonai, the God of Israel,
Who visits this people to set us free
Raising for us a sign of salvation
In the house and family of David.
God promised throughout past ages
In words of holy prophets
To save us from our enemies,
And from the control of our oppressors.
Adonai favored our ancestors
And remembered the sacred covenant.
The pledge to Abraham and Sarah
Is now renewed for us;
That freed from the grip of our foes
We might worship without fear
And be both just and holy
For the rest of our days.
And you, child, called "prophet of the Most High,"
Will go ahead to prepare the way,
By teaching this people of salvation
Through forgiveness of their sins.
For the loving compassion of the Holy One
As the Rising Sun will shine upon us
To illumine the darkness and dispel death's shadow
To Guide our feet on the way of peace.
Glory to the ONE and to the WORD
and to the BREATH of Love!
As always before,
so now and evermore. Amen
"Woman, has no one condemned you?" "No one, Lord."
"Then neither do I condemn you. Go your way and sin no more."
Intercessory Prayer
In you, Adonai, is the Source of Life,
~In your Light we shall see light.
Send forth your light and your truth
~Let these be our guide.
Fill us each morning with your constant love,
~That we may sing and be glad all our life.
Let us see your wonderful works,
~May your people see your glorious might.
Gracious God, may your blessing be upon us;
~And grant us success in all we do.
Create in us clean hearts, O God;
~ And fill us with your Holy Spirit.
Prayer of Jesus
Our Father …
Closing Prayer & Blessing
We give you thanks, Holy One, for with a mother's love you have watched over us in the night and have led us from the shadows of darkness into morning's light. You call us in this holy season to a daily change of heart and mind. May the spiritual practices we have embraced this Lent open us to receive the gifts of new life which come with the Spring and empower us to accomplish your purpose in our lives for the good of all your holy people and the whole of your beloved creation. For yours is the power and glory of life and love now and forever. Amen.
May the God of Life and Compassion+ bless us with peace and fill our hearts with loving kindness. ~Amen.
Let us bless the world with peace.
~And give thanks to God.