Podcast: Play in new window | Download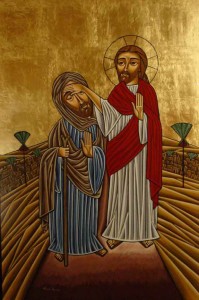 Invitation to Worship
Come, let us sing to Adonai, let us praise the God of all Creation!
We make the Sign of the Cross over our  lips as we begin.
O Holy ONE + open my lips,
~And my mouth will proclaim your praise.
Sun and Moon, bless Adonai;
~ Stars and Galaxies, exalt God for ever!
MORNING HYMN
All may sing or alternate the verses of any Morning Hymn .
Love, in your Name your people meet All thanks to your abundant grace!
With rev'rent love we worship you In this your chosen dwelling place.
Attend  when unto you we pray; Each silent supplication heed;
O God our Love, hear  our appeal And aid us in our time of need..
To all your faithful people grant Rich blessings from your boundless store.
Love, with your mercy gird us round; Your favor shield us evermore.
Give ear to us this morning hour And hearken to our fervent cry.
Our needs are told, and now we wait Your gracious answer from on high.,
May all who love your Holy Name Sing praise to you with gladsome voice;
Let all who place their trust in you Now magnify you and rejoice.  Amen.
Text: Psalm 5-The Scottish Metrical Psalter (1650)alt.; Tune: Plainsong Mode II
PSALMODY
Antiphon
May your love be upon us O God,
as we place all our trust in you.
Psalm 32/33b
How happy the nations who listen;
The peoples who respond to this love.
For God-Love holds all things together
While guarding the children of Earth.
Preparing all things from eternity,
Ready to share all we need; 
Into our hands and our hearts 
Bestowing what makes us free.
A nation is not saved by its army
A general not saved by his strength;
Weapons –mere outward expressions
Of greed in fearful hearts.
None of this leads to safety,
This kind of power cannot save.
But God's love is always at hand 
For those whose hearts are open, 
To rescue their lives from destruction 
To feed them in times of famine.
Our whole being is waiting for God
Whose love is both help and shield.
Our hearts rejoice in this wonder,
We trust in the NAME of the Holy One.
May your love be upon us, O God, 
For we place all our hope in You. 
Glory to the ONE and to the WORD
And to the BREATH of Love;
as always before,
so now and evermore. Amen. 
May your love be upon us O God,
as we place all our trust in you.
READING     Genesis 8:20-22
Noah built an altar to the LORD,
and choosing from every clean animal and every clean bird,
he offered burnt offerings on the altar.
When the LORD smelled the sweet odor, he said to himself:
"Never again will I doom the earth because of man
since the desires of man's heart are evil from the start;
nor will I ever again strike down all living beings, as I have done.
As long as the earth lasts,
seedtime and harvest,
cold and heat,
Summer and winter,
and day and night
shall not cease."
Silent Prayer
Responsory
R. I put my rainbow in the clouds, *the symbol of my covenant.
 V.  I will see it and remember *the symbol of my covenant. V. Glory to the Abba and the Word and the Holy Breath of Love.
Canticle of Zachary–  Luke 1:68-79
 Antiphon
Jesus took the blind man by the hand and led him outside the village.
Putting spittle on his eyes he laid his hands on the man.
Blessed + be Adonai, the God of Israel,
Who visits this people to set us free
Raising for us a sign of salvation
In the house and family of David.
God promised throughout past ages
In words of holy prophets
To save us from our enemies,
And from the control of our oppressors.
Adonai favored our ancestors
And remembered the sacred covenant.
The pledge to Abraham and Sarah
Is now renewed for us;
That freed from the grip of our foes
We might worship without fear
And be both just and holy
For the rest of our days.
And you, child, called "prophet of the Most High,"
Will go ahead to prepare the way,
By teaching this people of salvation
Through forgiveness of their sins.
For the loving compassion of the Holy One
As the Rising Sun will shine upon us
To illumine the darkness and dispel death's shadow
To guide our feet on the way of peace.
Glory to the ONE and to the WORD
and to the BREATH of Love!
As always before,
so now and evermore.  Amen
Jesus took the blind man by the hand and led him outside the village.
Putting spittle on his eyes he laid his hands on the man.
Intercessory Prayer
In you, Adonai, is the Source of Life,
~In your Light we shall see light.
Send forth your light and your truth
~Let these be our guide.
Fill us each morning with your constant love,
 ~That we may sing and be glad all our days.
Let us see your wonderful works,
~May your people see your glorious might.
Gracious God, may your blessing be upon us;
~And grant us success in all we do.
Prayer of Jesus
Our Dear Abba …
 Closing Prayer & Blessing
We give you thanks, Holy One, for with a mother's love you have watched over us in the night and have led us from the shadows of darkness into morning's light.  Fill us with the fire of your love that we may bear witness to the Light of your Word-Made-Flesh, Jesus the Christ who lives and loves with you and the Holy Spirit one God forever and ever.  Amen.
May the God of light fill us with all peace and joy, so that by the power of the Holy Spirit, + we may abound in goodness for all of creation.   ~Amen.
Let us bless Adonai.
~Thanks be to God.