Podcast: Play in new window | Download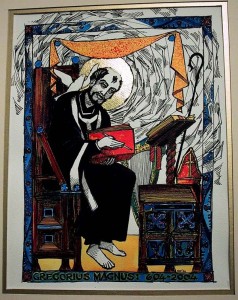 St. Gregory the Great  (by Netta Ewing)
Invitation to Worship
We make the Sign of the Cross over our  lips as we begin.
O Holy ONE + open my lips,
~And my mouth will proclaim your praise.
 Prologue to the Rule of Benedict
R/.  Come, children, listen to me:
I will teach you the fear of the Lord. Alleluia!
Listen my child to the precepts of your master;
incline the ear of your heart.
Receive the instruction of a loving parent.
Take up the bright armor of listening deeply
and enter the struggle with Christ who reigns. R/.
It is the hour to wake from sleep.
Listen to the Spirit speaking to the Churches:
"If today you hear God's voice,
do not harden your hearts,"
Walk while you have the light,
lest the darkness overtake you. R/.
Who is the one who loves life?
If you answer: "I am the one,"
"Then keep your tongue from evil,
seek and strive after peace." R/.
MORNING HYMN
All may sing or alternate the verses of any  Morning Hymn. The following is for St. Gregory.
1. Great Doctor of our church! When faith and morals waned
your leadership from Rome was heard. Teach us to live with faith.
Praise Abba, Word and Spirit! Praise our loving God!
2. Monastic life was yours where prayer and order reigned.
Inspire our liturgy and song with dignity and prayer.
Praise Abba, Word and Spirit! Praise our loving God!
3. Your legal mind was blest to serve the Church with care.
Bring order to our wayward lives that we may better serve.
Praise Abba, Word and Spirit! Praise our loving God!
4. Through famine, plague and war you served the poor with love.
For love of all you emptied self. Inspire us now to serve.
Praise Abba, Word and Spirit! Praise our loving God!
5. Great shepherd of Christ's flock, your pastoral care was planned
to train your church in skill and grace. May grace with knowledge flow'r.
Praise Abba, Word and Spirit! Praise our loving God!
Text & Music: Noel S. Donnelly, alt. 
PSALMODY
Antiphon
Whoever wishes to be great among you, must be the servant of all.
Psalm 33/34
I will bless Adonai at all times;
God's praise always on my lips;
In our God my soul shall makes its boast!
The humble shall hear and be glad.
Look towards God and be not ashamed;
let your faces be radiant with joy:
This poor one called Adonai replied—
rescued me from all my distress.
God's angel surrounds all those who call,
to save them from all they fear.
O taste and see Adonai is good!
They are happy who trust in this Love.
Revere Adonai all you who are holy.
They lack nothing who trust in God's name.
Though lions may hunger and find no prey,
those who seek God are not disappointed.
Come, O children and hear my teaching,
you will learn to revere Adonai;
Do you long for freedom and fullness of life–
many days to flourish with joy?
Then keep your tongue from speaking of evil;
your lips from lies and deceit;
 Turn from evil, do good for others;
you must seek and strive after peace.  
The face of Love turns away from evil
that such deeds be remembered no more.
The just call, Adonai hears,
rescues them from all their distress.
The just will suffer from anguish and trial
but God will be there to save:
A guard to keep watch over all of their bones
so that none of their bones will be broken. 
Adonai is close to the broken-hearted;
those who spirit is crushed will be saved.
Adonai ransoms the souls of the poor:
those who trust shall not be condemned.
 Text: Psalm 33/34 New Translation. 
Whoever wishes to be great among you, must be servant of all.
READING     
 

2 CORINTHIANS 4: 1-2, 5-7

Since we have this ministry through the mercy shown us, we are not discouraged. Rather, we have renounced shameful, hidden things; not acting deceitfully or falsifying the word of God, but by the open declaration of the truth we commend ourselves to everyone's conscience in the sight of God. For we do not preach ourselves but Jesus Christ as Lord, and ourselves as your slaves for the sake of Jesus. For God who said, "Let light shine out of darkness," has shone in our hearts to bring to light the knowledge of the glory of God on the face of Jesus Christ.  But we hold this treasure in earthen vessels, that the surpassing power may be of God and not from us.
Silent Prayer
Responsory
R. Uphold me, O God, according to your promise and I shall live.  And do not confound me in my expectations.   V. I bind myself to do your will, do not disappoint me.  V. I will run the way of your commands, you give freedom to my heart. V. Glory to the One and the Word, and the Breath of Love.
Canticle of Zachary–  Luke 1:68-79
 Antiphon
Gregory, an outstanding pastor of the Church,
has left us a splendid example and rule of life,
a guide for all who serve God's people.
Blessed + be Adonai, the God of Israel,
Who visits this people to set us free
Raising for us a sign of salvation
In the house and family of David.
God promised throughout past ages
In words of holy prophets
To save us from our enemies,
And from the control of our oppressors.
Adonai favored our ancestors
And remembered the sacred covenant.
The pledge to Abraham and Sarah
Is now renewed for us;
That freed from the grip of our foes
We might worship without fear
And be both just and holy
For the rest of our days.
And you, child, called "prophet of the Most High,"
Will go ahead to prepare the way,
By teaching this people of salvation
Through forgiveness of their sins.
For the loving compassion of the Holy One
As the Rising Sun will shine upon us
To illumine the darkness and dispel death's shadow
To guide our feet on the way of peace.
Glory to the ONE and to the WORD
and to the BREATH of Love!
As always before,
so now and evermore.  Amen.
Gregory, an outstanding pastor of the Church,
has left us a splendid example and rule of life,
a guide for all who serve God's people.
Intercessory Prayer
Prayer of Jesus
Our Father …
 Versicles
Show us your mercy, Adonai,
~And grant us your salvation.
Clothe your ministers with justice,
~Let your people sing for joy. 
Keep this and all nations under your care,
 ~Guide all peoples in justice and truth.
Let your ways be known upon earth,
~Your saving help among all the nations.
Let not the needy be forgotten
~Nor the hope of any be denied.
Create in us clean hearts, O God;
~ And fill us with your Holy Spirit. 
 Closing Prayer & Blessing
Holy One and God of endless Compassion, you are the praise of all your saints and the joy of all creation. You called St. Gregory to lead the church as a wise and gentle pastor, freeing those under his guidance to use their faith, learning, experience and wisdom in service of God and their faith communities.  May all who minister in leadership be blessed with that same wisdom and so help to build your reign on Earth as it is in heaven where you live and love One God for ever and ever.  Amen.
May we learn to prefer nothing to the love of Christ and may he bring us all to + everlasting life:   ~Amen.
Let us bless Adonai.
~Thanks be to God.