Podcast: Play in new window | Download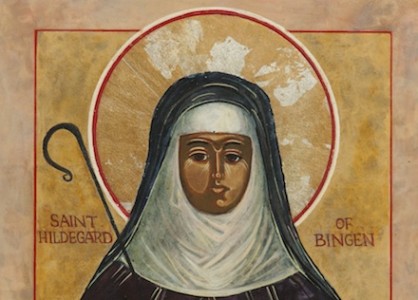 SERVICE OF LIGHT
Greeting/Invocation
 We light the Evening Candle and say or sing:
Light and Peace in Jesus Christ our Lord!
~Thanks be to God!
Stay with us Lord for it is evening,
~And the day is almost over.
Evening Hymn for St. Hildegard
We sing our praise of Hildegard, a woman for all time;
a prophetess who urges us to seek the light divine.
Her visions came insistently, sent by her Living Light.
Anointed with the Spirit's power, she spoke God's truth aright.
We now affirm with Hildegard we do not live alone,
but are a part of all that is: each tree, each bird, each stone.
All creatures sing creation's praise; yet we alone possess
the power to care for Mother Earth, the power to curse or bless.
We praise the joy that Hildegard found in God's constant care.
She trusted God to carry her, a feather born on air.
May such a faith inspirit us, give us a breathing space,
that we may let the Spirit's breeze support us with God's grace.
We celebrate with Hildegard the greening of the soul.
The moisture from the Spirit's breath can cleanse us, make us whole.
May we now share life-giving love, help justice find a home,
and by our deeds sow seeds of peace — prepare for God's Shalom!
Text: Edith Sinclair Downing; 
PSALMODY
Psalm 103/104
Antiphon
The Spirit of Adonai has filled the whole world.  Alleluia!
How many are your works, Adonai!
In wisdom you made them all;
the earth is full of your creatures.
There is the sea, vast and spacious,
teeming with creatures beyond number—
living things both large and small.
There the ships go to and fro,
and Leviathan, the great sea monster
whom you created as a friend and companion.
All your creatures look to you
to give them their food in due season.
You open wide your hand,
they are filled with good things.
When you hide your face,
they are terrified;
when you take away their breath,
they die and return to the dust.
When you send your Spirit,  they are created,
and you renew the face of the Earth.
May your glory, Adonai, endure forever;
may you always rejoice in your works—
For you look at the earth, and it trembles,
you touch the mountains, and wreathe them in smoke.
I will sing to You, Adonai all my life;
I will sing praise to my God as long as I live.
May my song be pleasing to you,
May my soul always bless Your Name.

Glory to the ONE and to the WORD
And to   the BREATH of Love!
As always before,
so now and evermore.  Amen
The Spirit of Adonai has filled the whole world.  Alleluia!
READING     ON THE HOLY SPIRIT, by St. Hildegard of Bingen
I am Wisdom.
Mine is the blast of the resounding Word through which all creation came to be, and I quickened all things with my breath so that not one of them is mortal in its kind; for I am Life.
Indeed I am Life, whole and undivided — not hewn from any stone, or budded from branches, or rooted in virile strength; but all that lives has its root in Me.
For Wisdom is the root whose blossom is the resounding Word….
I flame above the beauty of the fields to signify the earth — the matter from which humanity was made.
I shine in the waters to indicate the soul, for, as water suffuses the whole earth, the soul pervades the whole body.
I burn in the sun and the moon to denote Wisdom, and the stars are the innumerable words of Wisdom.
Silent Prayer
Responsory
R. Uphold me O God, according to your promise, 
and I shall live, and do not confound me in my expectations.
V.  I bind myself to do your will, do not disappoint me.
V.  I will run the way of your commands, you give freedom to my heart.
V. Glory to the Abba and the Word, and the Breath of Love.
Gospel Canticle of Mary
Antiphon
God has arranged all things in the world
in consideration of everything else.
It is customary to make the sign of the cross at the beginning of the Gospel Canticle.
My heart + is radiant with the Lord,
My whole being delights in God my Savior.
All people now will call me blessed
For God has loved this humble handmaid.
The Almighty has shown me great favor
Holy is the NAME,
Whose mercy embraces the faithful,
From one generation to the next.
The mighty arm of God,
Scatters the proud in their own conceit,
Pulls tyrants from their thrones
While lifting up the lowly:
Fills the famished with bounty,
And reveals the emptiness of riches.
Rescues lowly Israel,
Sharing such loving kindness,
As promised to our ancestors
To Abraham and Sarah, and their descendants forever.
Glory to the ONE and to  WORD
And to the BREATH of Love!
As always before,
so now and evermore.  Amen
God has arranged all things in the world
in consideration of everything else.
SERVICE OF PRAYER
Litany of Intercession
You called St. Hildegarde to use her considerable gifts and talents to proclaim the Gospel,
and build up communities of service committed to work and prayer with women and the poor: ~free us to use our gifts and talents as ministers of the Good News wherever you lead us.
Hildegarde's music calmed troubled souls and stirred up the passion for justice, ~ may our hearts be ready to sing and pray at every moment of the day; and our hands ready to work for justice.
Hildegarde prayed that your Wisdom and Light would embrace all humanity;
~ and that all creation would be  encircled by the arms of the mystery of your Love.
At a time when few women wrote, Hildegard produced major works of theology, poetry, music, philosophy, botany and mystical writings. ~ free all women to use their considerable gifts in service of church, society and the health of creation.  
Prayer of Jesus
Our Dear Abba…
 Closing Prayer & Blessing
O Eternal God, now may it please you to burn in loveso that we become the limbs fashioned in the love you felt when you begot your Son at the first dawnbefore all creation. And consider this need which falls upon us,take it from us for the sake of your Son, and lead us to the joy of your salvation.  May the Holy Spirit enkindle in us the fire of Love so that we may persevere, unfailingly, in the love of God's service. May we thus merit to become, at last,  living stones in the celestial Jerusalem. ~ Amen
Let us bless Adonai;
~Thanks be  to God.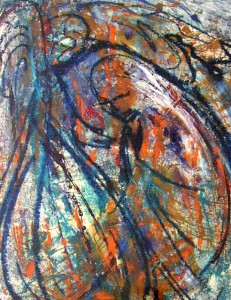 Those who wish may end evening prayer with the Salve Regina
Marian Antiphon
Mother of mercy, our Queen, we greet you! Our life, our hope, our happiness, we hail you.
We call to you as Eve's own children, and exiles; To you we lift our heart in sorrow and fear, in this valley of tears.  Turn then, our loving Advocate, and look with favor upon us.  And after our life in exile, show us the blessed fruit of your womb, Jesus.  O gracious, O loving,
O Virgin benign, our Mother Mary.