Podcast: Play in new window | Download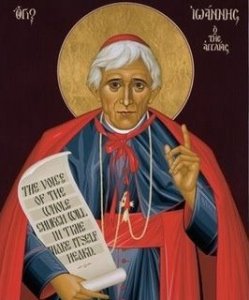 September 24 — John Henry Newman (1801-1890)
Invitation to Worship
Come, let us sing to Adonai, let us praise the God of all Creation!
We make the Sign of the Cross over our  lips as we begin.
O Holy ONE + open my lips,
~And my mouth will proclaim your praise.
Sun and Moon, bless Adonai;
~ Stars and Galaxies, exalt God for ever!
MORNING HYMN
All may sing or alternate the verses of any Morning Hymn .
John Henry Newman, England's son,
Was formed in Oxford's halls,
Endowed with tow'ring intellect
To answer all the calls
Which Church and University
Gave forth in times of doubt,
A rebirth of the ancient truths
As rain for minds in drought.
He served the Church of England well
With scholarship and grace,
Restoring ancient roots of faith,
Removing error's trace.
But scorned by leaders of his time,
He left his Oxford home,
In search of kindly, leading light
Which led him on toward Rome.
Attracted by St. Philip's work,
He joined that band of men,
And as an Oratorian,
He worked with voice and pen,
That heart to heart might ever speak,
Revealing Christ's own truth,
Unfolding doctrine's mysteries
For elder and for youth.
As had his Master, Newman found
Suspicion, scorn, and hate;
From those he left and those he joined,
Which nothing could abate;
Yet, undeterred, he struggled on
Beneath this cross's weight
Through shadows and imaginings
To God's own truth so great.
O God of subtle craft and mind,
O only Source of light,
O Abba, Word, and Spirit blest,
Our strength in truth's own fight:
We give you thanks for blessed John,
Who leads us still this day:
With him, let us in faithfulness
Still walk in Truth's own way.
© 2010, J. Michael Thompson  Tune:  Forest Green (86.86.D)
for reprint permission, please write to the author at chantermt@yahoo.com
PSALMODY
Antiphon
In you, Adonai, is the Source of all Life;
in your Light we see light.
Psalm 35/36
Your love, Adonai, reaches to heaven;
your truth soars among the clouds.
Your justice towers like a mountain;
your integrity runs deeper than the sea.
You protect all creatures, all of life:
Adonai, how we prize your compassion!
In you, the people seek shelter,
safe in the warmth beneath your wings.
All feast at the abundance of your table,
slake their thirst in your refreshing streams,
for in you is the source of life
you give us light and we can see.
Continue your kindness toward all you have chosen
and your justice to all who are honest.
Keep the arrogant from trampling your little ones,
assaulting us with wicked hands and frozen hearts.
For those who do not love will collapse,
defeated, they will never rise.
Glory to the ONE and to the WORD
And to the BREATH of Love;
as always before,
so now and evermore. Amen. 
In you, Adonai, is the Source of all Life;
in your Light we see light.
READING     PROVERBS 5: 6-9
Two things I ask of you,
deny them not to me before I die:
Put falsehood and lying far from me,
give me neither poverty nor riches;
provide me only with the food I need;
Lest, being full, I deny you,
saying, "Who is ADONAI?"
Or, being in want, I steal,
and profane the name of my God.
Silent Prayer
Responsory
R. The harvest of the Spirit is love, joy, peace, patience and kindness *Goodness, fidelity, gentleness and self-control.  There is no law for these.  V.  If the Spirit is the source of life, let the Spirit direct our course.  * Goodness, fidelity, gentleness and self-control.  There is no  law for these.
Canticle of Zachary–  Luke 1:68-79
 Antiphon
Jesus sent them to proclaim the Reign of God
and to heal the sick, Alleluia!
Blessed + be Adonai, the God of Israel,
Who visits this people to set us free
Raising for us a sign of salvation
In the house and family of David.
God promised throughout past ages
In words of holy prophets
To save us from our enemies,
And from the control of our oppressors.
Adonai favored our ancestors
And remembered the sacred covenant.
The pledge to Abraham and Sarah
Is now renewed for us;
That freed from the grip of our foes
We might worship without fear
And be both just and holy
For the rest of our days.
And you, child, called "prophet of the Most High,"
Will go ahead to prepare the way,
By teaching this people of salvation
Through forgiveness of their sins.
For the loving compassion of the Holy One
As the Rising Sun will shine upon us
To illumine the darkness and dispel death's shadow
To Guide our feet on the way of peace.
Glory to the ONE and to the WORD
and to the BREATH of Love!
As always before,
so now and evermore.  Amen
Jesus sent them to proclaim the Reign of God
and to heal the sick, Alleluia!
Intercessory Prayer
Prayer of Jesus
Our Father …
Intercessory Versicles
In you, Adonai, is the Source of Life,
~In your Light we shall see light.
Send forth your light and your truth
~Let these be our guide.
Fill us each morning with your constant love,
 ~That we may sing and be glad all our life.
Let us see your wonderful works,
~May your people see your glorious might.
Gracious God, may your blessing be upon us;
~And grant us success in all we do.
Create in us clean hearts, O God;
~ And fill us with your Holy Spirit. 
 Closing Prayer & Blessing
Lead, kindly Light, amid the encircling gloom,
Lead Thou me on;
The night is dark, and I am far from home;
Lead Thou me on:
Keep Thou my feet; I do not ask to see
The distant scene,– one step enough for me.
I was not ever thus, nor prayed that Thou
Shouldst lead me on;
I loved to choose and see my path; but now
Lead Thou me on.
I loved the garish day, and, spite of fears,
Pride ruled my will: remember not past years.
So long Thy power hath blest me, sure it still
Will lead me on
O'er moor and fen, o'er crag and torrent, till
The night is gone;
And with the morn those angel faces smile,
Which I have loved long since, and lost awhile.
May the God of light fill us with all peace and joy, so that by the power of the Holy Spirit, + we may abound in goodness for all of creation.   ~Amen.
Let us bless the world with peace.
~And give thanks to God.