Podcast: Play in new window | Download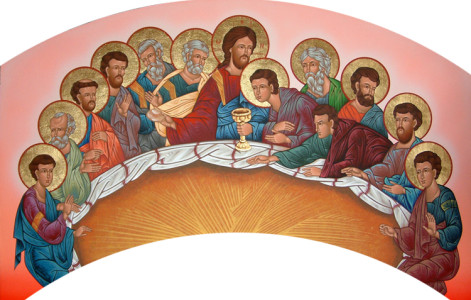 Invitation to Worship
The Lamb of God is slain for us:
Come, let us follow him on the Way of the Cross
O Holy One,+ open my lips.
~And my mouth will proclaim your praise.
Restore us to yourself, Adonai;
~renew our days as of old!

Hymn for Holy Week
O Christ who through this holy week Did suffer for us all,
The sick to cure, the lost to seek, To raise up those who fall.
We cannot understand the woe Your love was pleased to bear;
O Lamb of God, we only know That all our hopes are there.
Your feet the path of suffering trod; Your hand the victory won;
How can we thank you, Son of God For all that you have done!
Text: John Mason Neale, alt.; Tune: WALSALL, C.M.
PSALMODY
Antiphon
Destroy this temple and in three days I will raise it up.
He spoke of the temple that was his body.
Psalm 64/65
To You our praise is due
O God in Zion
To You do we commit our lives,
for you are the One who hears our prayer.
To you do we come in the flesh
when we have gone astray.
When our transgressions weigh us down
You are the One who sets us free.
Blessed are those you invite
and welcome to your dwelling.
You fill us with the bounty of your house,
and the holiness of your temple.
You keep your promise with wonders,
O Adonai, our savior,
You are the hope of all on Earth
even the most distant isles.
Clothed in power and strength
You uphold and steady the mountains;
You still the roaring of the seas
(restless waves and raging nations).
You fill them from east to west with your joy.
You tend and water the land,
and it yields a great harvest.
You fill your springs,
ready the seeds, and prepare the grain.
You soak the furrows and level the ridges;
With softening rain you bless its growth.
You crown the year with your goodness,
All you touch comes alive:
Abundance flows in your steps,
In fields and meadows it flows.
The hills are dressed with joy,
the pastures covered with flocks.
the valleys wrap themselves in grain,
They shout for joy and break into song.
Destroy this temple and in three days I will raise it up.
He spoke of the temple that was his body.
READING Exodus 12: 14-15
This day shall be an everlasting remembrance for you. You shall celebrate it as a festival to Adonai; throughout your generations you shall observe it as a perpetual observance. Seven days you shall eat unleavened bread; on the first day you shall remove leaven from your houses, for whoever eats leavened bread from the first day to the seventh day shall be cut off from Israel.
Responsory
R. If only my people would listen, and follow my ways, *I would feed them with finest wheat and with honey from the rock. V. My food is to do the will of the One who sent me, and to complete this work; *I would feed them with finest wheat and with honey from the rock. V. Glory to the Abba and the Son and the Holy Breath of Love.
Canticle of Zachariah
Antiphon
With great longing I want to keep this Passover with you before I suffer.
Blessed + be Adonai, the God of Israel,
Who visits this people to set us free
Raising for us a sign of salvation
In the house and family of David.
God promised throughout past ages
In words of holy prophets
To save us from our enemies,
And from the control of our oppressors.
Adonai favored our ancestors
And remembered the sacred covenant.
The pledge to Abraham and Sarah
Is now renewed for us;
That freed from the grip of our foes
We might worship without fear
And be both just and holy
For the rest of our days.
And you, child, called "prophet of the Most High,"
Will go ahead to prepare the way,
By teaching this people of salvation
Through forgiveness of their sins.
For the loving compassion of the Holy One
As the Rising Sun will shine upon us
To illumine the darkness and dispel death's shadow
To guide our feet on the way of peace.
Glory to the One and to the Word
and to the Breath of Love;
As always before
so now and evermore. Amen
With great longing I want to keep this Passover with you before I suffer.
SERVICE OF PRAYER
Litany of Intercession
You celebrated the festivals of the Jewish calendar and followed the precepts of Torah; ~bless your Chosen People as they celebrate Passover this week.
You shared your life, your love, your bread and your dream with Judas, while knowing he would betray you; ~bless us with unconditional love for all people, including those who hurt or betray us.
You had a special place in your heart for the beloved disciple and revealed to him the identity of your betrayer; ~ bless the special relationships through which we experience your self-giving and other-receiving love.
You realized that through the mystery of your own Passover, that you and your Abba would be glorified when you offered your entire self for the life of the world; ~bless us with the praise of your glory and thanksgiving for all you have done.
Like Peter, we are anxious to follow you to the cross but refuse to join you on it; ~bless us with strength and perseverance to the end.
Prayer of Jesus
Our Father…
Closing Prayer
Gracious God of all Compassion, you sent Jesus as an example of unselfish love whose way of life would free us from sin and whose way of dying would destroy the power of death. May our celebration of this Holy Week enable us to enter more deeply into the Mystery of his suffering, death, and burial, so that we may more fully experience the new life and joy of his resurrection, both here on earth and in heaven where you live and love, One God, forever and ever. Amen
Blessing
May the God of Compassion + bless and guide us as we follow Jesus on the way of the cross. ~Amen.
Let us bless the world with peace. ~And give thanks to God.