Podcast: Play in new window | Download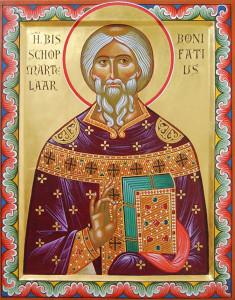 June 5 — St. Boniface (675-754)
 Invitation to Prayer
 Christ, the Martyrs' Crown; Come, let us adore him!
We make the sign of the cross over our lips and sing:
O Holy One, open my lips;
~And my mouth will proclaim your praise!
Precious in your eyes, Adonai,
~Is the death of your faithful one.
HYMN Feast of Martyrs
A martyr's victory we sing
And for ourselves such strength implore
as Christ in other body-ing
Is put to death by sin once more.
No greater love than this is found
For members and their head alike;
His passion is repeated, round:
"Me Saul, it is; yes Me you strike!"
The sign of contradiction glares:
The Lifted One draws all who heed;
Rejection festers, fury flares,
The storm but spreads the Church's seed.
The glory crowning life is death,
God's Glory: Abba, Spirit, Son,
So fill and overwhelm our breath
Until all suffering is done.  Amen.
Text: St. Meinrad Archabbey, 1968; Tune: Plainsong MODE VIII
SERVICE OF THE WORD
PSALMODY
 Antiphon
You search my heart, you visit me by night.
You test me by fire, and you find in me no wrong.
Psalm 15/16
 Protect me God, I turn to you for help.
I profess, "You are my Love, my greatest good."
I once put trust in false gods, 
the idols of the land.
Now I make no offerings to them, 
nor do I invoke their names,
Those who chase after them
simply add grief to their grief.
Adonai, you are my portion and cup, 
the shape of my future;
you mark off the best place for me
to enjoy my place on the earth.
I bless God who teaches me,
who even at night directs my heart.
I am sure that God is right here beside me,
I can never be shaken.
And so my heart rejoices
my body thrills with life,
my whole being rests securely.
You will not abandon me to Sheol,
nor send your faithful one down to death.
You show me the road to life:
boundless joy  as your companion for ever!
Glory to the ONE and to the WORD
And to the BREATH of Love;
as always before,
so now and evermore. Amen.
You search my heart, you visit me by night.
You test me by fire, and you find in me no wrong.
Reading   Letter on the Martyrdom of St. Boniface
Let us stand fast in what is right and prepare our souls for trial. Let us wait upon God's strengthening aid and say: O God, you have been our refuge in all generations.
Let us trust in the Holy One who has placed this burden upon us. What we ourselves cannot bear let us bear with the help of Christ. For he is all-powerful and he tells us: My yoke is easy and my burden is light.
Let us continue the fight on the day of the Lord. The days of anguish and of tribulation have overtaken us; if God so wills, let us die for the holy laws of our ancestors, so that we may deserve to obtain an eternal inheritance with them.
Responsory
R. The mouth of the just utter wisdom * and their lips speak what is right.  V. The law of our God is in their hearts * and their lips speak what is right.
V.  Glory to the Abba, and the Word, and the Holy Breath of Love.
Gospel Canticle of Mary
Antiphon
Christ brings everlasting life
to those who place nothing above him.
It is customary to make the sign of the cross at the beginning of the Gospel Canticle.
Blessed + be Adonai, the God of Israel,
Who visits this people to set us free
Raising for us a sign of salvation
In the house and family of David.
God promised throughout past ages
In words of holy prophets
To save us from our enemies,
And from the control of our oppressors.
Adonai favored our ancestors
And remembered the sacred covenant.
The pledge to Abraham and Sarah
Is now renewed for us;
That freed from the grip of our foes
We might worship without fear
And be both just and holy
For the rest of our days.
And you, child, called "prophet of the Most High,"
Will go ahead to prepare the way,
By teaching this people of salvation
Through forgiveness of their sins.
For the loving compassion of the Holy One
As the Rising Sun will shine upon us
To illumine the darkness and dispel death's shadow
To guide our feet on the way of peace.
Glory to the ONE and to  WORD 
And to the BREATH of Love! 
As always before, 
so now and evermore.  Amen
Christ brings everlasting life
to those who place nothing above him.
SERVICE OF PRAYER
Litany of Intercession
Your martyrs freely embraced death in bearing witness for the faith,
– give us the true freedom of the Spirit and courage to work for justice.
Your martyrs professed their faith by shedding their blood,
– give us a faith, O God, that is constant and pure.
Your martyrs followed in your footstep by carrying the cross,
– help us to endure courageously the burdens and misfortunes of life.
Your martyrs washed their garments in the blood of the Lamb,
– Strengthen our baptismal promises and we shall be cleaner than snow.
Prayer of Jesus
Our Father …
Closing Prayer & Blessing
We give you thanks and praise, O Holy One, for with a Mother's love you have watched over us in the night and have brought us from the shadows of darkness into morning's light.
As we celebrate this feast in memory of the Martyr Boniface, may we follow his example of teaching the Gospel through the simplicity of our lives and through faithfulness in prayer.  For yours is the glory and power of love now and forever.  Amen.
May the God of all Wisdom +   bless us with Understanding and Knowledge, Counsel and Courage, Reverence and Loving Kindness  Amen.
Let us bless Adonai!    ~Thanks to God.