Podcast: Play in new window | Download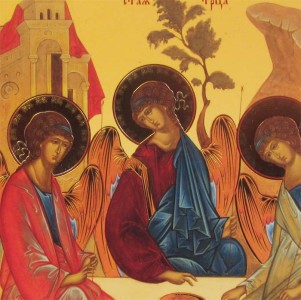 Invitation to Worship
Come, let us sing to Adonai, let us praise the God of all creation!
O Holy One,+ open my lips.
~And my mouth will proclaim your praise.
Let everything that lives and that breathes-
~give praise to Adonai, alleluia!
Sunday Morning Hymn
On this day, the first of days,
God our Abba's Name we praise;
Who creation's Source and Spring
Did the world from darkness bring.
On this day th' eternal Son
over death his triumph won;
On this day the Spirit came
with those gifts of living flame.
God, you made woman and man
Godlike in your loving plan,
Fill us with that love divine
that like stars we too may shine.
Word-Made-Flesh, all praises be!
You from sin have set us free;
And with you we die and rise
Unto God in sacrifice.
Holy Spirit you impart
Gifts of love to ev'ry heart
Give us light and grace, we pray,
Fill our hearts this holy day.
God, O Blessed Three in One
May your holy will be done;
In your word our souls are free,
As we praise the Trinity. Amen.
Text: LeMans Breviary, 1748; Melody: GOTT SEI DANK
PSALMODY
Antiphon/Refrain
How many are your works, O God!
In wisdom you have wrought them all.
Psalm 95/96
Sing a new song to Adonai!
Sing it and bless God's Name!
Sing it everyone, and everywhere!
Proclaim God's help every day,
Tell every nation about the triumph!
God's glory and wonders among the peoples.
A God so great deserves all praise,
and the dread of all other gods,
far too many value their worthless idols
but it was Adonai who made the heavens;
to God belong majesty and power
and splendorous beauty in the temple.
Proclaim Adonai, O families of nations,
Praise the glory of God's power
Praise the glory of the Holy Name.
Bring gifts to offer in the temple,
worship with reverence and awe,
O Earth, join us in praise.
Tell it among the nations:
"Adonai reigns with justice!
As the firmness of Earth is not swayed,
nothing will sway the justice of God.
Let heaven and Earth be glad,
the sea and its creatures render praise;
the fields and their animals exult,
the trees and their birds sing for joy,
at the presence of Adonai who comes–
who comes to reign on Earth.
With justice God will set Earth aright;
with truth restore the world to order!
Glory to the ONE and to the WORD
and to the BREATH of Love.
As always before
so now and evermore. Amen.
How many are your works, O God!
In wisdom you have wrought them all.
READING I Corinthans 2:6-8
We speak a wisdom to those who are mature, not a wisdom of this age,
nor of the rulers of this age who are passing away.
Rather, we speak God's wisdom, mysterious, hidden, which God predetermined before the ages for our glory, and which none of the rulers of this age knew;
for, if they had known it, they would not have crucified the Lord of glory.
Responsory
R. O the depth of the riches and the wisdom and the knowledge in God! How unsearchable God's judgments, how untraceable God's ways! Source, Guide and Goal of all that is–to whom be glory forever, Amen!
Canticle of Zachariah
Antiphon
Holy God, Holy and Mighty, Holy and Immortal — have mercy on us!
Blessed + be Adonai, the God of Israel,
Who visits this people to set us free
Raising for us a sign of salvation
In the house and family of David.
God promised throughout past ages
In words of holy prophets
To save us from our enemies,
And from the control of our oppressors.
Adonai favored our ancestors
And remembered the sacred covenant.
The pledge to Abraham and Sarah
Is now renewed for us;
That freed from the grip of our foes
We might worship without fear
And be both just and holy
For the rest of our days.
And you, child, called "prophet of the Most High,"
Will go ahead to prepare the way,
By teaching this people of salvation
Through forgiveness of their sins.
For the loving compassion of the Holy One
As the Rising Sun will shine upon us
To illumine the darkness and dispel death's shadow
To Guide our feet on the way of peace.
Glory to the ONE and to the WORD
And to the BREATH of Love!
As always before,
so now and evermore. Amen
Holy God, Holy and Mighty, Holy and Immortal — have mercy on us!
Litany of Intercession
O Dear Abba, send your Spirit to us who do not know how to pray as we ought; ~ may the Spirit help us in our frailty, and ask for us those gifts that will free us to do your will.
O Word of God, you asked the Abba to send your Holy Spirit upon us; ~make us worthy to have the Spirit of Truth and Wisdom with us at all times, that we may know ourselves as called and gifted to join you in bringing life to the world.
O Spirit and Breath of God, fill us with your life ~that we may bear the fruits of love and joy, peace and serenity, kindness and generosity, modesty and chastity, endurance and patience, faithfulness and self-control.
Prayer of Jesus
Our Dear Abba in heaven…
Closing Prayer
We bless and thank you, Gracious Abba, Word, and Breath of Love. You reveal yourself to us in the depths of our being and draw us to share in your life and your love. One God, three Persons, be near to the people formed in your image, and close to all creation which your love brings to life now and forever. Amen.
Blessing
May the Grace of our Lord Jesus Christ, the Love of God the Abba and the Communion of the Holy Spirit be with us now and forever. ~Amen!
Let us bless the Lord;
~Thanks be to God.