Podcast: Play in new window | Download

SERVICE OF LIGHT
Greeting/Invocation
We light the Evening Candle and say or sing:
Light and Peace in Jesus Christ our Lord!
~Thanks be to God!
Guard me, Adonai, from the hands of sinners,
~Rescue me from those who do evil.
EVENING HYMN for HOLY WEEK
O Cross of Christ, immortal tree On which our Savior died,
The world is sheltered by your arms That bore the Crucified.
From bitter death and barren wood The tree of life is made;
The branches bear unfailing fruit And leaves that never fade.
O faithful Cross, you stand unmoved While ages run their course:
Foundation of the universe, Creation's binding force.
Give glory to the risen Christ And to his Cross give praise,
The sign of God's unfathomed love, The hope of all our days. Amen.
Text: Stanbrook Abbey Hymnal, 1974, alt. Tune: LOVING HEARTS C.M.
SERVICE OF THE WORD
PSALMODY
Antiphon/Refrain
Even my friend, in whom I trusted,
the one who ate my bread, has turned against me.
Psalm 54/55
O God, listen to my prayer,
do not hide from my pleading,
attend to me and reply;
with my cares I cannot rest.
I tremble at the shouts of the foe,
at the cries of the wicked;
for they bring down evil upon me
They assail me with fury (Refrain)
My heart is stricken within me,
death's terror is all around me,
trembling and fear fall upon me
and horror overwhelms me.
O that I had the wings of a dove
to fly away and be at rest.
So I would escape far away
and take refuge in the wilderness. (Refrain)
I would hasten to find a shelter
from the raging wind,
from the destructive storm, Adonai,
and from their plotting tongues.
For I can see nothing but violence
and strife in the city.
Night and day they patrol
high on the city walls. (Refrain)
This city is full of wickedness and evil;
it is full of sin.
Its streets are never free
from tyranny and deceit.
If this had been done by an enemy
I could bear his taunts.
But is you, my own companion
My intimate friend!
How close was the friendship between us
We walked together in harmony in the house of God. (Refrain)
As for me, I will cry to God
and Adonai will save me.
Evening, morning and at noon
I will cry and lament.
Entrust your cares to Adonai
who will support you with strength and love;
God will never allow the just to stumble.
Adonai, I will trust in you. (Refrain)
Reading Hebrews 10: 1-7
Since the law has only a shadow of the good things to come, and not the very image of them, it can never make perfect those who come to worship by the same sacrifices that they offer continually each year. Otherwise, would not the sacrifices have ceased to be offered, since the worshipers, once cleansed, would no longer have had any consciousness of sins? But in those sacrifices there is only a yearly remembrance of sins, for it is impossible that the blood of bulls and goats take away sins. For this reason, when he came into the world, he said:
"Sacrifice and offering you did not desire, but a body you prepared for me; holocausts and sin offerings you took no delight in. Then I said, 'As is written of me in the scroll, Behold, I come to do your will, O God.'"
Responsory
R. Christ has entered the sanctuary once and for all, *he has won for us an eternal redemption. V. He entered, not with the blood of goats and calves, but with his own blood * he has won for us an eternal redemption. V. Glory to the One and the Word and the Holy Breath of Love.
Gospel Canticle of Mary
Antiphon
Jesus Christ crucified:
to his people a scandal, to the Gentiles foolishness,
but to those who are called: the power and wisdom of God.
It is customary to make the sign of the cross at the beginning of the Gospel Canticle.
My heart + is radiant with the Lord,
My whole being delights in God my Savior.
All people now will call me blessed
For God has loved this humble handmaid.
The Almighty has shown me great favor
Holy is the NAME,
Whose mercy embraces the faithful,
From one generation to the next.
The mighty arm of God,
Scatters the proud in their own conceit,
Pulls tyrants from their thrones
While lifting up the lowly:
Fills the famished with bounty,
And reveals the emptiness of riches.
Rescues lowly Israel,
Sharing such loving kindness,
As promised to our ancestors
To Abraham and Sarah, and their descendants forever.
Glory to the ONE and to WORD
And to the BREATH of Love!
As always before,
so now and evermore. Amen
Jesus Christ crucified:
to his people a scandal, to the Gentiles foolishness,
but to those who are called: the power and wisdom of God.
SERVICE OF PRAYER
Litany of Intercession
You shared your life, your love, your bread and your dreams with Judas, while knowing he would betray you; ~bless us with unconditional love for all people, including those who hurt or betray us.
Your disciples followed a man carrying a water jar (Luke 22:10) to the house where you would celebrate Passover ~ bless all those who carry water, those who offer hospitality to others, and those who work to prepare for the feasts.
You celebrated Passover with your disciples, re-living the Exodus of your people from slavery in Egypt; ~ bless our Jewish sisters and brothers who are celebrating Passover and help us work together with Jews. Muslims and Christians to end all forms of slavery and oppression.
You invite any who wish to be your disciples to take up their cross and follow you;
~ lead us on the way that leads through dying to all that is untrue and unnecessary to freedom and the fullness of life.
Prayer of Jesus
Our Father…
Closing Prayer
Gracious God of all Compassion, you sent Jesus as an example of unselfish love whose way of life would free us from sin and whose way of dying would destroy the power of death. May our celebration of this Holy Week enable us to enter more deeply into the Mystery of his suffering, death, and burial, so that we may more fully experience the new life and joy of his resurrection, both here on earth and in heaven where you live and love, One God, forever and ever. Amen
Blessing
May the God of Compassion + bless and guide us as we follow Jesus on the way of the cross. ~Amen.
Let us bless Adonai! ~And give thanks to God.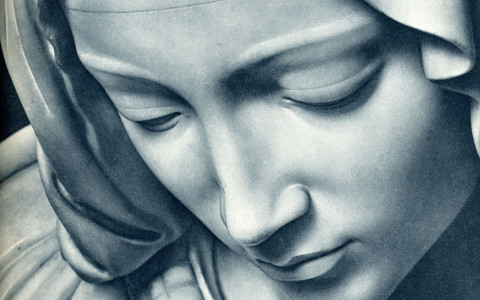 Those who wish may end evening prayer with the Marian Antiphon.
Queen of the heavens we greet you, Queen of Angels now we entreat you,
Fairest flower, heaven's portal From whom came the Light immortal.
Matchless maiden, God did raise you For the Universe to praise you.
Hear us, O hear us, dear Mother; Show your children Jesus, our brother.
Pray for us, O Gracious Queen of the Universe.
~ That we may be made worthy of the promises of Christ.
Let us pray. O Gracious God, grant to your people lasting health of mind and body. Send us your assistance in times of temptation. May we who celebrate the memory of the Holy Mother of God, rise from our sins by the help of her intercession. We ask this through Christ our Love. Amen.