Podcast: Play in new window | Download
SERVICE OF LIGHT
Greeting/Invocation
We light the Evening Candle and say or sing:
Light and Peace in Jesus Christ our Lord!
~Thanks be to God!
O Adonai, you are my shelter,
~Hear my cry and save me.
EVENING HYMN for HOLY WEEK
O Cross of Christ, immortal tree On which our Savior died,
The world is sheltered by your arms That bore the Crucified.
From bitter death and barren wood The tree of life is made;
The branches bear unfailing fruit And leaves that never fade.
O faithful Cross, you stand unmoved While ages run their course:
Foundation of the universe, Creation's binding force.
Give glory to the risen Christ And to his Cross give praise,
The sign of God's unfathomed love, The hope of all our days. Amen.
Text: Stanbrook Abbey Hymnal, 1974, alt. Tune: LOVING HEARTS C.M.
SERVICE OF THE WORD
PSALMODY
Antiphon/Refrain
O My Strength, it is you to whom I turn, for you,
O God, are my refuge, the God who gives me life.
Psalm 70/71: 1-16
Adonai, you are my shelter;
My refuge, do not fail me.
You are just and always do right:
rescue me and free me;
hear my cry and save me.
Be a rock where I can be safe,
a mighty stronghold to save me.
Be my tower of strength,
to whom I can always turn.
Free me from the hands of the wicked
from their grip, reach out and save me.(Refrain)
You are my hope, Adonai,
my trust throughout my youth.
I have relied on you since my birth;
my strength from my mother's womb.
You have always been my help;
My hope has always been in you.
Others shun me like the plague,
but you keep me in your care.
I am filled with songs of praise,
all day long I sing of your glory.
Do not reject me now that I am near death;
my strength fails, do not toss me aside.(Refrain)
For my enemies now scheme against me,
they have designs on my life.
They think God has left me,
"Strike now, for no one will help."
O God, do not hold back now;
run quickly , Adonai, to help me!
Those who accuse me will be disgraced,
wrapped, by their deeds, in shame.
Those who seek to cause harm
will face utter ruin. (Refrain)
But I will never lose hope,
and never stop singing your praise.
My lips will speak of your justice
and day by day of your saving deeds,
though I can never count them all:
Adonai, you alone are just!
O My Strength, it is you to whom I turn, for you,
O God, are my refuge, the God who gives me life.
Reading Isaiah 49: 1-3
Hear me, O islands, listen, O distant peoples.
Adonai called me from birth, from my mother's womb God gave me my name;
Made of me a sharp-edged sword and concealed me in the shadow of that great arm.
Made me a polished arrow, and hid me in a quiver.
"You are my servant, "Adonai said to me, "through whom I show my glory."
Responsory
R. In you, Adonai, I take refuge: *let me never be put to shame.

V. In your justice set me free * let me never be put to shame.
V. Glory to the One and the Word and the Holy Breath of Love.
Gospel Canticle of Mary
Antiphon
God did not spare the Beloved Son, but gave him up for the life of all.
It is customary to make the sign of the cross at the beginning of the Gospel Canticle.
My heart + is radiant with the Lord,
My whole being delights in God my Savior.
All people now will call me blessed
For God has loved this humble handmaid.
The Almighty has shown me great favor
Holy is the NAME,
Whose mercy embraces the faithful,
From one generation to the next.
The mighty arm of God,
Scatters the proud in their own conceit,
Pulls tyrants from their thrones
While lifting up the lowly:
Fills the famished with bounty,
And reveals the emptiness of riches.
Rescues lowly Israel,
Sharing such loving kindness,
As promised to our ancestors
To Abraham and Sarah, and their descendants forever.
Glory to the ONE and to WORD
And to the BREATH of Love!
As always before,
so now and evermore. Amen
God did not spare the Beloved Son, but gave him up for the life of all.
SERVICE OF PRAYER
Litany of Intercession
You followed the precepts of Torah and the traditions of your people and looked forward to celebrating Passover with your disciples; ~bless your People who have begun their annual celebration of Passover and send peace and justice to all who live in the Holy Land.
You shared your life, your love, your bread and your dreams with Judas, while knowing he would betray you; ~bless us with unconditional love for all people, including those who hurt or betray us.
You had a special place in your heart for the beloved disciple and revealed to him the identity of your betrayer; ~ bless the special relationships through which we experience your self-giving and other-receiving love.
You realized that through the mystery of your own Passover, that you and your Abba would be glorified when you offered your entire self for the life of the world; ~bless us with the praise of your glory and thanksgiving for all you have done.
Like Peter, we are anxious to follow you to the cross but reluctant to join you on it; ~bless us with strength and perseverance to the end.
Prayer of Jesus
Our Father…
Closing Prayer
Gracious God of all Compassion, you sent Jesus as an example of unselfish love whose way of life would free us from sin and whose way of dying would destroy the power of death. May our celebration of this Holy Week enable us to enter more deeply into the Mystery of his suffering, death, and burial, so that we may more fully experience the new life and joy of his resurrection, both here on earth and in heaven where you live and love, One God, forever and ever. Amen
Blessing
May the God of Compassion + bless and guide us as we follow Jesus on the way of the cross. ~Amen.
Let us bless Adonai! ~And give thanks to God.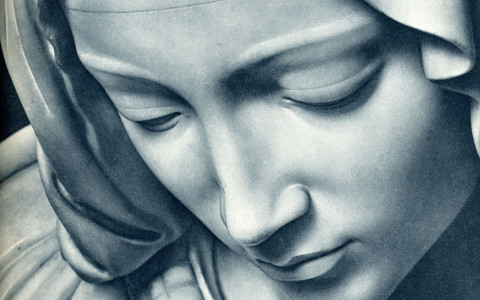 Those who wish may end evening prayer with the Marian Antiphon.
Queen of the heavens we greet you, Queen of Angels now we entreat you,
Fairest flower, heaven's portal From whom came the Light immortal.
Matchless maiden, God did raise you For the Universe to praise you.
Hear us, O hear us, dear Mother; Show your children Jesus, our brother.
Pray for us, O Gracious Queen of the Universe.
~ That we may be made worthy of the promises of Christ.
Let us pray. O Gracious God, grant to your people lasting health of mind and body. Send us your assistance in times of temptation. May we who celebrate the memory of the Holy Mother of God, rise from our sins by the help of her intercession. We ask this through Christ our Love. Amen.