Podcast: Play in new window | Download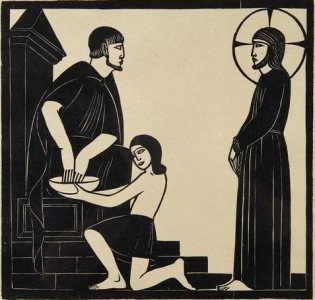 Invitation to Worship
The Lamb of God is slain for us.
Come, let us follow him on the way of the cross.
O Holy One, + open my lips,
~and my mouth shall proclaim your praise.
Hymn for Good Friday
The humble myst'ry of a cross Proclaims the greatness of our God.
The wondrous maker of all flesh– Himself as man our path has trod.
What David prayed upon his harp We see today has come to be!
Our mighty Lord does rule the world–From humble cross for all to see.
O blest are you on whose poor arms Was placed all human destiny.
You weighed the love of God's own Son– Who by his death has set us free.
To you, Eternal Persons Three, Whom all in heav'n and earth adore;
You showed your love in Jesus Christ To save this world for ever more. Amen.
Psalmody
Antiphon One
God did not spare the only Son, but gave him up for the life of all.
Psalm 50/51
Have mercy on me, O God, in your loving kindness;
in your compassion blot out my offenses.
Wash me thoroughly from my iniquity,
and cleanse me from my sin.
I know full well my misdeeds,
and my sin is always before me.
Against you, against you have I sinned,
and done what is evil in your sight.
Yet you look for truth in my inmost being,
and teach me wisdom in my heart.
Purify me that I may be clean,
wash me, make me brighter than snow.
Create in me a pure heart O God,
and renew a right spirit within me.
Cast me not away from your presence,
and take not your holy Spirit from me.
Deliver me from death, O God my Savior,
that my tongue may sing of your justice.
O Holy One, open my lips,
and my mouth will proclaim your praise.
You have no delight in sacrifices;
burnt offerings from me would not please you.
The sacrifice you accept is a humble spirit;
a broken and contrite heart, O God, you will not spurn.
God did not spare the only Son, but gave him up for the life of all.
Antiphon Two
The Lamb of God is slain for us,
come let us follow him on the way of the cross.
Psalm 55/56
Have mercy on me, God, men crush me;
they fight me all day long and oppress me
My foes trample me down;
how many fight proudly against me!
When I am afraid, I hope in you,
in You, in whose promise I trust.
I trust in you, why should I fear?
What can mere mortals do against me?
All day they twist my words,
plotting evil and harm against me.
They hide themselves, waiting in ambush,
track me down to take my life.
Can nations escape their crimes?
Won't your justice bring them down?
Have you not kept account of my turmoil,
and a record of my tears written in your book?
Then my enemies will retreat
on the day I call to you for help.
I am certain of this: God is on my side.
I glory in the promise that you made
I trust you without hesitation or fear;
what can mere mortals do to me?
I will fulfill my vows to you, O God,
offer gifts of thanksgiving to you.
You have saved me from the brink of death
and kept my feet from stumbling.
I will walk with you, Adonai,
and enjoy the light of life.
The Lamb of God is slain for us,
come let us follow him on the way of the cross.
Antiphon Three
By his wounds, we have been healed.
Psalm 84/85
O Holy One, you have blessed your land
and averted the destruction of Jacob,
You forgave your people's iniquity
covering all of their shame,
You blessed them and raised up new hope;
Forgiving with merciful love.
Revive us now, God, our Helper!
Refine us with the Fire of your Love!
Restore once again our life,
That all people may rejoice in you!
Show us your Love and Compassion
And grant us your saving help.
I will hear what Adonai has to say,
Speaking with a voice of peace,
Peace for this people and the saints
Who turn their hearts to Love:
New life is drawing near,
Glory is filling the land.
Kindness and faithfulness have embraced
Righteousness and peace have kissed.
Truth sprouts from the earth,
While justice leans down from heaven.
Adonai will grant what is good,
And Earth will bear her fruit;
Justice will walk ahead
And guide us in the ways of peace.
By his wounds, we have been healed.
READING Isaiah 52:13-15
Behold, my servant shall prosper, he shall be raised high and greatly exalted.
Even as many were amazed at him–so marred was his appearance beyond that of mortals– So shall he startle many nations, because of him,
emperors and kings will stand speechless.
Responsory
Christ became obedient for us unto death, even to death on a cross.
GOSPEL CANTICLE
Antiphon
Above his head was posted the charge:
"Jesus of Nazareth, King of the Jews."
Canticle of Zachariah
Blessed + be Adonai, the God of Israel,
Who visits this people to set us free
Raising for us a sign of salvation
In the house and family of David.
God promised throughout past ages
In words of holy prophets
To save us from our enemies,
And from the control of our oppressors.
Adonai favored our ancestors
And remembered the sacred covenant.
The pledge to Abraham and Sarah
Is now renewed for us;
That freed from the grip of our foes
We might worship without fear
And be both just and holy
For the rest of our days.
And you, child, called "prophet of the Most High,"
Will go ahead to prepare the way,
By teaching this people of salvation
Through forgiveness of their sins.
For the loving compassion of the Holy One
As the Rising Sun will shine upon us
To illumine the darkness and dispel death's shadow
To guide our feet on the way of peace.
Above his head was posted the charge:
"Jesus of Nazareth, King of the Jews."
Intercessory Prayer
You were anointed by the Spirit to proclaim liberty to all those in bondage to oppression and sin; ~ free us from all that keeps us from following you.
You went up to Jerusalem to suffer and enter into your glory,
~bring us all to the Passover feast where humanity and the rest of Earthkind celebrate liberation.
You took up the unleavened bread of liberation, blessed God for it, broke it and gave it to your disciples as a sacrament of your self-giving life and love ~ may we who share this bread break ourselves in loving service.
You were tortured, stripped, crucified and pierced with a soldier's lance;
~heal our wounds and the wounds of all who are tortured by injustice and sin.
You forgave both the repentant thief and the unrepentant who condemned and nailed you to the cross; ~forgive us our sins and help us to forgive those who sin against us.
You made the cross into the tree of life,
~share its fruit with all those reborn in the Easter sacraments so they may share this fruit with a starving world.
Prayer of Jesus
Our Father…
Closing Prayer
Gracious God of infinite Compassion, you sent Jesus as the Incarnation of your unselfish love. His way of life frees us from sin and his way of dying destroys the power of death. May our celebration of these Three Holy Days enable us to enter more deeply into the Mystery of his suffering, death, and burial, so that we may more fully experience the new life and joy of his resurrection, both here on earth and in heaven where you live and love, One God, forever and ever. Amen
Blessing
May the God of Compassion + bless and guide us
as we follow Jesus on the way of the cross. ~Amen.
Let us bless the world with peace.
~And give thanks to God.