Podcast: Play in new window | Download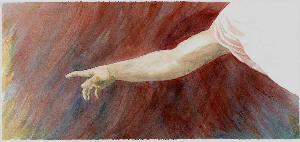 Invitation to Worship
Come, let us return to Adonai, Our God —Our God who is gracious and merciful!
We make the Sign of the Cross over our  lips as we begin.
O Holy ONE + open my lips,
~And my mouth will proclaim your praise.
Rescue me, O God, my Savior;
~ And my tongue shall ring out your goodness!
MORNING HYMN for LENT
All may sing or alternate the verses of any Lenten Morning Hymn .
God of Compassion turn to us your children;
Bend down your ear in your great loving kindness.
And, as your people's song  is now  ascending,
We beg you, hear us.
Look down in  mercy from your throne of glory;
Pour on our souls the radiance of your presence;
Drive from our weary hearts the shades of darkness;
Our footsteps lighten.
Free us from sin because of your great loving;
And cleanse the sordid, loose the fettered spirit.
Spare ev'ry sinner; raise with your own right hand
All who have fallen.  Amen.
Text: Aures Ad Nostras, trans A, G, McDougall (1895-1964) alt.;  Tune: HERZLIEBSTER JESU
PSALMODY
Antiphon/Refrain
You stretch forth your hand, and save me O Adonai!
Psalm 137/138
I thank you Adonai with all my heart, you have heard the words of my mouth.
Before  the angels I'll bless you, and adore before your  holy temple.
I thank you for your faithfulness and love which excel all we ever knew of you.
On the day I called you answered; you increased the strength of my soul.
You stretch forth your hand and save me, your hand will do all things for me.
Your love, my God, is eternal; discard not the work of your hands.
Setting: Tobias Colgan, OSB, alt.
READING     Jeremiah 17:6-10
Thus says ADONAI:
This is what I commanded my people: Listen to my voice;
then I will be your God and you shall be my people.
Walk in all the ways that I command you, so that you may prosper.
But they obeyed not, nor did they pay heed. They walked in the hardness of their evil hearts and turned their backs, not their faces, to me.
Silent Prayer
Responsory
R. They forgot the God who was their Savior, *they forgot the greatness of this love. V. They knew God and yet refused to honor God or to give thanks; *they forgot the greatness of this love. V. Glory to  the ONE and the WORD and the BREATH of Love.
Canticle of Zachary–  Luke 1:68-79
 Antiphon
If it is by the finger of God that I do this,
then the Reign of God has come upon you.
Blessed + be Adonai, the God of Israel,
Who visits this people to set us free
Raising for us a sign of salvation
In the house and family of David.
God promised throughout past ages
In words of holy prophets
To save us from our enemies,
And from the control of our oppressors.
Adonai favored our ancestors
And remembered the sacred covenant.
The pledge to Abraham and Sarah
Is now renewed for us;
That freed from the grip of our foes
We might worship without fear
And be both just and holy
For the rest of our days.
And you, child, called "prophet of the Most High,"
Will go ahead to prepare the way,
By teaching this people of salvation
Through forgiveness of their sins.
For the loving compassion of the Holy One
As the Rising Sun will shine upon us
To illumine the darkness and dispel death's shadow
To Guide our feet on the way of peace.
Glory to the ONE and to the WORD
and to the BREATH of Love!
As always before,
so now and evermore.  Amen.
If it is by the finger of God that I do this,
then the Reign of God has come upon you.
Intercessory Prayer
When we see you hungry and begging but we turn our heads certain that you will only use our money to buy drugs or alcohol~ Forgive us O God.
When you are uneducated, unemployed, or newly released from prison and we refuse to consider your applications for school, housing or employment… ~ Forgive us O God.
When you are living in alleys, searching for food and clothing in garbage dumps, and we oppose the building of homeless shelters or the provision of social services … ~ Forgive us O God.
When we create huge chasms between the rich and the poor and misuse the Scriptures to justify this inequality~ Forgive us O God.
When we ask for miracles to move us from greed and selfishness to compassion and generosity but refuse to recognize the spiritual and ecological  wisdom revealed in the daily miracles of creation and cooperation…  ~ Forgive us O God.
When we seem so holy, so close to God– but you are still very hungry, and lonely and cold… ~ Forgive us O God.
Prayer of Jesus
Our Father …
Closing Prayer
A prayer from the 13th Century:
"Come most sweet Lord stretch out your finger towards me and lift me up.  O that your finger might be placed under me and bear me up,  that it might hold me and lead me to you.  O that it might touch my wounds and heal them;  that it might cool the burn caused by pride,  squeeze out the infection of anger,  press and expel the poison of envy,  cut away the dead flesh of tepidity,  ease the pain of cupidity and avarice,  remove the excesses of gluttony,  and replace the stench of lust with ointments of agreeable fragrance.  Would that it touch me,  O Holy Spirit,  that finger of yours which distills wine,  oil and myrrh. Would that it touch me,  that finger of yours,  O well-beloved Lord,  to cure my infection and restore health to my flesh,  in order that I might become a dwelling fit to receive you,  a dwelling without fault,  founded on truth and faith,  constructed in the certitude of hope,  and completed in the fervor of love." Amen.   Anonymous Monk of the 13th Century; quoted by Jean Leclercq, OSB,  The Finger of God, Worship vol 36,  1962,  p. 434.
Blessing
May the God of light + fill us with all peace and joy, as we prepare for the Holy Feast of Easter.   ~Amen.
Let us bless the world with peace.
~And give thanks to God.