Podcast: Play in new window | Download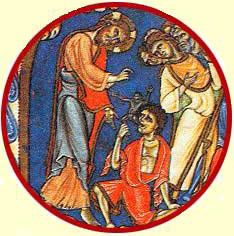 Service of Light
Greeting/Invocation
 We light the Evening Candle and say or sing:
Light and Peace in Jesus Christ our Lord!
~Thanks be to God!
O Adonai, You are my light;
~My God, You  illumine my darkness.
EVENING HYMN LENT
O Good Provider, hear our plea And listen to our earnest prayer
That through these forty days of Lent We learn to trust your loving care.
We spend our time and energies constructing barns to hoard and store,
And celebrate our liturgies to Mammon: god of "always more."
When Lazarus is at our gates, and species made extinct by greed–
May what we choose to fill our plates be no more than we really need.
As Earth now circles into Spring and through the mud new life appears,
We pray our Lenten journeys bring the joy that wipes away all tears.
O Abba, Food of those  who fast, O Christ in whom the least are known,
Earth's rising sap, O Spirit-spring: come raise  to life what you have sown!  Amen.
Tune: MERCIFUL REDEEMER, Mode IV Text: ; vv. 1-4 The Daily Feast; v. 5  Aelred Seton-Shanley
 SERVICE OF THE WORD
PSALMODY
 Antiphon/Refrain
If today you hear God's voice, harden not your hearts.
Psalm 94/95
Come ring out our joy to Adonai; hail the Rock  who saves us.
Let us come to God's presence, giving thank,  with songs, let us hail Adonai!
A mighty God is Adonai.  In whose hands are the depths of the Earth.
The heights of the mountain's are God's, to whom belongs the sea and the dry land
shaped by those Hands.
Come in, let us bow and bend low.  Let us kneel before God who made  us.  For God is our God and we the people of God's pasture, the flock that is led by those Hands.
O that today you would hear God's voice; harden not your hearts as at Meribah, as on that day in the dessert when your forbearers tested me; when they tried me, though they saw my works.
 Setting: Tobias Colgan, OSB, alt.
Reading   Jeremiah 7:25-26
This says Adonai: From the day that your ancestors left the land of Egypt even to this day,
I have sent you untiringly all my servants the prophets. Yet your people have not obeyed me nor paid heed; they have stiffened their necks and done worse than their forbearers.
When you speak all these words to them, they will not listen to you either;
when you call to them, they will not answer you.
Responsory
R. They forgot the God who was their Savior, *they forgot the greatness of God's love. V. They refused to listen and rebelled against the command of Adonai. *they forgot the greatness of God's love.  Glory to the One and the Word and the Holy Breath of Love.
Gospel Canticle of Mary
Antiphon
Whoever is not with me is against me;
whoever does not gather with me scatters.
It is customary to make the sign of the cross at the beginning of the Gospel Canticle.
My heart + is radiant with the Lord,
My whole being delights in God my Savior.
All people now will call me blessed
For God has loved this humble handmaid.
The Almighty has shown me great favor
Holy is the NAME,
Whose mercy embraces the faithful,
From one generation to the next.
The mighty arm of God,
Scatters the proud in their own conceit,
Pulls tyrants from their thrones
While lifting up the lowly:
Fills the famished with bounty,
And reveals the emptiness of riches.
Rescues lowly Israel,
Sharing such loving kindness,
As promised to our ancestors
To Abraham and Sarah, and their descendants forever.
Glory to the ONE and to  WORD
And to the BREATH of Love!
As always before,
so now and evermore.  Amen
Whoever is not with me is against me;
whoever does not gather with me scatters.
Service of Prayer
Litany of Intercession
For the Unity of Humanity and the common good of all Earthkind,
God, in your mercy, hear our prayer.
For the people of this and every other nation, that all be guided in the ways of justice and peace, God, in your mercy, hear our prayer.
For the health and well-being of all creation, and the wisdom and will to conserve it,
God, in your mercy, hear our prayer.
For all those who have asked for our prayers and those for whom we have promised to pray, God, in your mercy, hear our prayer.
For all who are suffering in mind, body or spirit, and for those who care for them,
God, in your mercy, hear our prayer.
For those who have died, and for those who grieve their passing,
God, in your mercy, hear our prayer.
Prayer of Jesus
Our Father …
Closing Prayer & Blessing
God of Life and Liberation, in his teaching, his parables and his example, Jesus revealed that to live fully as the image of God, each of us is called and gifted to meet the real, practical needs of our sisters and brothers.   May our celebration of this holy season rehearse us in living by his values and bring us closer to realizing the freedom, flourishing and fullness of life that your love offers to us and all creation both now  and forever.   ~Amen.
Blessing
May the Spirit of God + kindle in our hearts the love of God and neighbor which fulfills the whole law.  ~Amen 
Let us bless Adonai!    ~And give thanks to God.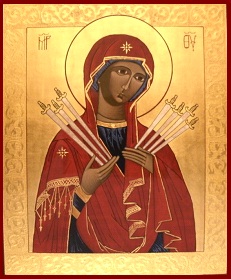 Those who wish may end evening prayer with the Marian Antiphon. Ave Regina Caelorum is sung from the 3rd of February until Good Friday, inclusive.
Queen of the heavens we greet you, Queen of Angels now we entreat you,
Fairest flower, heaven's portal From whom came the Light immortal.
Matchless maiden, God did raise you For the Universe to praise you.
Hear us, O hear us, dear Mother; Show your children Jesus, our brother.
Pray for us, O Gracious Queen of the Universe.
~ That we may be made worthy of the promises of Christ.
Let us pray.  O Gracious God, grant to your people lasting health of mind and body. Send us your assistance in times of temptation.  May we who celebrate the memory of the Holy Mother of God, rise from our sins by the help  of her intercession.  We ask this through Christ our Love.  Amen.