Podcast: Play in new window | Download

Service of Light
Greeting/Invocation
 We light the Evening Candle and say or sing:
Light and Peace in Jesus Christ our Lord!
~Thanks be to God!
O Adonai, You are my light;
~My God, You  illumine my darkness.
EVENING HYMN LENT
For forty days Christ fasted, fed upon his Abba's every word–
all for the joy that lay ahead; such were his pleas, his prayer was heard.
Though one with God he plunged his heart deep in the world's unfathomed pain;
he wrestled demons, hunger, thirst, that we in him may do the same.
When Lazarus is at our gates, and species made extinct by greed–
May what we choose to fill our plates be no more than we really need.
As Earth now circles into Spring and through the mud new life appears,
We pray our Lenten journeys bring the joy that wipes away all tears.
O Abba, Food of those  who fast, O Christ in whom the least are known,
Earth's rising sap, O Spirit-spring: come raise  to life what you have sown!  Amen.
Tune: ERHALT' UNS HERR (1547); Text: vv. 1,2, 5  Aelred Seton-Shanley; vv. 3-4 The Daily Feast
 SERVICE OF THE WORD
PSALMODY
 Antiphon/Refrain
This poor one called, Adonai heard my cry.
Psalm 33/34
I will bless Adonai at all times; God's praise always on my lips;
In our God my soul shall makes its boast!  The humble shall hear and be glad.
Look towards God and be not ashamed; let your faces be radiant with joy:
This poor one called Adonai replied—rescued me from all my distress.
God's angel surrounds all those who call, to save them from all they fear.
O taste and see Adonai is good! They are happy who trust in this Love.
Revere Adonai all you who are holy. They lack nothing who trust in God's name.
Though lions may hunger and find no prey, those who seek God are not disappointed.
The face of Love turns away from evil that such deeds be remembered no more.
The just call, Adonai hears, rescues them from all their distress.
The just will suffer from anguish and trial but God will be there to save:
A guard to keep watch over all of their bones so that none of their bones will be broken. 
Adonai is close to the broken-hearted; those who spirit is crushed will be saved.
Adonai ransoms the souls of the poor: those who trust shall not be condemned.
 Text: Psalm 33/34 New Translation.  Setting: Tobias Colgan, OSB, alt. 
Reading   Luke 16: 19-21
Jesus said to the Pharisees:
There was a rich man who dressed in purple garments and fine linen and dined sumptuously each day. And lying at his door was a poor man named Lazarus, covered with sores, who would gladly have eaten his fill of the scraps s table.
Dogs even used to come and lick his sores.
When the poor man died, he was carried away by angels to the bosom of Abraham.
The rich man also died and was buried, and from the netherworld, where he was in torment he raised his eyes and saw Abraham far off and Lazarus at his side.
The Gospel of the Lord.  ~Praise to you, Lord Jesus Christ.
Responsory
R. Those who oppress the poor insult their Maker;  *those who are kind to the needy honor God.  V. God has chosen those who are poor in the world to be rich in faith and heirs of the reign of heaven. *those who are kind to the needy honor God. V. Glory to the One and the Word and the Holy Breath of Love.
Gospel Canticle of Mary
Antiphon
Good things came your way just as bad things came the way of Lazarus.
Now he is being comforted here while you are in agony.
It is customary to make the sign of the cross at the beginning of the Gospel Canticle.
My heart + is radiant with the Lord,
My whole being delights in God my Savior.
All people now will call me blessed
For God has loved this humble handmaid.
The Almighty has shown me great favor
Holy is the NAME,
Whose mercy embraces the faithful,
From one generation to the next.
The mighty arm of God,
Scatters the proud in their own conceit,
Pulls tyrants from their thrones
While lifting up the lowly:
Fills the famished with bounty,
And reveals the emptiness of riches.
Rescues lowly Israel,
Sharing such loving kindness,
As promised to our ancestors
To Abraham and Sarah, and their descendants forever.
Glory to the ONE and to  WORD
And to the BREATH of Love!
As always before,
so now and evermore.  Amen
Good things came your way just as bad things came the way of Lazarus.
Now he is being comforted here while you are in agony.
.
Service of Prayer
Litany of Intercession
When we see you hungry and begging but we turn our heads certain that you will only use our money to buy drugs or alcohol~ Forgive us O God.
When you are uneducated, unemployed, or newly released from prison and we refuse to consider your applications for school, housing or employment… ~ Forgive us O God.
When you are living in alleys, searching for food and clothing in garbage dumps, and we oppose the building of homeless shelters or the provision of social services … ~ Forgive us O God.
When we create huge chasms between the rich and the poor and misuse the Scriptures to justify this inequality~ Forgive us O God.
When we ask for miracles to move us from greed and selfishness to compassion and generosity but refuse to recognize the spiritual and ecological  wisdom revealed in the daily miracles of creation and cooperation…  ~ Forgive us O God.
When we seem so holy, so close to God– but you are still very hungry, and lonely and cold… ~ Forgive us O God.
Prayer of Jesus
Our Father …
Closing Prayer & Blessing
God of Life and Liberation, in his teaching, his parables and his example, Jesus revealed that to live fully as the image of God, each of us is called and gifted to meet the real, practical needs of our sisters and brothers.   May our celebration of this holy season rehearse us in living by his values and bring us closer to realizing the freedom, flourishing and fullness of life that your love offers to us and all creation both now  and forever.   ~Amen.
Blessing
May the Spirit of God + kindle in our hearts the love of God and neighbor that is the fulfillment of the law.  ~Amen 
Let us bless Adonai!    ~And give thanks to God.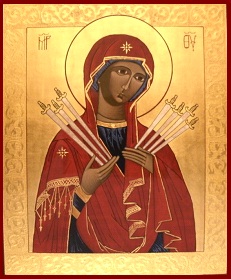 Those who wish may end evening prayer with the Marian Antiphon.
Queen of the heavens we greet you, Queen of Angels now we entreat you,
Fairest flower, heaven's portal From whom came the Light immortal.
Matchless maiden, God did raise you For the Universe to praise you.
Hear us, O hear us, dear Mother; Show your children Jesus, our brother.
Pray for us, O Gracious Queen of the Universe.
~ That we may be made worthy of the promises of Christ.
Let us pray.  O Gracious God, grant to your people lasting health of mind and of body. Send us your assistance in times of temptation.  May we who celebrate the memory of the Holy Mother of God, rise from our sins by the help  of her intercession.  We ask this through Christ our Love.  Amen.