Podcast: Play in new window | Download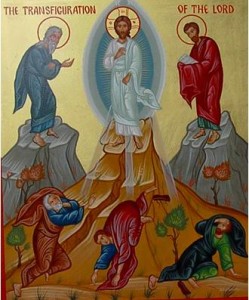 Tibi dixit cor meum: quaesivi vultum tuum (Of you my heart has spoken,  I have sought  your face)
Vultum tuum Domine requiram: (I long for your Face, O Adonai, )
ne avertas faciem tuam a me. (Do not turn your Face from me)
Entrance Antiphon II Sunday of Lent
Service of Light
Greeting/Invocation
 We light the Evening Candle and say or sing:
Light and Peace in Jesus Christ our Lord!
~Thanks be to God!
In you is the Source of life.
~And in your light we see light.
Hymn for Lent II
O wondrous type! O vision fair Of glory that your people share,
Which Christ upon the mountain shows, Where brighter than the sun he glows!
With Moses and Elijah nigh The_incarnate Word holds converse high;
And from the cloud the Holy One Bears witness to the Only Son.
With shining face and bright array, Christ deigns to manifest today
What glory shall be theirs above Who live in God with perfect love.
And faithful hearts are raised on high By this great vision's mystery;
For which in joyful strains we raise The voice of prayer, the hymns of praise.
Great Abba, with the_eternal Son, and Holy Spirit, ever One.
Grant us who praise your loving grace the gift to see You face to face.  Amen.
Text: Sarum Hymnary (15th Century), trans. J.M. Neale, alt.  Tune: HIM ALONE L.M., Gethsemani, 1968
SERVICE OF THE WORD
Evening Psalm
Antiphon
Lord, it is good to be here, let us build three tents:
one for you, one for Moses and one for Elijah.
Refrain
By his wounds we have been healed.
I Peter 2:21-25
Christ suffered for you leaving you an example:
that you should follow in his steps. (Refrain)
He committed no sin; no guile was found upon his lips.
When he was reviled, he did not revile in return. (Refrain)
When he suffered, he did not threaten;
but he trusted in God who judges justly. (Refrain)
He himself bore our sins in his body on the tree,
that we might die to sin and live to righteousness. (Refrain)
By his wounds you have been healed.
For you were straying like sheep,
but now you have returned to the Shepherd and Guardian of your souls. (Refrain)
Glory to the Holy One and the Word and the Breath of Love.
As always before so now and evermore. Amen.
Lord, it is good to be here, let us build three tents:
one for you, one for Moses and one for Elijah.
.
Reading           2 Timothy 1: 8b-10
Beloved, Bear your share of hardship for the gospel with the strength that comes from God. He saved us and called us to a holy life, not according to our works but according to his own design and the grace bestowed on us in Christ Jesus before time began, but now made manifest  through the appearance of our savior Christ Jesus, who destroyed death and brought life and immortality to light through the gospel.
 Responsory
R. Out of Zion's perfect beauty he shines our God comes and keeps silence no longer.  V. Christ will baptize with the Holy Spirit and with fire.
V.  Glory to the Holy One and the Word and the Breath of Love.
Gospel Antiphon
Tell the vision you have seen to no one,
till the Human One has risen from the dead.
Canticle of Mary
My heart + is radiant with the Lord,
My whole being delights in God my Savior.
All people now will call me blessed
For God has loved this humble handmaid.
The Almighty has shown me great favor
Holy is the NAME,
Whose mercy embraces the faithful,
From one generation to the next.
The mighty arm of God,
Scatters the proud in their own conceit,
Pulls tyrants from their thrones
While lifting up the lowly:
Fills the famished with bounty,
And reveals the emptiness of riches.
Rescues lowly Israel,
Sharing such loving kindness,
As promised to our ancestors
To Abraham and Sarah, and their descendants forever.
Glory to the ONE and to  WORD
And to the BREATH of Love!
As always before,
so now and evermore.  Amen
Tell the vision you have seen to no one,
till the Human One has risen from the dead.
 Service of Prayer
Litany of Intercession
With Peter, James, and John, lead us up the mountain of contemplative awareness
~ where we will gaze with compassion on the whole of reality which reveals God's glory.
With Moses, Elijah, and all your prophets and saints,  welcome us into the sharing of God's wisdom ~which continues as we open our hearts and minds to insights from other ages and spiritual traditions.
With those who heard the voice from the cloud, open our minds  and hearts to know and love you ~ and our ears to listen and learn from what you have said and done.
With the apostles, raise us from our fears so that we can follow you back down the mountain ~where you call and grace us to continue your mission and ministry.
With you may we hear the voice of our Abba say to each of us: "You are my beloved in whom I take delight" ~so our lives will be transfigured and we may share light with the world. 
You taught us to pray…
Prayer of Jesus
Our Father…
Closing Prayer
God of Life and Light, through the mystery of the Transfiguration you revealed that in his teaching and way of living and loving, Jesus reveals your glory and fulfills both the Law and the Prophets.  May our celebration of this holy season rehearse us in learning from his teachings and living by his values and so, bring us closer to realizing the freedom, flourishing and fullness of life that your love offers to us and all creation, both now  and forever.   ~Amen.
Blessing
May Adonai+ bless us and keep us.  ~Amen 
May the Face of Adonai + shine on us and be gracious to us. ~Amen 
May Adonai + look upon us with favor and give us peace.  ~Amen 
Let us bless Adonai.    ~And give thanks to God.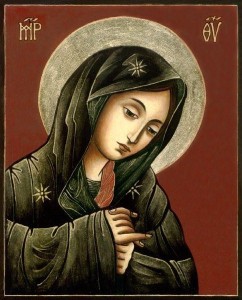 Those who wish may end evening prayer with the Marian Antiphon for this season.
Ave Regina caelorum, Ave Domina Angelorum.
Salve radix, salve porta, Ex qua mundo lux est orta:
Gaude Virgo gloriosa, Super omnes speciosa:
Vale, O valde decora, Et pro nobis Christum exora.
Pray for us O gracious Queen of the Universe,
~ that we may be made worthy of the promises of Christ.
Let us pray,
O Gracious God grant to your people lasting health of mind and body.
Send us your assistance in  times of temptation.
May we who celebrate the memory of the holy Mother of God,
rise from our sins by the help of her intercession.
We ask this through Christ our Love.  Amen.