Podcast: Play in new window | Download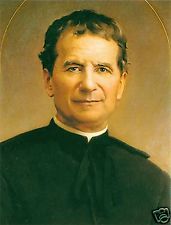 January 31st is the Feast of John Bosco, (1815-1881)
Patron of Educators,  Young People and the Poor
Invitation to Worship
Come, let us sing to Adonai, let us praise the God of all Creation!
We make the Sign of the Cross over our  lips as we begin.
O Holy ONE + open my lips,
~And my mouth will proclaim your praise.
Let the earth and all living things praise the greatness of God!
Let all people extol the glory of Adonai!
MORNING HYMN
All may sing or alternate the verses of any Morning Hymn.
Living source of all creation, Grateful songs to you we raise.
In our joyful celebration Of your love poured out always.
For John Bosco, Lord, we thank you, And for unity in love,
For the brothers, for the sisters Trusted to us from above.
Take our hearts, our love's devotion, On Don Bosco's festal day;
And in mercy give your blessing, As with reverence we pray:
May we all, your life possessing, Steadfast be in work and word;
By Christ's charity enamored  May we be to service spurred.
May we, true to each vocation, For your Mercy's sake now grow,
Showing forth Christ's healing kindness, As Don Bosco's heart might show.
May we burn with zeal and ardor For the work which Christ has blest.
Guided by his storied banner: "Give me souls and take the rest."
Living source of all creation, Guide and friend of all the weak,
Let us know Christ's true salvation And the Spirit's grace unique.
By the Virgin's intercession, By Don Bosco's prayers so kind,
May your children know your healing, May we peace and mercy find.
Text: A.J.Lenti, adpt.;  Tune: DOMHNACH TRIONOIDE, 8787D
PSALMODY
Antiphon/Refrain
Adonai hears the cry of the poor, Praised be Adonai
Psalm 33/34
I bless you Adonai at all times,
Your praise ever in my mouth,
Let my soul glory in your Love,
for you hear the cry of the poor. (Refrain)
Let the lowly hear and be glad
Adonai listens to their pleas
and to hearts broken God is near
who will hear the cry of the  poor. (Refrain)
Ev'ry spirit crushed God will save;
will be ransom for  their  lives;
will be safe shelter for their fears,
and will hear the cry of the poor. (Refrain)
We proclaim your greatness O God,
your praise ever in our mouth;
ev'ry face brightened by your light
for you hear the cry of the poor.  (Refrain)
 Psalm 33/34 John Foley, SJ alt.
READING     1 Cor 13: 4-8a, 13
Love is patient and kind; love is not jealous or boastful; It is not arrogant or rude. Love does not insist on its own way; it is not irritable or resentful; it does not rejoice at wrong, but rejoices in the right. Love bears all things, believes all things, hopes all things, endures all things. Love never ends. Faith, hope, love abide, these three; but the greatest of these is love.
Silent Prayer
Responsory
R. The mouth of the just utter wisdom *and their lips speak what is right
V.  The law of our God is in their hearts; * and their lips speak what is right.
V.  Glory to the Abba and the Word, and the Breath of Love.
Canticle of Zachary–  Luke 1:68-79
 Antiphon
Blessed are the meek, for they shall inherit the earth.
Blessed are the pure in heart, for they shall see God.
Blessed + be Adonai, the God of Israel,
Who visits this people to set us free
Raising for us a sign of salvation
In the house and family of David.
God promised throughout past ages
In words of holy prophets
To save us from our enemies,
And from the control of our oppressors.
Adonai favored our ancestors
And remembered the sacred covenant.
The pledge to Abraham and Sarah
Is now renewed for us;
That freed from the grip of our foes
We might worship without fear
And be both just and holy
For the rest of our days.
And you, child, called "prophet of the Most High,"
Will go ahead to prepare the way,
By teaching this people of salvation
Through forgiveness of their sins.
For the loving compassion of the Holy One
As the Rising Sun will shine upon us
To illumine the darkness and dispel death's shadow
To Guide our feet on the way of peace.
Glory to the ONE and to the WORD
and to the BREATH of Love!
As always before,
so now and evermore.  Amen.
How blessed are the meek, for they shall inherit the earth.
Blest are the pure in heart, for they shall see God.
Intercessory Prayer
You made St John Bosco outstanding in the formation and education of the young, and especially of those who are poor and abandoned:
– help us to imitate his wisdom in the way you have marked out for each one of us .
You inspired Don Bosco to involve many others in guiding and educating the young:
– open our hearts to help meet the needs of  young people in our own families, neighborhoods, cities and the world.
Don Bosco studied and followed the teachings of St. Francis De Sales and taught his Salesians to pray with Francis:
May we trust that You are in charge of all things today,
~And will take care of all things tomorrow.
Shield us today from suffering,
 ~Or give us unfailing strength to bear all things with joy.
Help us to be at peace in the present moment,
~and to dismiss all anxious thoughts and imagination.
May we not wish to be anything
~other than who you made us to be.
Prayer of Jesus
Our Father …
 Closing Prayer & Blessing
Holy One and God of endless Compassion, you are the praise of all your saints and the joy of all creation.  You called Saint John Bosco to be a father and teacher of youth, and the model and inspiration of many who work with young people today throughout the world. Fill us with that same apostolic charity to seek the good of our neighbors and so serve
you, for yours are the power and glory of love now and forever.  Amen.
May God lead us safely through all things; and when we can endure no longer,
may God surround us with Loving Arms of Compassion.  ~Amen.
Let us bless the world with peace.
~And give thanks to God.