Podcast: Play in new window | Download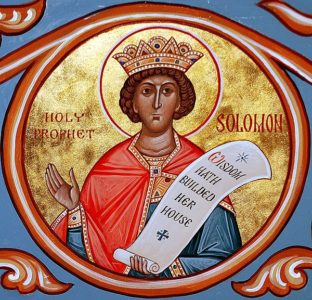 SERVICE OF LIGHT
Greeting/Invocation
 We light the First & Second Candles on the Advent Wreath, and say or sing:
Light and Peace in Jesus Christ our Lord!
~Thanks be to God!
Let your face shine on us, O God;
~And we shall be saved.
ADVENT EVENING HYMN
All may sing or alternate the verses .
Come, watch and wait, the prophet cries, For Christ will come and not delay:
Love grows impatient for beloved, And Christ is love, and must obey
The heart's demand to seek us out.  He will not stay too long away.
Come, fell the hills, the prophet shouts, And raise the valleys' jagged edge,
And smooth the plains and pave the road, For Christ will run to keep the pledge
That God has made to meet us here As we pour in from field and hedge.
Come, rouse the house, the prophet warns, Awaken all who lie abed;
Get up and set the table now For Christ will come as he has said
To fill our cups with festal wine and give himself as living bread.
Come, lift your heads, the prophet calls, For Christ our light will soon be here.
The night is fading as we watch, Salvation's dawn is drawing near;
The day approaches from the east, And Christ our Sun must now appear!
Text: Genevieve Glen, OSB (C) Benedictine Nuns of the Abbey of St. Walburga
SERVICE OF THE WORD
PSALMODY
Antiphon:
Break forth together in shouts of joy, for the Lord has taken pity on this people.
Psalm 144/145b
All your creatures shall thank you, O Lord,
and your friends shall repeat their blessing.
They shall speak of the glory of your reign
and declare your might, O God,
Let them make known to all
your might and your glorious reign.
Your dominion lasts forever
your rule for all generations.
You are faithful in all your words
and loving in all your deeds.
You support those who have fallen
and raise all those who are bowed down.
The eyes of all creatures look to you
and you give them their food in due season.
You open wide your hand
to feed all living things.
Most just in all your ways
most loving in every deed.
You are near to all who call
who cry out from their hearts.
You grant them their desires,
hear their cry and save them.
You protect and keep alive
All who strive to love.
Let me sing the praise of my Love
let all creatures bless the holy Name,
as always before,
so now and evermore. Amen.
Break forth together in shouts of joy, for the Lord has taken pity on this people.
READING:  I Corinthians 4:5
Stop passing judgment before the time of the Lord's return. He will bring to light what is hidden in darkness and manifest the intentions of hearts.  At that time, all of us will receive appropriate praise from God.
Silent Reflection
Responsory  
R. You heavens open from above that clouds may rain the Just One!
Canticle of Mary          Luke 1:46-55
Antiphon:
 "Guard good judgment and work for justice," says Adonai,
"because my salvation is coming close."
 It is customary to make the sign of the cross at the beginning of the Gospel Canticle.
My heart + is radiant with the Lord,
My whole being delights in God my Savior.
All people now will call me blessed
For God has loved this humble handmaid.
The Almighty has shown me great favor
Holy is the NAME,
Whose mercy embraces the faithful,
From one generation to the next.
The mighty arm of God,
Scatters the proud in their own conceit,
Pulls tyrants from their thrones
While lifting up the lowly:
Fills the famished with bounty,
And reveals the emptiness of riches.
Rescues lowly Israel,
Sharing such loving kindness,
As promised to our ancestors
To Abraham and Sarah, and their descendants forever.
Glory to the ONE and to the WORD
and to the BREATH of Love!
As always before,
so now and evermore.  Amen
 "Guard good judgment and work for justice," says Adonai,
"because my salvation is coming close."
SERVICE OF PRAYER
In ancient times you freed those enslaved in Pharaoh's empire;
Liberate us today, from our slavery to self-centeredness and greed.
In ancient times you fed people in the desert with manna from heaven;
Use us today to feed migrants and refugees fleeing from poverty and war.
In ancient times you gave thirsty people water springing from a rock;
Quench our thirst today, as we join the struggle for justice.
In ancient times you revealed your truth at Sinai with the precepts of the covenant;
Give us the strength this day, to fulfill the whole law with your Love.
In ancient times, Jesus taught the disciples to pray…
Our Father …
Closing Prayer & Blessing
Help us, O Holy One, to look forward to the coming of Christ our Teacher and our Brother so that we are ready to join him in bringing your compassion and healing to the world.  We ask this through the same Incarnate Word, who lives and reigns with you and the Holy Spirit, one God for ever and ever. Amen
May the One who makes justice to rain down from the heights, + shower us and all on Earth with compassion and peace.  Amen.
All may make the sign of the Cross as we say:
May the peace of the Holy ONE+ which surpasses all understanding
guard our hearts and our minds in Jesus, our Emmanuel.
Let us bless Adonai. ~Thanks be to God.
Those who wish may end evening prayer with the Marian Antiphon for Advent.
Marian Antiphon
Loving Mother of our Savior, holding open heaven's only hope, Star for steerage in this vastness, rise to help us, save the sinking.  Nature's greatest  Wonder: you have borne your own true Maker, giving human life to him. Virgin ever, before and after, that Good News from Gabriel, Word of Life for living, tell it now: mercy to all people!
The angel of the Lord brought the message to Mary. ~ And she conceived of the Holy Spirit.
Let us pray.  We ask, O Lord, that we who have been privileged to receive the Good News of the Incarnation of Christ, you Son, may be prepared through his passion and cross to approach also the glory of his resurrection, through the same Christ Our Lord.  Amen.