Lussekatter.  With only 8 or 9 days  until the Winter Solstice and 12 days until Christmas, December 13th brought to Scandinavia the Feast of Santa Lucia, whose name in Latin means both LIGHT and SIGHT–quite significant in that part of the Northern Hemisphere where there are six or fewer hours of daylight and the sun itself may never rise above the horizon.
When Benedictine monks from Sicily (where St. Lucia lived and was martyred in 304 C.E.) brought Christianity to Norway, they found the beginning of solstice celebrations coincided with the feast of Sicily's Patron Santa Lucia.  It was not difficult to build on many features of the Yuletide celebrations a specifically Christian celebration of their own. Her day now stands for hospitality and the promise that light will return.
One tradition to evolve from the blending of Yule and Lucia traditions is still alive in Sweden and in Swedish-American families and parishes : the Lucia Queen.  In many families the eldest daughter becomes Lucia, wearing the traditional white robe and red sash, a crown of leaves and candles in her hair.  Early in the morning, while it is still dark, she goes from room to room with a tray of saffron buns (Lussekatter) and steaming coffee, serving each member of the household in bed.
Although there is some Swedish background in part of our household now, I did not learn about the Lucia Queen and Lucia Buns until 1983 when I received as a gift a tiny book by Norma Judith Voth called the Festive Breads of Christmas (Herald Press, 1983).  Lucia Buns was the first recipe I tried and fell in love with these treats!  I have baked them every year since…
RECIPE:
With a mortar and pestle, grind together
1 tsp saffron threads (or a little more–

it is very expensive but a little goes a long way!)

1 tsp sugar or 1 sugar cube
In  a saucepan over medium heat, combine and heat until very warm
2.25 cups milk

1/3 cup butter.
Pour warm milk/butter into bread-mixing bowl and stir in
When hot milk has cooled to lukewarm (or 115-120 degrees Fahrenheit), sprinkle
2 Tbs yeast (or 2 packages)

1 Tbs sugar
over the warm milk (the sugar helps the yeast to sink into the milk and begin fermenting).
Then add the ground saffron and stir until dissolved (enjoy the fragrance!)
Gradually add
3.5 to 4 cups of sifted flour.
Beat with wooden spoon (or mixer if you like) for 200 strokes.  Then add up to
2.5 additional cups of flour
but only 1/2 cup at a time until dough is too firm to stir.  I usually begin to incorporate the additional flour using a 4X6 plastic dough scraper while the dough is still in the bowl. Then turn out the dough and knead, adding more flour as needed to keep the dough from getting too sticky — about 8 minutes.
Then roll out the dough into a large rectangle and sprinkle evenly over the dough
1/2 cup blanched slivered almonds
2/3 cups golden raisins
1/4 cup diced candied orange peel
1/4 cup diced candied lemon peel
Roll and fold the dough together and knead until the fruit and nuts are evenly distributed.
Place the dough in a greased or buttered bread bowl, turning to ensure that the top of the dough is greased.  Cover with plastic wrap and let rise until doubled in bulk (this takes longer than other breads because of the fruits and nuts).  Punch dough down.  Turn out on counter and divide into three parts.
Lucia Buns:  Divide each of two of the thirds into 9 pieces, each weighing about 2.5 ounces (the size of a small lemon).  Roll each of the 18 pieces into 10-inch ropes.  Form each rope into an S-shape, coiling the ends inward (see photo).  Place on greased  (or parchment-lined) baking sheets.  Cover with kitchen towel and let rise in a warm place until doubled in size.  (I have let them rise in a cool place overnight so they can be baked fresh in the morning).  Just before baking, brush with
1 egg beaten with
1 tsp water.
Then press a dark raisin into the center of each coil.
Bake at 350 degrees for about 15 minutes.  Cool on wire racks, covering buns with terry cloth towel to retain softness.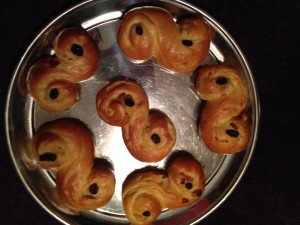 Lucia Solstice Wreath.  With the remaining 1/3 of dough, cut into 4 pieces and roll each into 12- to 15- inch long ropes.  Place one rope on large baking sheet so that it stretches from North to South. Place next rope over the first but stretching from East to West.  Rope #3 stretches from NW to SE and #4 from NE to SW.  Coil each of the ends tightly in the same direction until the coiled bun is as close to the center as possible without crowding out its neighbors.  The wreath is now a stylized "Solstice Sun".
Cover and let rise until doubled in size.   Brush with egg wash and if you like, insert one dark raisin into the center of each coil.  Bake at 350 degrees for 25 to 30 minutes (check at 15 minutes and cover the outside edge lightly with foil if it is getting too dark.