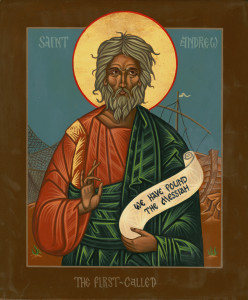 SERVICE OF LIGHT
Greeting/Invocation
 We light the first ADVENT CANDLE and say or sing:
Jesus Christ is the Light of the World!
~The Light no darkness can extinguish!
Throughout all the Earth their voices carry;
~Their message resounds with hope for all!
EVENING HYMN FEAST OF APOSTLES
Th' Eternal Gifts of Christ the King, Th' Apostles' glory let us sing,
And all with hearts of gladness raise Due hymns of thankful love and praise.
Their faith in Christ, the Lord, prevailed; Their hope, a light that never failed;
Their love ablaze o'er pathways trod To lead them to our loving God.
In them the Abba's glory shone, In them the will of God's own Son,
In them exults the Holy Ghost, Through them rejoice the heav'ly host.
O great Redeemer hear our cry, That you would join to them on high
Your servants, who this grace implore, Forever and for ever more. Amen.
Text: Aeterna Christi Munera, Ambrose of Milan, tr. .M. Neale, alt.  Tune: JESU DULCIS MEMORIA
SERVICE    OF THE WORD
EVENING PSALMODY
Antiphon
"Follow me," said Jesus,
and I will make you fishers of human beings."
Psalm 115/116
I trust in God, even when I say,
"I am sorely afflicted,"
I believe, even when I cry out,
"There is no one I can trust!"
What gift can repay Adonai
for such goodness to me?
I will raise the cup of freedom
as I call on the Holy Name!
I will fulfill all my vows
in the presence of the people.
Adonai you hate to see
your faithful ones suffer and die.
It is I, the servant you love
the one you have freed from bondage,
who calls to you now for help.
I bring an offering of thanks
as I call on your Name.
I fulfill my vows to you, Adonai
standing before your assembly,
 in the courts of your house, my God,
in the very heart of Jerusalem.   
Glory to the ONE and to the WORD
And to the BREATH of Love!
As always before,
so now and evermore.  Amen.
"Follow me," Jesus said,
"and I will make you fishers of human beings."
READING        EPHESIANS 2: 21-22
Through [Christ, the cornerstone,] the whole structure is held together and grows into a temple sacred in the Lord; in him you also are being built together into a dwelling place of God in the Spirit.
Responsory
R.  Throughout all the earth, their voices carry, *their message resounds with hope for all. V.  Go out to the whole world, proclaim the Good News; *their message resounds with hope for all.  V. Glory to the Abba and the Word and the Holy Breath of Love.
Gospel Canticle
Antiphon
Hail precious cross!
Receive a disciple of Him who hung on you, my Master, Christ.
 Canticle of Mary
My heart + is radiant with the Lord,
My whole being delights in God my Savior.
All people now will call me blessed
For God has loved this humble handmaid.
The Almighty has shown me great favor
Holy is the NAME,
Whose mercy embraces the faithful,
From one generation to the next.
The mighty arm of God,
Scatters the proud in their own conceit,
Pulls tyrants from their thrones
While lifting up the lowly:
Fills the famished with bounty,
And reveals the emptiness of riches.
Rescues lowly Israel,
Sharing such loving kindness,
As promised to our ancestors
To Abraham and Sarah, and their descendants forever.
Glory to the One and to the Word
And to the Breath of Love
As always before
So now and evermore. Amen
Hail precious cross!
Receive a disciple of Him who hung on you, my Master, Christ.
SERVICE OF PRAYER
 Litany of Intercession
Litany of Intercession
You called Andrew to follow you, and sent him to proclaim the Good News of your love to the ends of the earth, ~call us to bring this same message of hope to all humankind.
You understood the quarreling among the disciples but reminded them that the greatest is the one who serves others, ~ help us to see all our sisters and brothers as equals and to joyfully take our place with those society considers the least.
You calmed the waves so that your disciples would be saved from drowning ~calm the storms created by our selfishness and greed and the tempests that catch us off guard.
You strengthened Andrew to bear witness to the truth and to embrace the cross ~empower us to bear witness to the reality of your love at all times and in every place.
Prayer of Jesus
Our Dear Abba in heaven…
Closing Prayer
O Holy One, you gave such grace to Saint Andrew that he readily responded to the invitation of Jesus, and brought his brother with him: Give us the grace to follow him without delay, and to bring those near to us into his gracious presence; for he lives and loves with you and the Holy Spirit, one God, now and for ever. Amen.
Blessing
May God bless + us, protect us from all evil, and lead us to freedom and the fullness of life,  ~Amen.
Let us bless Adonai.   ~Thanks be to God.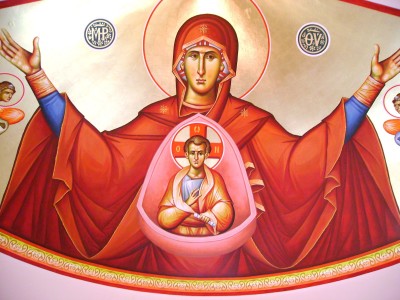 Those who wish may end evening prayer with the Alma Redemptoris Mater
Marian Antiphon
Marian Antiphon

Loving Mother of our Savior, holding open heaven's only hope, Star for steerage in this vastness, rise to help us, save the sinking.  Nature's greatest  Wonder: you have borne your own true Maker, giving human life to him. Virgin ever, before and after, that Good News from Gabriel, Word of Life for living, tell it now: mercy to all people!
The angel of the Lord brought the message to Mary.
~ And she conceived of the Holy Spirit.
Let us pray.  We ask, O God, that we who have been privileged to receive the Good News of the Incarnation of Christ, your Word, may be prepared through his passion and cross to approach also the glory of his resurrection, through the same Christ, our Lord.  Amen.