Podcast: Play in new window | Download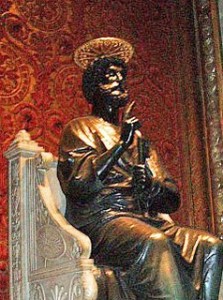 February 22
Chair of St. Peter
Invitation to Worship
Come, let us sing to Adonai, let us praise the God of all Creation!
We make the Sign of the Cross over our  lips as we begin.
O Holy ONE + open my lips,
~And my mouth will proclaim your praise.
Let all creation praise the greatness of Adonai!
Let the universe extol the glory of God!
 MORNING HYMN
All may sing or alternate the verses of any Morning Hymn .
Apostles of our ancient faith, With all the heav'ns we sing your fame
Whose sound went forth in all the earth To tell of Christ and bless his name.
You took the Gospel to the poor, the Word of God aflame in you,
Which in our day is told again: that timeless word forever new.
You told of God  who died for us And out of death triumphant rose,
Who gave the truth that made us free, And changeless through the ages goes.
Like sparks among the straw, you ran To set the universe ablaze
To kindle love of Christ our Love and take his peace on all your ways.
Praise Abba, Word and Spirit blest Whose gift is faith that never dies:
A light in darkness now until The daystar in our hearts arise.  Amen
PSALMODY
Antiphon
Peter do you love me?  Yes, Lord, you know that I love you.  Feed my sheep.
Psalm 22/23
You, O LOVE, are my shepherd,
There is nothing more I need.
Fresh and green are the pastures,
Where you take me to rest;
Leading  me near calming waters
You renew my drooping spirit.
You guide me in the path of goodness,
Always true to your Loving-kindness.
If I walk in the valley of death's darkness
No evil would I fear
You are there with your shepherd's staff
To strengthen, guide and give comfort.
You spread a feast before me
In the presence of all that I fear,
You soothe my head with oil;
My cup is more than full.
Your goodness and love will tend me
All the days of my life.
I will dwell in the Heart of your Love
For ever and ever.
Glory to the ONE and to the WORD
And to the BREATH of Love!
As always before, so now and evermore.  Amen
Peter do you love me?  Yes, Lord, you know that I love you.  Feed my sheep.
READING     1 Peter 5:1-4
Beloved:
I exhort the presbyters among you,
as a fellow presbyter and witness to the sufferings of Christ
and one who has a share in the glory to be revealed.
Tend the flock of God in your midst,
overseeing not by constraint but willingly,
as God would have it, not for shameful profit but eagerly.
Do not lord it over those assigned to you,
but be examples to the flock.
And when the chief Shepherd is revealed,
you will receive the unfading crown of glory.
Silent Prayer
Responsory
R. You will make them princes over all the earth, they will make your name remembered forever. V. Your praise O God, reaches to the ends of the earth * they will make your name remembered forever.  V. Glory to the Abba and the Word, and the Breath of Love.
Canticle of Zachary–  Luke 1:68-79
 Antiphon
You are Peter and upon this rock I will build my Church.
Blessed + be Adonai, the God of Israel
Who visits this people to set us free
Raising for us a sign of salvation
In the house and family of David.
God promised throughout past ages
In words of holy prophets
To save us from our enemies,
And from the control of our oppressors.
Adonai favored our ancestors
And remembered the sacred covenant.
The pledge to Abraham and Sarah
Is now renewed for us;
That freed from the grip of our foes
We might worship without fear
And be both just and holy
For the rest of our days.
And you, child, called "prophet of the Most High,"
Will go ahead to prepare the way,
By teaching this people of salvation
Through forgiveness of their sins.
For the loving compassion of the Holy One
As the Rising Sun will shine upon us
To illumine the darkness and dispel death's shadow
To Guide our feet on the way of peace.
Glory to the ONE and to the WORD
and to the BREATH of Love!
As always before,
so now and evermore.  Amen.
You are Peter and upon this rock I will build my Church.
Intercessory Prayer
You sent your disciples to extend your healing touch and Good News to the whole world:
may we be freed to reach out to all who suffer and lack hope for the future.
You open wide your hand and satisfy the desires of all living things:
~may we share all that we have been given so that all people and all creatures may flourish.
You invited your followers to join you in a quiet place for prayer:
may  we stop the frenzy of our lives and sit with you each day.
Create new hearts in us, O God,
and fill us with your Holy Spirit.
Prayer of Jesus
Our Father …
 Closing Prayer & Blessing
Holy One and God of endless Compassion, you are the praise of all your saints and the joy of all creation.  As we celebrate this feast remembering your charge to Peter to use his gifts to lead and nurture your flock,  fill us with your life and light and give us the perseverance to serve you in your people and your creation all our days. For yours is the power and glory of love now and forever.  Amen.
May the peace of God, which surpasses all comprehension, guard our hearts and our minds in Christ Jesus.  ~Amen.
Let us bless the world with peace.
~And give thanks to God.