Podcast: Play in new window | Download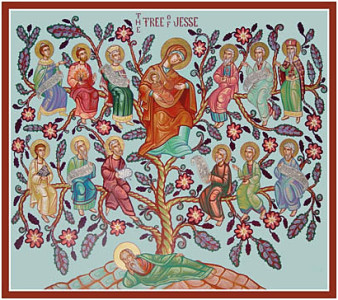 Service of Light
Greeting/Invocation
Light the First & Second Candles on the Advent Wreath, and say or sing:
Light and Peace in Jesus Christ our Lord!
~Thanks be to God!
Let your face shine on us, O God;
~And we shall be saved.
Advent Evening Hymn
All may sing or alternate the verses of the Advent Evening Hymn
Our Love shall come when morning dawns and light triumphant breaks.
When beauty gilds the eastern sky and life to joy awakes.
Our Light shall come when morning dawns and earth's dark night is past;
O haste the rising of that morn whose day shall ever last.
Our Life shall come when morning dawns as weary saints foretold
When love shall triumph over hate and truth will be extolled.
Service of the Word
Psalmody
Refrain  Come, Lord, bring to us your peace,
let us rejoice before you with a perfect heart.
Psalm 54/55: 2-3; Psalm 41/42: 2-6
O God, listen to my prayer, do not hide from my pleading,
attend to me and reply;  with my cares I cannot rest. (Refrain)
Like the deer that yearns for running streams,
so my soul is thirsting for you, my God. (Refrain)
My soul is thirsting for God, the God of my life;
when can I enter and see the face of God?  (Refrain)
My tears have become my bread, by night, by day,
as I hear it said all day long: "Where is your God?" (Refrain)
Why are you cast down my soul, why groan within me?
Hope in God; whose praise I sing, my savior and my God. (Refrain)
By day Adonai will send such loving kindness;
by night I will sing and rejoice, praise the God of my life. (Refrain)
Reading:     Isaiah 48: 17-19
Thus says Adonai, your Redeemer, the Holy One of Israel:
"I am Adonai Elohim, who teaches you how to profit, who leads you in the way you should go. If only you had listened to my commandments! Then your peace would have been like a river, and your righteousness like the waves of the sea; your offspring would have been like the sand, and your descendants like its grains; their name would never be cut off or destroyed from before me."
Silent Reflection
Responsory  
R. You heavens, open from above, that clouds may rain the Just One.
Canticle of Mary          Luke 1:46-55
Antiphon:
Tell it to the faint of heart, take courage; behold, Adonai our God will come! 
 It is customary to make the sign of the cross at the beginning of the Gospel Canticle.
My heart + is radiant with the Lord,
My whole being delights in God my Savior.
All people now will call me blessed
For God has loved this humble handmaid.
The Almighty has shown me great favor
Holy is the NAME,
Whose mercy embraces the faithful,
From one generation to the next.
The mighty arm of God,
Scatters the proud in their own conceit,
Pulls tyrants from their thrones
While lifting up the lowly:
Fills the famished with bounty,
And reveals the emptiness of riches.
Rescues lowly Israel,
Sharing such loving kindness,
As promised to our ancestors
To Abraham and Sarah, and their descendants forever.
Glory to the ONE and to the WORD
and to the BREATH of Love!
As always before,
so now and evermore.  Amen
Tell it to the faint of heart, take courage; behold, Adonai our God will come! 
SERVICE OF PRAYER
Litany 
How long the path which leads to you!  ~ Come to meet us, be our way.
How heavy the burden of our misery!  ~ Come to meet us, be our rest.
How darkly hard the journey to our Goal!  ~ Come to meet us, be our light.
How lonely do we wander, stumbling together in the chaos!
~ Come to meet us, be our companion.
How long, Lord Jesus, do we wait for your return!
~ Come to meet us, be our hope's fulfillment.
Prayer of Jesus
Let us pray together as our Lord, Jesus Christ has taught us to pray:
Our Father …
Closing Prayer & Blessing
Stir up your love O Jesus, and come.  As a Mother Hen spreads her wings to gather her brood extend your arms to gather and protect us Free us to bring the warmth of your love to a world freezing in loneliness and fear.  For yours is the glory and power of Love, now and forever.  Amen.
All may make the sign of the Cross as we say:
May the peace of the Holy ONE+ which surpasses all understanding + guard our hearts and our minds in Jesus,+ our Emmanuel.
Let us bless Adonai. ~Thanks  be to God.
Those who wish may end evening prayer with the Marian Antiphon for Advent.
Marian Antiphon
Loving Mother of our Savior, holding open heaven's only hope, Star for steerage in this vastness, rise to help us, save the sinking.  Nature's greatest  Wonder: you have borne your own true Maker, giving human life to him. Virgin ever, before and after, that Good News from Gabriel, Word of Life for living, tell it now: mercy to all people!
The angel of the Lord brought the message to Mary. ~ And she conceived of the Holy Spirit.
Let us pray.  We ask, O Lord, that we who have been privileged to receive the Good News of the Incarnation of Christ, you Son, may be prepared through his passion and cross to approach also the glory of his resurrection, through the same Christ Our Lord.  Amen.